The New Human Rights Series – There Must be no Monopoly on the Truth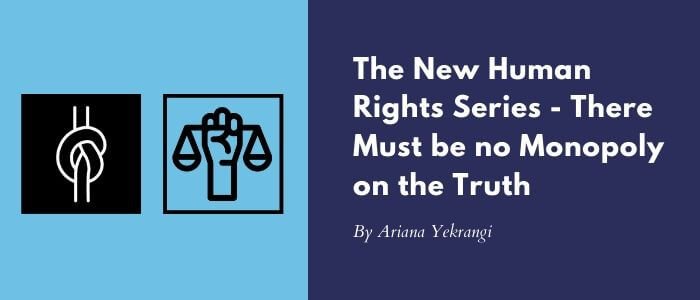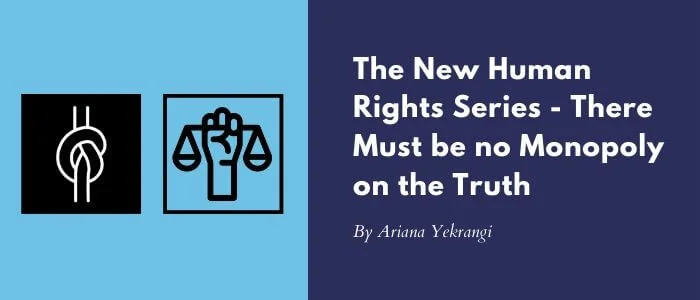 As the Environmental Priorities Series comes to its sixth and last issue, we sincerely thank all of our readers and authors for their generous support and contributions; it is because of you that The Gordian magazine has developed into its current form and has become a platform for members to express their thoughts and ideas. We are incredibly proud of this achievement and will continue our efforts to improve this resource with the support of our members and contributors.
The last past issues of Environmental Priorities explored key topics relating to environmental issues, in each episode we took one major crisis or shock under the microscope:
Wildfires in issue 1
The Sixth mass extinction in issue 2
Pharmaceutical companies in issue 3
Humanity's abuse of water resources in issue 4
The rise of sea levels in issue 5
Waste management in issue 6
Follow our first series, Unrepresented Nations, to learn about the voices of the most marginalised nations and peoples worldwide.
Introducing the new Human Rights series:
Clarifying and upholding human rights is a fundamental duty of states and citizens. The new series on Human Rights intends to bring light to topics that don't get enough coverage.
We are very proud of what the UN-aligned's Human Rights manifesto already covers and we hope that this series will put our articles in context and provide some real-life examples of what our manifesto must strive to achieve.
Help us to cut the Gordian knot:
By recommending The Gordian magazine to your friends, you can help us to spread UN-aligned's message and its impact on the real world. You can also contribute to The Gordian through a variety of ways including: graphic design, photography and journalism.
Please take a moment to share this article and write a review.
UN-aligned Appoints New Senior Administrator
Ruby Goldenberg will take up the role at UN-aligned in June 2020
Ms. Ruby Goldenberg has been appointed as the new Senior Administrator of UN-aligned with a mission to propel the NGO into the next stage of its evolution and to strengthen its activism and presence on the global stage.
Ruby is a qualified lawyer with a history of working in the legal sector and financial services. She also has a background in administration.
"Her ability to share a vision for a brighter and more united future for all people, has really shone through. We feel thrilled and fortunate to have such a strong candidate for this role."

Ariana Yekrangi, UN-aligned Coordinator
I am delighted to welcome Ruby Goldenberg to the UN-aligned management team. I had the privilege of working with Ruby in China, so I am well aware of the dedication she has for her duties and her determination to get things done thoroughly and efficiently. Ruby has an international outlook and is currently living in Moscow. She will be a great asset to UN-aligned and its mission

Adrian Liberto, UN-aligned Coordinator
UN-aligned is an alternative United Nations with members from over 20 countries that aims to unite our globe under a federal world order, one that is founded on principles of justice and sustainability.
The UN-aligned Administrator is directly appointed by the two Coordinators for an unlimited amount of time. Learn more about this role here. Support the organisation by becoming a free member.
What you may have missed: May 2020


AFRICA
O4.05.20: Sudan. After almost a quarter of a century, Sudan has appointed an ambassador to the US. Relations have started to improve since hard-line leader Omar al-Bashir was ousted from power following a popular uprising a year ago.
19.05.20: Lesotho. Thomas Thabane has finally succumbed to pressure and resigned as Lesotho's prime minister. He and his wife are suspects in the murder of his ex-wife who was killed in 2017.
25.05.20: Burundi. Ruling party candidate Evariste Ndayishimiye was declared the winner of the presidential election. He obtained 68.72 percent of the vote, a result the opposition is contesting. Ndayishimiye, is a former army general who was handpicked by the ruling party to replace President Pierre Nkurunziza, who had led the country since 2005.
AMERICAS
05.05.20: USA. President Trump denied US involvement in what Venezuelan officials have called a failed armed raid on their country in which of two American "mercenaries" were captured. Maduro announced the arrest of 13 "terrorists" on May 4th and claimed a US plot to enter the country via the Caribbean coast to oust him. According to Venezuelan sources, eight people were killed during the incursion that took place on May 3rd.
05.05.20: USA. Tesla founder and singer/musician Grimes had their first baby together (her first, his seventh). They named it X Æ A-12 and they will allow it to choose and reveal its own gender. However, they have since announced that the name has been changed…
05.05.20: USA. Colson Whitehead, who had won the 2017 Pulitzer Prize for fiction in 2017 with his book The Underground Railroad, has become the fourth US author to be honoured with the prize a second time. The African-American writer won the award for The Nickel Boys, which deals with the abuse of black boys in a Florida reform school. The other three two-time winners were Booth Tarkington, William Faulkner and John Updike.
06.05.20: Jamaica. Millie Small, the Jamaican singer best known for her 1964 hit My Boy Lollipop, has died aged 73.
09.05.20: USA. The great rock and roll pioneer, Little Richard, died aged 87. He wowed audiences with hits Tutti Frutti and Long Tall Sally, as well as his flamboyant theatrical style.
15.05.20: BRASIL. Health Minister Nelson Teich, resigned after less than a month in the job following disagreements with President Bolsonaro whose policies concerning coronavirus are causing consternation around the world.
21.05.20: USA. President Trump announced that he will be withdrawing the US from the 2002 Open Skies Treaty, a major accord that allows unarmed aerial surveillance flights over participating countries. The treaty had been ratified by 35 countries. The US blamed Russian violations for the proposed withdrawal that will come into effect in six months.
22.05.20: Argentina. For the ninth time in its history, Latin America's third-biggest economy has defaulted on its sovereign debt as it finds itself unable to cope with an economic downturn that has been exacerbated by the coronavirus pandemic.
26.05.20: Costa Rica. The country has legalised same-sex marriage, making it the sixth country in Latin America to do so.
ASIA
01.05.20: Iran. Border guards allegedly forced dozens of Afghan migrants into a river on the Iran-Afghan border. Of the 57 men and boys in the group 45 are known to have drowned. Survivors claim to have been tortured before having been marched into the Harirud River.
07.05.20: Turkey. Ibrahim Gökçek, a musician of the Turkish revolutionary band, Grup Yorum, died after a 323 day long hunger strike, which he had ended two days before. He had started it in protest against government persecution of the band. Another band member who had been on a hunger strike, Helin Bölek, died in April. Gokcek's wife is still held in prison.
10.05.20: Iran. A friendly fire incident in the Gulf of Oman has left 19 soldiers dead and 15 injured. The accident happened when an Iranian missile hit a support vessel that was near its target.
17.05.20: Israel. After 500 days of uncertainty, parliament swore in a new government led by Prime Minister Benjamin Netanyahu and his former rival Benny Gantz. Netanyahu immediately pledged to annex occupied Palestinian territories in the West Bank.
20.05.20: Taiwan. Following President Tsai Ing-wen's inauguration for a second term, the leader made a statement categorically rejecting the 'one country, two systems' policy touted by China, while welcoming dialogue with Beijing. China immediately condemned the statement.
22.05.20: Pakistan. A Pakistan International Airlines (PIA) passenger plane flying from Lahore crashed into a residential area of Karachi killing 97 people of the 99 on board. Seconds before the plane came down, during a second landing attempt, the pilot reported that both engines had suddenly failed. Despite the plane having crashed in a densely populated area, there were no further fatalities.
24.05.20: Israel. Netanyahu became the first serving Israeli Prime Minister to appear in court to face criminal charges. The charges relate to corruption. The trial is expected to last at least a year.
EUROPE
04.05.20: UK. Hearings in the U.S. extradition case against WikiLeaks founder Julian Assange will resume in September after being postponed because of the coronavirus outbreak, a London court confirmed.
04.05.20: UK. Stranglers' keyboardist Dave Greenfield died after contracting Covid-19. Greenfield, 71, contracted the virus after a prolonged stay in hospital for heart problems.
O6.05.20: Germany. It was reported today that, a few days earlier, Florian Schneider, who was one of the founding members of avantgarde German group Kraftwerk, died aged 73 of cancer.
09.05.20: Italy. Italian hostage Silvia Romano was freed today after a year and a half in captivity. She had been kidnapped by the Somali terrorist group, Al Shabab, while carrying out humanitarian work in Kenya.
11.05.20: The Netherlands. Five surfers drowned after they were caught in rough weather off the coast of The Hague. Even though the surfers were energetic and experienced, they got caught up in freak weather that caused a metre of foam to form above the waves.
16.05.20: France. One of the most wanted orchestrators of the 1994 Rwandan genocide, Felicien Kabuga, who was responsible for the funding of militias that contributed to the massacre of between 800,000 to a million people, was arrested near Paris. The 84-year-old had been living under a false identity for the past 26 years.
18.05.20: France. Michel Piccoli, one of France's most eclectic actors, has died aged 94, of a stroke. Piccoli starred in a number of iconic films such as Luis Buñuel's Belle de Jour and The Discreet Charm of the Bourgeoisie, and Jean-Luc Godard's Le Mépris.
Waste and Mismanagement: The Devil in the Detail That is Back to Haunt us!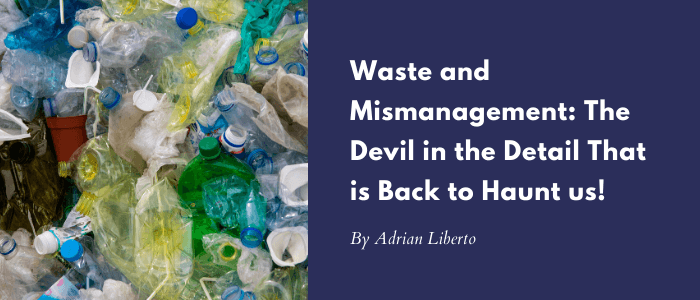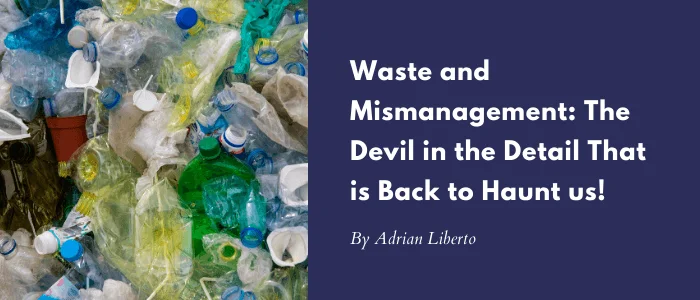 By Adrian Liberto
Creation is rarely green
The forces of creation are often seen as a trinity. In philosophy we have the Hegelian dialectic of Thesis, Antithesis and Synthesis, where the synthesis then becomes a new thesis which in turn postulates another antithesis, thus propelling evolution in a perpetual thrust forward. In religion, we have, for example, the Hindu trinity made up of Brahma (the creator), Vishnu (the preserver) and Shiva (the destroyer). For growth we need all three: without the first there would be no positive change, without the second, there would be no continuity, while without the third creation would be weighed down by a redundant past. In science also we have similar laws of growth, with every new phenomenon relying on past, present and future. However, there is a fourth player; one who is forever overlooked and unfairly neglected. A beast that will take its revenge as an ally of entropy unless we acknowledge its worth and welcome it into the fold. The by-product, so to speak. If you have not guessed yet, I am referring to waste.
Different types of waste
Natural waste, the type that has been around for millennia, has found its meaning in the regenerative cycle of life. We breathe in oxygen and breathe out carbon dioxide, while trees help us by reversing the process. The food we consume and our very bodies go back to the earth enriching it with our nutrients. Artificial waste, however, has not been so lucky. The products of our creative imagination, especially since the industrial revolution, have not been that holistic because our focus has been selfish and short sighted. We only calculated what is of benefit to us and we only focussed on the present time when doing so. Like Doctor Frankenstein, we have created a monster whose existence does not fit in with our ambitions and our hubris; but we ignore him at our peril.
Of the different types of waste, organic and biodegradable only constitute a problem when we create unnatural situations, such as intensive farming that requires herculean feats for the impacts to be washed away. Other forms are more toxic and moving them from A to B does not resolve the threat they pose. Nor will ignoring the problem lead to it going away, quite the contrary. We must learn how to always include that fourth element into the equation, otherwise it will come back to haunt us. Nuclear waste, e-waste, chemical waste, gaseous waste… there are many different types. Recycling can help in some cases, but in many it cannot. I am not a scientist, but we should be striving to find sustainable solutions to our waste emergencies with the same vigour we are fretting to find a vaccine for COVID-19. In fact, the creation of a product should come ready with the waste resolution. The problem with the philosophy of crossing the bridge when we get to it is that by then it may be too late; if not for us, certainly for future generations.
Packaging: the pseudo-waste
One does not need to be a scientist, however, in order to resolve all waste issues; especially waste that is related to packaging. Unlike other types of waste, packaging is not a defunct item or a by-product; it is an add-on. All that is necessary is a bit of imagination and a lot of good will to deal with the problem. In some cases, we are actually going backwards. When I was little, half a century or so ago, we used to put the empty milk bottles outside the door for the milkman to collect, while packaging was generally functional. Nowadays, instead, there is so much wastage: glass, paper, tin, plastic… And despite the good intentions of conscientious households who scrupulously divide waste into the right recycling bin, much of that is not recycled at all and ends up in landfill. In the US, for instance, of all the waste produced in 2017, only 8.4% of it ended up getting recycled. The problem is not the motivation of consumers or a shortage of collection points, but rather the fact that the US does not have the appropriate facilities to recycle. A recent study by Greenpeace on plastics found that, apart from bottles, that tend to be regularly recycled, most other plastics finish up in landfill or are incinerated. Moreover, disposing of rubbish is not easy or cheap. Even though disposal is costing us vast sums of money, it is becoming increasingly difficult to deal with. In Europe, for example, Portugal was one of the cheapest countries for waste processing and disposal, charging 11 euros per ton of rubbish, compared to a European average of 80 euros. However, last month Portugal suspended imports of trash until 2021 owing to it having reached capacity. Exporting rubbish to poorer countries is also becoming harder. In 2017, China, a major importer of waste, banned all imports into the country and since then other Asia nations have been following suit. Clearly, the situation will come to a head unless we start taking the problem seriously.
Some ideas on how we can avoid creating the problem in the first place
Make building bricks:

Sometimes people fill plastic bottles with sand or soil and use them to build walls or even houses. So why not change the shape of our plastic packaging to facilitate such endeavours? Products could come in compatible cubes, like Lego bricks that could then be used to build things, even furniture. They could be adapted to hold different products, be they liquid or solid. It really is not rocket science. Such a scheme could help considerably in turning a problem into an asset. All it would take is for coordination amongst companies regarding the packaging they used and a bit of imagination on the part of packaging firms.

Transform it into art:

We could deal with some of our own waste packaging by transforming it into art; from a simple flower pot to a grand cathedral! Sounds crazy? Well, an ex-monk actually did just that! Justo Gallego Martinez started building his cathedral in Mejorada del Campo a town not far from Madrid in October 1961 and he is still at it although it already looks amazing! Other artists have also created masterpieces using refuse. Tire Art, for instance, sees old tires transformed into stunning sculptures. Nigerian university lecturer and artist Adeola Balogun is one of the most accomplished exponents of this art form. He creates "eclectic" pieces that sell for thousands of dollars. Another famous tire artist is Yong Ho Ji, a South Korean famous for creating florid and imposing creatures: his works are truly outstanding!

Avoid it altogether:

Plastic- and container-free shops are sprouting in many cities and one can shop there without having to worry about the production or disposal of containers. There are different varieties, you could take your own container or reuse the ones provided, but ultimately the goal is the same. Often, however, they deal with dried foods, but nevertheless, the range is growing as they are becoming more and more popular. As individuals, we can find out if there are such shops near us and patronise them. As an organisation, we will invite more brands to sponsor such initiatives.

Eat it!

KFC is already providing edible coffee cups and edible bowls, as are other food chains. Again, there are different varieties, such as the totally tasteless containers made from potato starch. Dealing with hygiene issues is of course a problem, but some big companies such as WikiCell and Monosol are exploring and investing heavily in the technology. There is a Zen story about a famous abbot being entertained in a monastery.While he was eating his soup, he found the head of a snake in it and had the chef called to the table. "Look at this!" He said. "Oh, thank you!" Replied the chef and in a flash, he picked the head up and ate it. We too could learn to eat the evidence, so to speak!

Grow flowers:

As for the dumps that already exist, we should at least do our best to reduce their impact. Fresh Kills Landfill was the world's largest landfill until it closed in 2001. It was in Staten Island in New York City and it was a health hazard as well as an eyesore. Arrangements were then made for the area to be redeveloped into an environmental park. When completed, Freshkills Park, as it is now known, will be New York City's second largest public park.
What are your thoughts on recycling? Have you got any useful ideas to share? Let us know and we will publish them in the next issue of The Gordian.
Postpartum – A Personal Perspective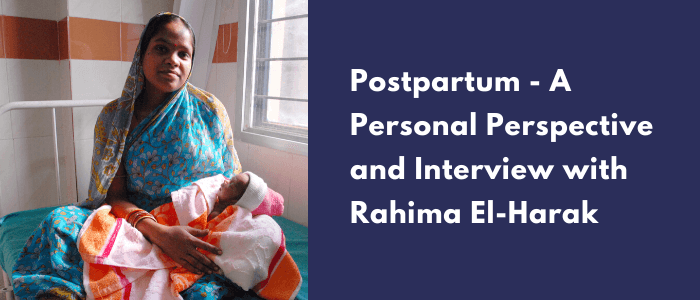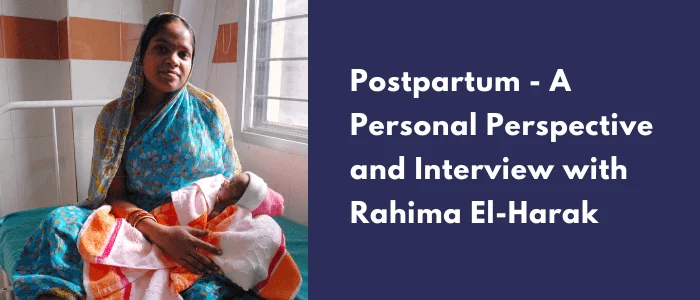 By Rahima El-Harak
The period soon after childbirth poses substantial health risks for both mother and new-born infant. Yet the postpartum and postnatal period receives less attention from health care providers than pregnancy and childbirth. Models of postpartum and postnatal care have changed little since first developed a century ago. The World Health Organization (WHO) is in the process of revising and updating its guidance on postpartum and postnatal care delivered by skilled providers.
The World Health Organisation
What was described as a panic attack when I was four months pregnant felt more like postpartum where I felt I was losing my mind. In the summer of 1997, I was on holiday in Portugal in this beautiful villa in Braga, when suddenly one night I woke up unable to breath. I was gasping for air and felt as though I was suffocating. I began to feel claustrophobic and we had to leave Braga early the next morning as I couldn't stay a minute longer. We drove to Porto, back to the family home, where I spent one week in my room fighting off the panic attacks. I was in a state of constant agitation and on the verge of losing my mind. Weeks later, when back in London, I realised I had become claustrophobic and I was unable to use a lift or remain in closed spaces. My doctor explained that it was just anxiety and it would pass. Unfortunately, up to this day, I still can't use a lift.
Five months later I gave birth to my son Zak who was 6.8 lbs but remained nameless for six weeks as I was unable to decide on the name. The birth was traumatic and I couldn't understand how women kept this quiet. I felt enraged with how there had never been an open dialogue about giving birth and the effect it has on our body and mind. During my pregnancy I was a full-time infant teacher, while also studying a diploma in multi-disciplinary psychotherapy. Moreover, I was in the process of opening a Bistro Cafe in London: The Orange Room.
By the time I gave birth to my son, I was exhausted and felt the birth had knocked me to the ground. So perhaps it wasn't surprising that I would have some psychological breakdown. I was so disturbed by the experience of giving birth I decided to share this with my therapy course in a form of a presentation. I was open about my experience of the actual birth which shocked the mothers in the room, but the men were fascinated. For some of the men it was the first time they were able to ask very personal questions freely and this gave me the satisfaction that at least I could be helpful by not keeping my experience a secret.
A month after birth I started to feel something was wrong. I would be holding my son and suddenly disturbing thoughts would engulf my mind. Thoughts that I could not control. Thoughts of harming my son, thoughts of dropping him to the ground, thoughts of pouring hot water over him, thoughts of stabbing him. Quickly I would almost throw the baby to his father or to anyone in the room and run to my bedroom to compose myself. This would reoccur several times in the week. I had no idea of what was happening to me. I discussed the problem with my extended family and their response was to advise me not to mention this to the visiting nurse as she could take my son away. As a result of this advice, I kept quiet
I had attended all my antenatal appointments and classes, but there was never any discussion about postpartum. There was a vague mention of postnatal depression which I had renamed postnatal-trauma because that's what I felt I was experiencing.
INTERVIEW
Question: Do you feel that you were in any way prepared for the possibility of having to deal with postpartum?
Answer: Absolutely not! I had never even heard of the condition.
Question: Was your G.P. or were prenatal clinics helpful in any way?
Answer: Absolutely not. There was no mention or emphasis on what can happen after birth. All my prenatal preparations in Tower Hamlets were for the physical birth and never addressed the mental health of the mother. When I plucked up the courage to talk to my doctor, she wasn't helpful either. She told me to just ignore the awful thoughts whenever they would come. Since I had never heard of my condition and nor had the health professionals I consulted, I concluded that it was just me, unable to cope with or recover from giving birth.
Question: Did you have any idea of what might have been happening?
Answer: No, I did not know, but what is even more concerning is that the doctors and nurses may not have known. Or did they miss it? I don't know the answers.
Question: What did it feel like?
Answer: I remember telling my family that I knew what it was like to lose one's mind. I remember the sense of madness. I lost connection and meaning with reality. Everything stopped making sense. During my episodes, I couldn't understand the conversations between the family. I would put my hands over my ears and run out the room because I couldn't handle the noise. I couldn't understand why they were watching television. I couldn't eat or make sense of what food was and why should I eat it.
Question: Was the situation exacerbated by other physical or social complications?
Answer: I believe so. I'm going to be honest with you and say this… I was under a tremendous amount of pressure, as well as the responsibilities mentioned above, I was also in the process of purchasing my house and I was gazumped the week I gave birth to my son. This too, therefore, was extremely upsetting. However, while the extreme pressure I was under didn't help, I could have been prevented from further strain if I had only known about the condition or had been alerted by the professionals instead of having to internalise it all.
Question: Did you take prescribed medication or other remedies to help you cope and if so, were they effective?
Answer: I never took any meds as none were prescribed and I didn't know that there were any meds available for this condition as I didn't know it was a condition. I had been led to believe that these thoughts would pass.
Question: Was your husband supportive and were you aware of any other support networks you could turn to?
Answer: My partner was also in the dark about my condition, but he was sympathetic and empathetic; and while he helped with our son, he was unhelpful with regards to getting me the help I needed. There was no community support in Tower Hamlets either and there was no mention by any professional of any mother and baby agencies. I therefore closed up and further isolated myself from the outside world.
Question: What more do you think should be done to help mother going through postpartum?
Answer: I'm guessing that over 22 years ago we were ignorant about this condition and perhaps it's no wonder that I suffered in silence. So maybe what would be good is to look at where we were medically 22 years to see the number of undiagnosed cases and compare those results to today's. Just a thought. The WHO has written about this. What needs to be done is to make this condition known to mothers, but also to their families. Sometimes mothers may not be able to understand what's happening to them, but family members may be able to see the changes and get appropriate help when it's needed. This condition can last between 6-12 months. It happens during the most important time for the mother and baby to bond and form attachments and if this period is interrupted or missed due to mental illness, then this could be detrimental to both baby, mother, family and community. This condition needs to be diagnosed immediately and proper treatment must be offered, including monitoring for the entire period, alongside therapy if required.
Further support can be given from the extended family. In my Moroccan community, for instance, mothers would often come over from Morocco to be with their daughters and they would stay a few months to look after the mother and baby, as well as the family.
Question: Judging from your experience, what advice would you give to expectant mothers?
Answer: Educate yourself and your partner and family. Have an open dialogue with your friends and your partner about this condition before you experience the symptoms. Discuss the condition with your doctor, nurse and midwife so that everyone is on the same page if it should ever happen to you. Everyone involved should know about this condition in order to be ready in case it should happen to you. This will put you in a safe and controlled situation where you will not have to suffer alone for so long and at such a critical period for you and your baby. Also, and critically important, the health professionals need to be educated and put on the alert about this condition. They need to be in a position to be able to diagnose postpartum early so that babies' lives are not put at risk and suffering can be minimised.
Question: What do you think international organisations like UN-aligned should do to help with the problem?
Answer: Un-aligned and the WHO also need to come on board with this and have a global study of the condition to assess its epidemiology and to compare the findings between continents/countries to learn how the global community is dealing with this condition so that we can learn from each other and bring together the findings quickly to alleviate sufferings. The WHO has written about postpartum, but it needs some statistics and findings on how progressive countries are delivering support to the community at the grassroots level.
Question: Is there anything else you would like to add?
Answer: I only discovered the information on postpartum a few years ago by chance. As I was reading, I couldn't believe that I had had a condition, but never knew that it was a condition that could have been treated. I was devastated to learn that it was a hormonal dysfunction/imbalance and that it was curable. All these years I thought that I had healed myself. On the sixth month of the postpartum I couldn't take it any longer and so I made the decision to pack and go to my home country Morocco with my baby and either heal or go mad. So, I went. Within a few weeks of being in Morocco the episodes stopped. I couldn't believe it. I thought it was a miracle. I also realised that being with my extended family and the strong sense of community helped a lot compared to being totally isolated with just my baby every day at home. When I learned that postpartum lasted 6-12 months I realised that perhaps the illness had stopped at 6 months and being with the extended family could have sped my recovery. My guess is that being with a welcoming and warm extended family eradicated that fear and isolation. So perhaps UN-aligned can send the message to young mothers to be with loved ones and not isolate themselves and to seek medical advice if they feel things are not right.
The Use of Chinese Medicine in Treating Covid-19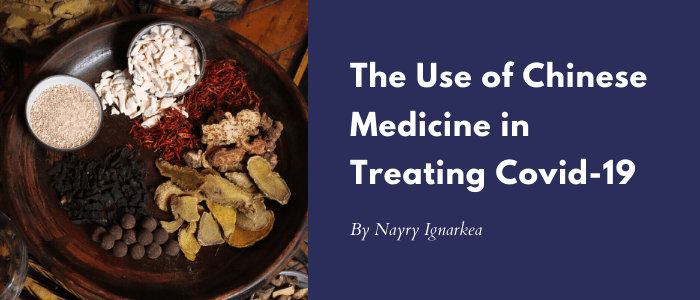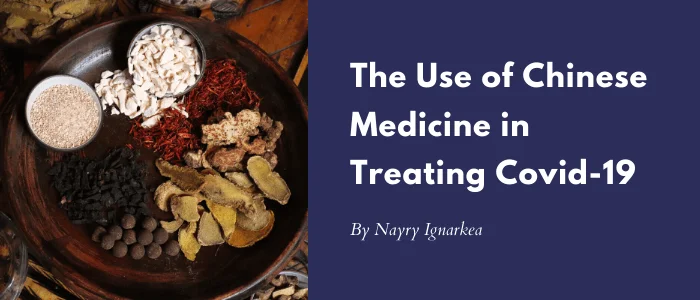 By Nayry Ignarkea
China is promoting the use of traditional Chinese medicine (TCM) in the fight against the COVID-19 epidemic, and has even donated traditional Chinese medicine to a handful of countries. This may all be in good will, however studies suggest that there are serious side effects to the use of traditional Chinese medicine. In a corrupt world where the responsible organizations, such as the World Health Organization (WHO), have such strong political bounds to governmental entities, such as the Chinese Communist Party, it becomes our duty, as members of the society, to inform others on such crucial matters, especially when it could be a matter of life and death such as this one.
What is Traditional Chinese Medicine?
The World Health Organization defines traditional medicine as the sum total of the knowledge, skills, and practices based on the theories, beliefs, and experiences indigenous to different cultures, whether explicable or not, used in the maintenance of health as well as in the prevention, diagnosis, improvement or treatment of physical and mental illness.
Traditional Chinese medicine or TCM is one branch of such traditional medicine, and it is based on approximately 3,500 years of Chinese medical practice. These medical practices include various forms of herbal medicine, acupuncture, cupping therapy, guasha (coining), massage, exercises such as qigong and much more.
China is promoting the use of traditional Chinese medicine in treating COVID-19
Tongjitang (Guizhou) Pharmaceutical Co. Ltd, a unit of Sinopharm, has donated two batches of preventive TCM worth a total of 135,000 Chinese yuan (equivalent to almost 19,000 USD) to France. Meanwhile, Beijing Tong Ren Tang Chinese Medicine Co. Ltd has donated 4,000 doses of TCM to Singapore and Toronto, and a total of 20,000 doses of its cold granules were delivered to Seoul. Shijiazhuang Yiling Pharmaceutical has also donated Lianhuaqingwen capsules worth 1.78 million Chinese yuan (equivalent to almost 250,000 USD) to aid Iraq in contagion prevention and control efforts.
I would like to emphasize that I don't think that China's intentions are vicious. In fact, some of these compound herbal medicines, are said to be effective in treating Covid-19. Nonetheless, it is of crucial importance to talk about some of the problems with traditional Chinese medicine.
The problems with Traditional Chinese Medicine
One may ask "What is the harm of Traditional Chinese medicine anyway? The physical activities promoted by TCM aren't inherently harmful, and traditional Chinese medicine consists primarily of 'natural' ingredients."
This is without a doubt the biggest misunderstandings about TCM and traditional medicine as a whole. Just because something is 'natural', doesn't make it harmless. As we will address in problem 3.
Researchers at the Murdoch University in Australia have found the following problems after using modern DNA sequencing technology to investigate traditional Chinese medicine.
1)The use of endangered species: Some TCM products contain material from animals classified as vulnerable or critically endangered, such as the Asiatic black bear and the Saiga antelope. Buying TCM would mean supporting a criminal action, and if you think you're not buying such products because they are not mentioned on the label, you're in for a surprise!
2)The use of unmentioned ingredients: Often, the medicine harbors ingredients not mentioned on the packaging. For example a product labeled 100 percent Saiga antelope contained considerable quantities of goat and sheep DNA. It truly is unclear what else is mixed in various forms of traditional Chinese medicine.
3)Toxic chemicals in 'natural' plants: The researchers also found members of 68 different plant families, among them plants of the genera Ephedra and Asarum. Both of these plants can contain toxic chemicals such as aristolochic acid, a compound banned in many countries because it causes kidney disease and cancer of the upper urinary tract (UUC).
One of the researchers said the following about the detection of these toxins:
"While detecting DNA from a certain species does not mean that a toxin produced by that plant is present, a chemical analysis of one of the four samples containing arum DNA did turn up aristolochic acid."
This also explains higher rates of UUC in a country like Taiwan where the use of such herbal medicine is extremely high.
4)Chinese medicine injections have serious side effects: According to China's 2019 Adverse reactions to medicine, more than 60 percent of side effects were caused by injection medicine. One of the three main traditional Chinese medicine that China is promoting requires injections, and the medicine therefore carries a very high health risk.
What should be done?
In situations like these, it is the responsibility of the World Health Organization to warn against such misinformation. Sadly because of the strong bond and relationship that currently exists between China and the WHO, it is not likely for the WHO to go against the Chinese Communist Party. Therefore it is our duty to inform each other on such misinformation. I encourage all readers to read the full article published by the Science magazine, and I urge you to do your own research and make your own decisions.
Conclusion
Even though China's intentions aren't malicious, the effects of promoting traditional Chinese medicine could be hazardous. The state of traditional Chinese medicine has certainly improved over the last few years and there certainly is reason to be optimistic. However, because TCM has a non-scientific approach to medicine, it is essential to be critical and proceed with great care.
Sources:
–Dangers of Chinese Medicine Brought to Light by DNA Studies
–China promotes traditional medicine to fight against epidemic
–国家药品不良反应监测年度报告(2019年)发布
–新冠病毒和中草药:泰国、老挝批准中国推荐的抗病毒中药连花清瘟胶囊
Us versus them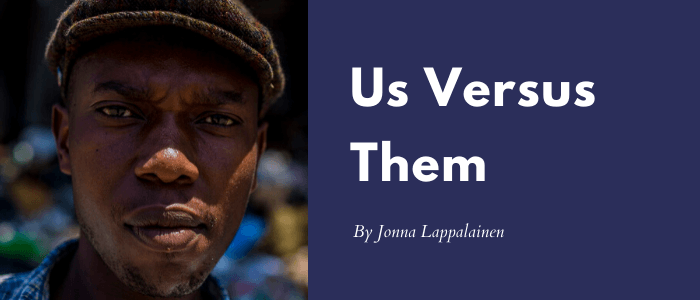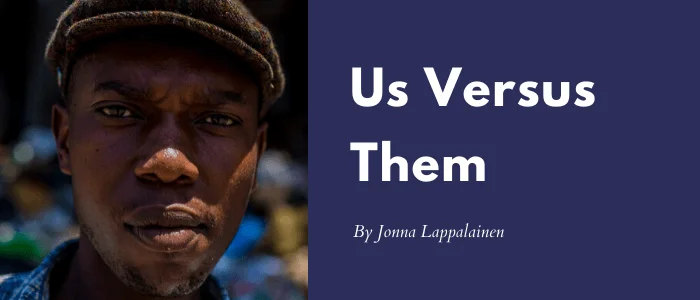 By Jonna Lappalainen
Protests and clashes have spread across the US after the death of African-American George Floyd on May 25th 2020, in police custody. Frustration over the deaths of African-mericans at the hands of police was already rising over the recent deaths of Ahmaud Arbery and Breonna Taylor. These terrible events are only a few examples among the many of conflicts rooted in false judgments, prejudice and discrimination.
This article presents prejudice and discrimination from the perspective of social psychology. Social psychology is interested in the interactions between individuals and their social environments It presumes that the presence of other people, whether actual, imagined or symbolic, affects the individual's feelings, thoughts and actions. Amongst the key theories of social psychology are the theories of social identity and self-categorization, together known as the social identity approach. The social identity theory (SIT) was first introduced by Henri Tajfel (1919-1982) and further developed by Tajfel and his student John Turner (1947-2011) in the late 1970s. The self-categorization theory (SCT), later introduced by Turner and his colleagues, is an extension of SIT.
Tajfel himself was a Polish-born Jew who moved to Sorbonne to study chemistry. In the second World War he volunteered to serve in the French army but was captured by the Germans and put in the prisoner-of-war camps. Tajfel's Jewish origin never became revealed and he survived as a prisoner-of-war. Upon returning home he found out that his entire family and most friends had died in the Holocaust. This had a profound impact on him resulting in his major work in social psychology, particularly in understanding prejudice and how social and political contexts affect psychological processes.
Social identity approach
Social identity theory attempts to explain intergroup relations and groups' effects on their members' self-concepts and self-esteem. The theory relies on the principles of basic human needs according to social psychology, social cohesion by categorization and positive self-image. In short, social cohesion is achieved by categorizing ourselves in groups to gain security, approval, appreciation and meaning. These groups have to be good because they are part of us and we want to see everything related to us in a positive light.
Categorization
Categorization is essentially a cognitive process, a tool to organise information and understand the world around us efficiently. People categorize themselves and others as members of different social groups such as age, gender, ethnicity, nationality, language, sexual orientation, occupation, hobby or favorite sports team. Any type of a quality, more or less important to a person, can be referred to as a group. In this sense, SIT suggests that these group memberships define our identity, which consists of both individual or personal and social identities.
Intergroup relations
In addition to one's chosen categories, social identity is affected by the evaluation of those categories. Thus, positive evaluation of a person's group of identification strengthens the positive social identity and self-image a person might have. Similarly, a negative evaluation could lead to a negative social identity and low self-esteem. If a group is being criticised, its members are likely to protect it, essentially protecting their own identities.
Categorization affects thoughts and judgments. Ingroup bias refers to the tendency to favor one's own group, the ingroup, in reference to other groups, the outgroups. The need for a positive self-image drives us to engage in different activities such as changing the group if possible, social comparison or social competition to change the lower ingroup status into a higher one.
Social comparison leads to positive distinctiveness in which one's own group is imagined more positively than the group of comparison. In addition, the differences between in-and outgroups are imaginatively maximised leading to intergroup discrimination. Similarities between the people of the ingroup are accentuated while the ingroup's difference to a certain outgroup is highlighted – we are different from them! Outgroup homogeneity on the other hand refers to the tendency to see outgroup members as similar to each other. They become group representatives instead of individuals, as if they are all the same. Interestingly more variety is allowed to ingroup members at events of negative association. For example, the word terrorist might bring to mind an image of a (brown) Muslim. Needles to say that this image could well influence a person's judgment about other Muslims, leading at least to a subconscious concern whether or not other Muslims carry the same potential to turn into terrorists. A white terrorist, however, is often considered an exception, an individual and in no sense a representative of the white race or even the far-right.
This type of reasoning might seem exaggerated but studies have shown that favoritism towards one's ingroup occurs even in laboratory environmental conditions. Minimal group paradigm is a research method used to study the minimal conditions required for ingroup bias to emerge. Remarkably, participants divided into social groups of arbitrary or trivial criteria, such as the color of their shirts or their told favorite painter, start to show a tendency of favoring their newly created group members.
SCT introduces a term depersonalisation to describe a situation where social identity becomes important and group membership is activated, leading to intergroup discrimination. It is important to notice that individuality and depersonalisation are contextual, rapidly changing and often inconsistent, and thus do not trigger universal responses and behavior.
Stereotypes and prejudices
Stereotypes are cognitive generalizations about the qualities of a social category and its members. They simplify the complicated world around us and speed up our perceptions and evaluations. Unfortunately they are often exaggerated, negative and persistent. In the social identity approach stereotyping is the consequence of intergroup discrimination and outgroup homogeneity. Little or superficial contact with outgroup members also facilitate the development of stereotypes.
Prejudices are preconceived attitudes, positive or negative, about a given group or member. Prejudices include three different components; the affective (emotions ranging from mild discomfort to hatred), cognitive (assumptions and beliefs, including stereotypes) and behavioral, which includes discrimination. Both stereotypes and prejudices are reluctant to change because rooted in intergroup behavior, they distort perception and affect our further experiences with members of other groups.
A collective identity, one that would categorize a large group of people into one category, is difficult to create, especially in the modern world where the media provides us with an endless amount of information from different sources and new social groups and various subgroups are born more easily than ever.
As a student, I found social psychology one of the most interesting fields in psychology because it opened my eyes to understanding how greatly social interactions and certain contexts affect our thinking, emotions and behavior. I became more aware of my own biases as I realised that I was following these same tendencies of categorization and crooked judgments that the social identity approach suggests. Social identity theory and self-categorization theory do not explain all types of intergroup relations, but they provide an insightful viewpoint to understanding the various conflicts related to prejudice and discrimination.
Sheep Shearing Amongst the Nomads of Kurdistan – in pictures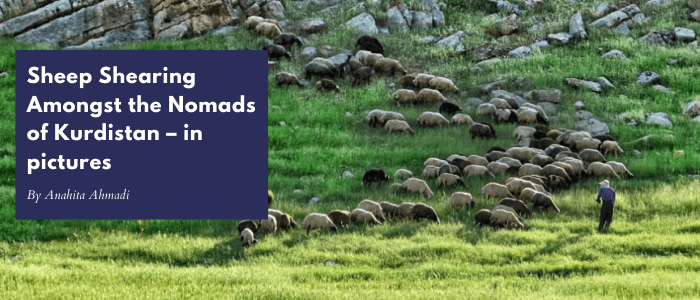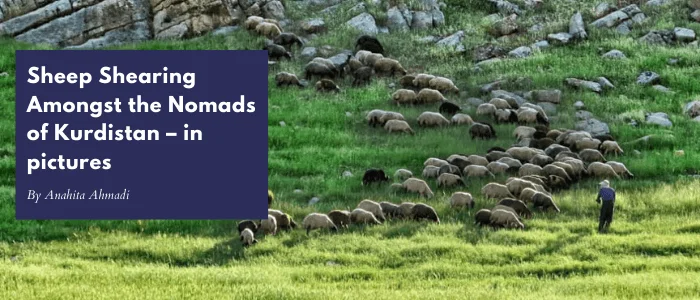 By Anahita Ahmadi
Here is a collection of photos by Anahita Ahmadi, an outstanding photographer who lives in Iran and specialises in shooting photos of remote places and forgotten cultures. Her warm and bubbly personality touches her subjects so deeply that they are happy to allow her to capture the intimate secrets of their worlds. Nature itself seems to comply, showing itself in all its naked glory. However, her work is not without risks, especially when confronted by misogyny and bigotry; recently she had to flee for her life when the elders of a village wanted to have her killed. Please send us feedback and any suggestions you may have on how to promote Anahita's amazing work.