Facing the COVID-19 Together – Letter of Encouragement to Gordian Readers
By Ariana Yekrangi
Dear Gordian readers,

This year, we have found ourselves in extraordinary and unprecedented times. The COVID-19 pandemic has made our human interconnectedness clearer than ever before. While we know that no obvious solution lies ahead, we are certain that our best response relies on solidarity, bilateral collaboration and the very thing that makes us humans: compassion and respect for life.

UN-aligned encourages you to follow the advice and recommendations of your regional governments to fight the outbreak in its most effective way, may that be staying home for an extended period of time or implementing measures to exercise social distancing with your friends and family.

UN-aligned remains fully functional
One of the qualities of having a virtual platform is that we will be able to continue working from home and further UN-aligned's missions and keep our commitment to our members from across the world.

Make the best out out of your quarantine time and ignore all the Coronavirus productivity pressure
It is ok not to be at your most productive during a global pandemic. As Aisha Ahmad writes in her article for the Chronicle: you should give yourself ample time to allow for a mental adjustment; not everyone is going to be able to get used to the "new normal" right away. Take things easy and, if at all possible, make daily routines and allow yourself to focus on your work/studies, then use the rest of your time to catch up with virus-related news.

Don't engage with conspiracy theories and false news.
While it is completely normal for our curious minds to wonder and give divergent and, at times, absurd explanations to unresolved questions that we may be having about the virus, we encourage you to follow the principles of Occam's razor and not complicate your entities without necessity. The dominance of social media in today's world has made misinformation about the virus as deadly as the virus itself. We strongly recommend you to get your latest information and advice about the virus from trusted sources such as the World Health Organisation's website. And next time, think for a moment before sharing a snippet of "information" about Covid-19 that's popped into your social media feed.

"There is no going back to normal, because normal was precisely the problem"
In order to reduce the risks of future pandemics we must understand why we are here in the first place. UN-aligned will be monitoring the situation closely and respond to it accordingly.

Only together we will be able to manage the situation. If you felt lonely or wanted to spend your time helping UN-aligned, just send us an email and say hi; we would be delighted to hear from you.

Be well and stay safe.
What you may have missed in March 2020


AFRICA
Mozambique: Islamist insurgents have taken over the town of Mocimboa de Praia in the north of the country, endangering a nearby site containing an international multibillion-dollar natural gas project. This suggests an alarming change of tactics, as the rebels had never embarked on such an offensive before.
Benin: Following a request from the royal court in Benin, Bristol Museum has agreed to return one of the famous bronzes that had been pillaged in 1897, together with thousands of others, during an invasion by British forces. Many of the other Benin Bronzes are scattered in museums around the world.
Guinea: A constitutional referendum was held on March 22 that could allow President Alpha Condé, who is embroiled in a number of corruption scandals, to remain in power for a further 12 years. The referendum was boycotted by opposition parties and protests have already resulted in a number of fatalities.
Mali: The date for the rerun of the disputed presidential election has now been set for July 2. In a remarkable ruling in February, the Constitutional Court rejected the results of the May 2019 elections that returned President Mutharika to a second term.
The Malian singer, Rokia Traoré, was released by a court in Paris after having gone on hunger strike, but she may still be extradited to Belgium over a child custody case. She had been detained at Charles de Gaulle Airport on March 10, as she is accused by Belgian authorities of having kidnapped her five-year-old daughter, whom she had been ordered to return to her former Belgian partner last year.
Somalia: Al-Shabaab Intelligence Chief, Hassan Geney, was captured near the newly liberated town of Janaale. The East African terrorist organisation has been affiliated to Al-Qaida since 2012.
Ethiopia: The Ethiopian Foreign Minister, accused the US of being undiplomatic, after it claimed that a deal had been reached between all parties involved in the negotiations around the capacity limits of Grand Ethiopian Renaissance Dam, which will affect the flow of the Nile to neighbouring countries. Ethiopia stressed that an acceptable deal had not been reached with Egypt and Sudan over the issue and declared that it would not be attending the next round of talks.
Senegal: The former Marseille Football Club President, Pape Diouf died after contracting coronavirus on March 21.
Egypt: A report published this month following an investigation by Human Rights Watch and Belady, an Egyptian charity, revealed that Egyptian security forces were involved in regular and brutal torturing of children as young as 12.
Democratic Republic of the Congo: Oly Ilunga, a former health minister, and his financial assistant have been sentenced to five years of forced labour for having embezzled over $400,000 of funds that were destined for the battle against Ebola.
Chad: Almost 100 soldiers were killed in the worst attack yet by the terrorist group, Boko Haram. On March 24, President Idris Deby travelled to the scene and paid tribute to the 92 soldiers who died defending their island army base.
AMERICAS
USA: The Standing Rock Sioux tribe celebrated a momentous victory on March 25 when a federal judge ruled that a full environmental review of the Dakota Access Pipeline had to be carried out, despite the blocking of such a review by Trump, who started granting permits immediately after taking office.
Mike Pompeo made a surprise visit to Afghanistan to salvage the deal with the Taliban, which is threatened by political rivals, Ashraf Ghani and Abdullah Abdhullah, who are both claiming victory after the September presidential elections. With very little publicity, $1 billion in aid to Afghanistan was cut, with further penalties threatened unless the Afghan leaders will agree to the US plan with the Taliban.
Guyana: The British Foreign Secretary, Dominic Raab, cautioned officials that "any government sworn in on the basis of non-credible results will face strong international condemnation." The final results of the March 2 regional and general elections have not been released yet.
Colombia: Prison riots over coronavirus fears have resulted in the deaths of at least 23 people. The unrest started with concerns over poor health services in prisons and overcrowding.
Bolivia: A new date is to be set for the presidential elections that were due to be held on May 3. The previous elections, that were held in October, resulted in the victory of the incumbent, socialist leader Evo Morales, but riots forced him to flee the country, as Jeanine Anez of the Democratic Social Movement, took over the presidency.
ASIA
Singapore: On March 30, the high court refused to rescind a colonial era law that criminalises sexual acts between men. The previous attempt to have the law repealed was in 2014. The law is similar to the one that sentenced Oscar Wilde to two years in prison in 1895. The ruling will leave gay men vulnerable to imprisonment, abuse and blackmail.
Thailand: Mid-March witnessed a turf war between temple and street monkeys in the deserted streets and squares of the historic city of Lopburi. The monkeys had become accustomed to treats, which were no longer available due to people retreating to their homes because of COVID-19.
Japan: Popular Japanese Comedian Ken Shimura died after contracting coronavirus on March 30
Israel: A few days after the resignation of the speaker of the Knesset, Yuli Eldelstein, on March 25, Benny Gantz defied expectations by taking up the post. Gantz had a slight lead over incumbent Benjamin Netanyahu in the elections earlier in the month and was asked to form a government by the president, Reuven Rivlin. The move by Gantz indicates a willingness to reach an agreement with Netanyahu.
Iran: Robert Levinson, the former FBI agent, turned private investigator, who was the longest-held US hostage in the country's history, died in captivity in Iran. His family made the announcement in March, although it is believed that he may have died weeks before the news broke out.
Turkmenistan: The country is mourning 20 of its citizens who died in Istanbul, Turkey, after having drunk isopropyl, which was passed off as a legitimate spirit. 34 others were hospitalised.
Turkey: Two Saudi nationals close to Crown Prince Mohammed bin Salman were formally charged by prosecutors in Turkey on March 25 for the murder of journalist Jamal Khashoggi. The former Royal Court Adviser, Saud al-Qahtani and the former Deputy Head of Saudi Intelligence, Ahmed al-Asiri were amongst 20 Saudis charged with the killing.
Cambodia: Human Rights Watch has accused the government of persecuting and detaining individuals who were questioning the Cambodian authority's response to the COVID-19 pandemic. it demanded the immediate stop to the "clampdown!"
Afghanistan: A historical Sikh Gurdwara in central Kabul was attacked by ISIL terrorists on March 25, killing 25 worshipers, including women and children. About 200 people were in the temple when the complex was showered in bullets and hand grenades during the prolonged assault.
EUROPE
Kosovo: Prime Minister Albin Kurti's government fell when a no-confidence vote was cast on March 26, despite the crisis the republic is facing because of COVID-19.
Poland: The accomplished composer and conductor, Krzysztof Penderecki, died aged 86 after "a long and serious illness". His best-known works include Threnody to the Victims of Hiroshima and Polish Requiem.
Ukraine: President Zelensky had warned of a looming default on the country's debt if parliament would have failed to pass two important bills that were conditional to securing a boost from international partners worth $10 billion. The bill was passed on March 30.
The Netherlands: A painting by Vincent van Gogh, on loan from the Groninger Museum in Groningen, was stolen from the Singer Laren Museum at 03.15 on Monday morning. The painting, titled Spring Garden, features the vicarage in grounds in Nuenen. It was the only painting taken in the heist.
Hungary: Right-wing Prime Minister, Viktor Orban got his way on March 30, when his nationalist government passed a law allowing him to rule by decree. This means he will be able to bypass parliament for an unspecified period. Critics fear he will use his prerogative to suppress his opponents.
Spain: Lucia Bosè, the Italian actress and mother of Miguel Bosè, died after contracting coronavirus on March 23

OCEANIA
New Zealand: Less than two weeks after the anniversary of the brutal mosque attacks, which were carried out on March 15, last year, Brenton Harrison Tarrant decided to plead guilty to the 51 murders and to 40 charges of attempted murder.

Pissing in the sacred brook: humanity's abuse of water and water's revenge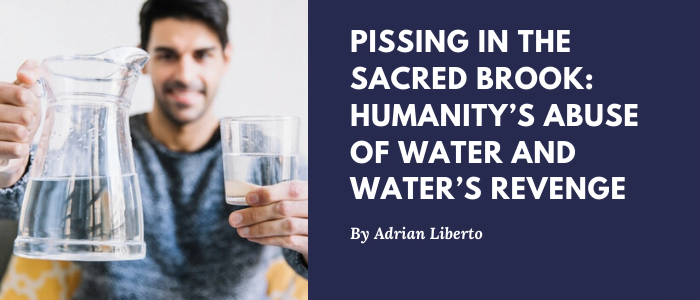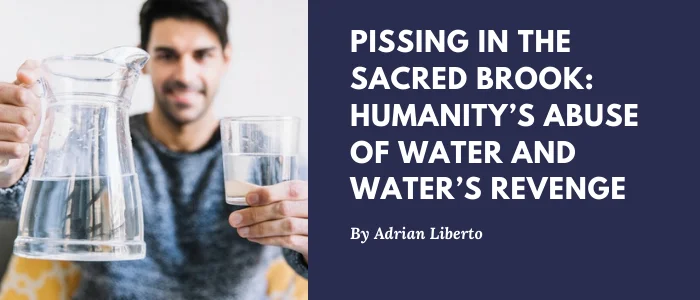 By Adrian Liberto
"Water, water, every where,
And all the boards did shrink;
Water, water, every where,
Nor any drop to drink."
The above quote from The Rime of the Ancient Mariner, by Samuel Taylor Coleridge describes part of the curse inflicted on the mariner and his crew for his having shot the albatross whose noble presence had been bestowing a blessing to their voyage. In many ways, most of our leaders are like that mariner, killing Mother Earth who guarantees our wellbeing: only that these leaders have been doing it more slowly. We are polluting the air, the land and the waters, and even though we can see the curse materialising before our very eyes, we carry on, regardless. Today I will focus on Water.
There are countless ways in which water is being abused. The seas are drowning in plastic and other forms of pollution, while rivers, lakes and groundwater are being contaminated with chemical and other waste, as well as being exploited out of existence for human consumption, industry, powerplants and irrigation. Moreover, ironically, as life-sustaining water dwindles, the oceans are rising due to the melting ice caps that are warming because of climate change. Indeed, for many of us, it may well be a case of there being water everywhere, with not a drop of it to drink!
Still, if any of this is a surprise to anyone, it means that they really have not been paying enough attention. What is perhaps less obvious is the tsunami of conflict that shortages of clean drinking water are likely to generate. In fact, tensions are already running high in some places. Of course, such tensions are nothing new and have been rampant for centuries; the difference, however, is that the situation is becoming more and more precarious; desperate, even. The deteriorating situation is also putting pressure on delicate treaties that have managed to ease hostilities in the past, such as the 1960 Indus Waters Treaty, brokered by the World Bank between India and Pakistan, which settled issues around the control of waters flowing through both territories.
Water Wars
March 2020 witnessed hordes of people scrambling for toilet paper as the must-have trophy of the COVID-19 panic buying frenzy. Water is so much more valuable, since not only does it help keep us clean, it also sustains us. The discord that accompanies threatened supplies is, therefore, not hard to imagine.
Water wars can be triggered by various water-related problems and they can be waged on an intrastate level or an interstate one. The former has to do with conflicts that involve parties within the same state or country, while the latter refers to hostilities between neighbouring countries and often concerns disagreements around boundaries, as well as issues on consumption.
Intrastate Confrontations
The California Water Wars offer a good example of an intrastate conflict. These were a series of conflicts between the city of Los Angeles and farmers and ranchers whose livelihood revolved around Owens Lake. As the spread of Los Angeles began to surge, so did its water requirements. In 1913, therefore, an aqueduct was built that siphoned off the water from the Owens River and Lake to the city. As the water became scarcer for the locals who depended on it, they began to do all they could to stop the irreparable damage that was being inflicted on their land. By 1924, realising that their legitimate protests had been paralysed by insidious legal webs, they tried to sabotage the aqueduct in a desperate attempt to save their community. That too failed and by 1926 the land had all but dried up.
Modern governments tend to avoid favouring one community within national borders to the detriment of others. However, this is not always the case. Sometimes multinational organisations or even national industries, come first. We witness these abuses periodically: pipelines ripping through the livelihoods and mores of local communities; legal and illegal logging destroying the habitats of people and wildlife alike; developers eating into rural areas and squeezing agrarian communities out… Of course, water, as a commodity that is becoming scarcer, is no exception when it comes to causing discord and displacements. Coca-Cola, for instance has been accused of exploiting water resources in developing countries, such as India, Mexico and El Salvador, where production costs are cheaper. War on Want charged the company of "dehydrating communities in its pursuit of water resources to feed its own plants, drying up farmers' wells and destroying local agriculture." In 2016, Coca-Cola countered such criticisms with a full-page advertisement in The New York Times, stating that: "for every drop we use, we give one back". This claim has been found to be grossly exaggerated, unless, that is, they were referring to urine, which, of course, is 95% water!
The Water War of Cochabamba is another recent example. This was the culmination of a series of protests in Bolivia's fourth largest city following the privatisation of water, which resulted in arrests and a few fatalities. On this occasion, the locals won the battle and the privatisation agreement was revoked.
There are, however, current situations that are still more dangerous. As a consequence of mismanagement, nepotism and corruption, Yemen, for instance, has been suffering severe water shortages that are fuelling the humanitarian crisis and hostilities there. Similar crises and clashes, which are also exacerbated by frequent droughts, are taking place in Somalia and sometimes pushing desperate citizens into the hands of the Al-Qaeda-affiliated Al Shabaab terrorists.
Nevertheless, the conflicts that are likely to prove destructive on a massive scale are those that pitch countries and states against each other.
Interstate Timebombs
While disputes around maritime borders generally concern fishing rights and national security, the problems facing countries that share a river or a lake usually concern consumption. With countries that share a river, it is common for those that are downstream to accuse upstream nations of exploiting the river to such an extent, that only a trickle is left to flow into their own territory. Although countries that border lakes do not have the challenge of one country having topographical precedence over another, the issues are very similar, except that demarcation lines and fishing rights may also exacerbate the problem, as is the case with Malawi and Tanzania and their dispute over Lake Malawi/Lake Nyasa.
What is certain is that with water availability becoming scarcer due to pollution and unpredictable precipitation, the disputes are bound to become more heated and critical.
A Typical Example: The Grand Ethiopian Renaissance Dam
In 1979, President Anwar Sadat of Egypt had said that if ever Egypt had to go to war again, it would be over water. Sure enough, Egypt is one of the many countries in a diplomatic row with a neighbouring state because of water. Since 2011, Ethiopia has been building the Grand Ethiopian Renaissance Dam, which, when completed, will be the largest hydroelectric powerplant in Africa. The dam is nearing completion, but may still take several years to fill up. The time this will take will not only depend on precipitation, which is becoming increasingly unreliable due to climate change, but also on agreements with Egypt and Sudan. These negotiations are not going well.
Part of the problem is linked to a number of colonial era treaties that favoured Egypt. The last of these, signed in 1959, secured for Egypt 66% of the Nile's water flow, with Sudan benefitting next. Egypt is unwilling to renounce these privileges that were orchestrated by British authorities, and is still insisting on the lion's share. Negotiations between Egypt, Sudan and Ethiopia had been progressing, but not well enough according to Egyptian negotiators, so they invited the United States and the World Bank to mediate. In an interview with The Reporter, Sileshi Bekele, the Ethiopian Minister for Water accused the Americans of trying to take over the negotiations:
"At first, they agreed to remain as observers, but later assumed a meditator's role and then acted as a decision maker for us."
Ethiopia is therefore accusing the US of bias and refusing to sign the so-called agreement drafted by them. They are also planning to plough ahead with their plans.
Similar disputes have been brewing in other parts of the world, such as those in the Mekong River basin involving China, Laos, Cambodia, Vietnam and Thailand.
The Middle East and the Rivers of Paradise
Seeing as the Middle East contains 1% of the world's fresh water, which is meant to supply 5% of the world's population, tensions are inevitable. There are conflicts between Turkey, Iraq, Iran and Syria over the use of Tigris and Euphrates rivers, as well as tensions between Iran and Afghanistan over the Helmand River and the Hari River. These countries are already struggling with a host of other geopolitical issues, so it may only take a bit of water to light the fuse that will ignite even more dire confrontations. The situation in Palestine is even more desperate. A 2016 Briefing by the European Parliament focussed on the issue and detailed the humanitarian cost:
"While Israelis have unlimited running water year-round, the hundreds of thousands of other residents in the territories suffer from water shortages that drastically affect their health and economic wellbeing. According to the World Bank, these residents have the lowest access to fresh water resources by regional standards. While the land in the West Bank and Gaza is arable, inadequate water supply has contributed to soil degradation and desertification. In addition, economic disparities, lack of substantial and sufficient infrastructure and the lack of effective management of water resources have led to substantial depletion and contamination of water resources which further aggravate the problem and pose risks to the humanitarian and environmental state of the region."
Where the Greatest Danger Lies
There is no doubt that fighting for limited resources is a disastrous prospect, but there is an even worse scenario: there not being anything left to fight for. This would be water's ultimate revenge. Water is at risk from overuse, climate change, pollution and mismanagement. Like Midas, we consider ourselves clever when we turn it into gold, but as Midas learned, the hard way, one cannot ingest gold. Desertification is becoming a serious problem in many countries, from large ones, like Australia, to small ones that find it even harder to cope, such as Zambia. Human activity as a whole is responsible and the water supplies are running out.
The virtual obliteration of the Aral Sea, until recently the fourth biggest lake in the world, offers a stark warning. In 1960, the lake consisted of an area of about 68,000 km² and a volume of 1,100 km³, but irrigation projects started by the Soviet government that wanted to become a lead exporter of cotton, or "white gold" as it was nicknamed, began to bleed the lake dry; a policy continued by Uzbekistan after the end of the Soviet Union in 1991. The lake gradually split into four smaller lakes and with time, these too started to disappear. Part of the lake is now the Aralkum Desert. The Aral Sea is a textbook example of ecosystem collapse and UNESCO has added the documents relating to its demise to the Memory of World Register as a testament of this "environmental tragedy".
Turning the tide
All is not lost. There is much that can be done to avert disaster. Of course, the first thing is to tackle climate change by reducing our CO2 emissions. Another lesson COVID -19 is teaching us, is that in just a few weeks of shutdown, the world is starting to breathe again. The WHO estimates that 4.6 million people die each year from causes directly linked to pollution. Whether COVID-19 will match or surpass this death toll is yet to be seen, but the point is that we are hardly even prepared to inconvenience our careless consumeristic ways to address this and all the other plagues that follow in the wake of climate change, such as droughts, floods, wildfires, hurricanes and rising sea levels. Water is a necessity and according to the United Nations, a human right. We cannot afford to lose it.
Second, our water resources need to be managed more sensibly and governed by sound and informed conventions. All water intensive practices must be included in these treaties, as well as all forms of water pollution. Penalties for infringement should be severe and rigorously enforced.
Third, recycling should be considered where possible in order to maximise availability. Some countries, like Saudi Arabia, have resorted to desalinating seawater, mostly by the process of reverse osmosis. These approaches can help in the short term, or for limited consumption needs, as in small islands, such as Malta. However, on the one hand, the process requires a lot of energy, while on the other, the by-product, which is brine, causes environmental problems when released back into the sea. These challenges are not insurmountable and perhaps more research needs to be done to allow this process to be more environmentally friendly.
Fourth, curbing the meat industry would help ease water demand considerably. According to PETA:
"Nearly half of all the water used in the U.S. goes to raising animals for food. It takes more than 2,400 gallons of water to produce just 1 pound of meat, but it takes just 25 gallons to grow 1 pound of wheat. You save more water by not eating a pound of meat than you do by not showering for six months!"
Of course, the bovine meat industry is also one of the worst offenders when it comes to greenhouse gas emissions, so tackling this will also help with the first point on climate change.
Finally, we can all do our bit to help save water: from not leaving the tap running while brushing our teeth, to finding ways of collecting rainwater for our gardening needs. If you have any useful ideas in this respect please let us know and we will publish then in the next issue of this magazine…
So, it does not have to be all gloom and doom. However, it will take people like you, who bothered to read this article right to the end, to carry on and ensure more gets done to save this vital resource.

The water system in Finland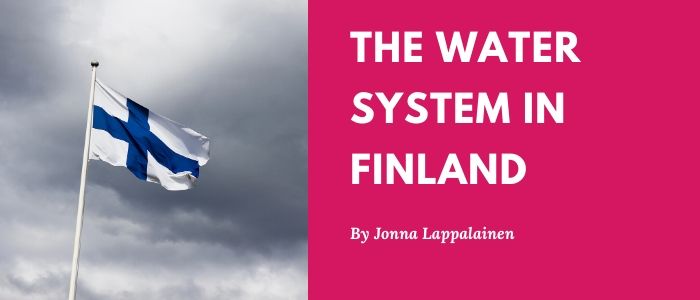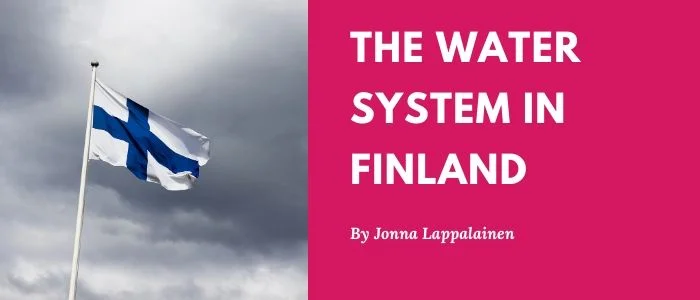 By Jonna Lappalainen

Water resources in Finland are generous, up to almost 20 000 m3 per inhabitant. Freshwater covers 10% of the surface area and the sea over 50 000 km². 70 % of both the freshwater and seawater is of good quality. Since there is generally no shortage of water, the consumption has been high as well, from almost 350 litres per inhabitant a day during the 1970s, to about 140 litres nowadays.

The construction of sewers started from the big cities during the second half of the 19th century and in the beginning of the 20th century three cities were covered by municipal water supply networks and sewer networks. Over 90 % of the population is now connected to the water supply network and almost as many to the sewer network. There are in total 1500 water treatment and groundwater plants. While the biggest source is groundwater, especially for the bigger cities, water demand requires the usage of surface water as well as artificial groundwater .

In total, 1 million cubic metre of water is used per hour. Most of the water is used as cooling water in factories and power stations. Another big consumer is the forest industry consuming about 50 000 km3 water per hour. Households account for more than half of the consumption of drinkable tap water. Most of the consumption consists of washing (over 40 %), flushing the toilet, laundry and preparing food.

Municipalities are responsible for the organisation, supervision and development of the water supply, together with the Centers for Economic Development, Transport and the Environment (ELY Centers), which are a total of 15 in Finland. Each center promotes the good condition and usability of waterways, flood protection and prevention.

Facts:
50 000 km of sewer networks
107 000 km of water supply networks
1500 water treatment plants
Charge 1,48 e / km3 (Helsinki Metropolitan Area)
Waste water charge 1,75e / km3 (Helsinki Metropolitan Area)
12 % of groundwater is used as a source by water treatment plants
The Malawi-Tanzania dispute: a quagmire that keeps their lake pure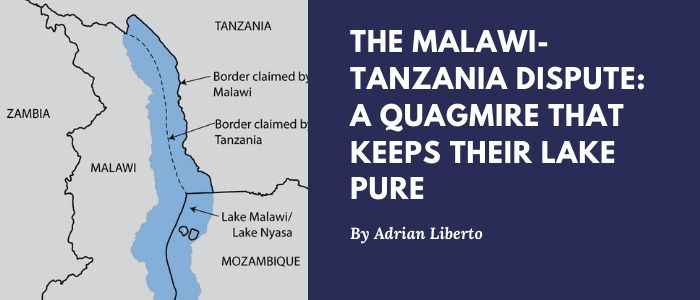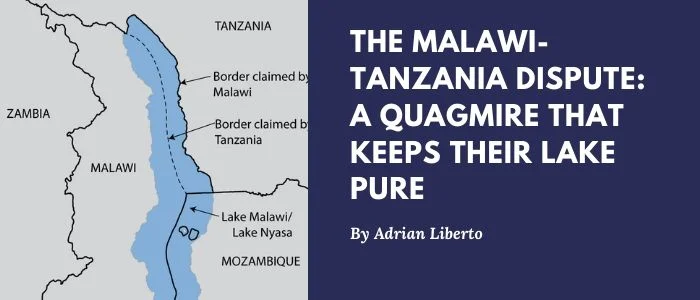 By Adrian Liberto
The prolonged border dispute…
Almost seven years ago now, I had written an article regarding Lake Malawi. I was not alone in my alarm at the news that the government of Malawi had signed contracts with oil companies who were keen to start drilling for oil in the lake. This could have proved a disaster to the unique and privileged position the lake holds as an environmental paradise. A border dispute with Tanzania slammed the breaks on the project and thankfully, it has not been resolved to this day.
The background to the dispute
It would only seem fair that the demarcation line of Lake Nyasa, or lake Malawi as it is also called, should lie in the median lines of the three nations surrounding it. They are Tanzania, Mozambique and Malawi, and the 1884 Berlin Conference confirmed that that should be the case. Current international legislation would also lean towards the same conclusion.
The Heligoland Treaty between Germany and Britain in 1890, however, left the British in Nyasaland (now Malawi) in control of what was Tanganyika's part of the lake. When, in 1914, the British took Tanganyika over from Germany, they still placed most of the lake under the jurisdiction of Nyasaland. This did not cause too much of a problem then, as Tanzania's fishing rights were more less respected.
The ecological importance of Lake Malawi
Mozambique's portion of the lake has been a protected nature reserve since 2011, while a section of the lake, in Malawi, forms part of the Lake Malawi National Park. This has been a UNESCO World Heritage Site since 1984 and UNESCO describes it as:
Located at the southern end of the great expanse of Lake Malawi, with its deep, clear waters and mountain backdrop, the national park is home to many hundreds of fish species, nearly all endemic. Its importance for the study of evolution is comparable to that of the finches of the Galapagos Islands.
A silver lining
Tanzania is not stalling the drilling for ecological reasons. It wants its fair share of the booty. Nevertheless, drilling could prove catastrophic to the wildlife. It could also jeopardise the livelihoods of locals living and working around the lake. The Niger Delta and the Ogoni people can provide a perfect example of the nightmare scenarios that can ensure. So, for once, perhaps, a bureaucratic quagmire can preserve the limpid purity on a body of water on which so many life forms depend. For a time at least…

Should you separate the art from the artist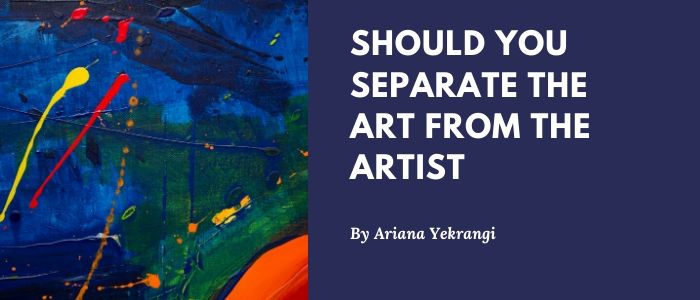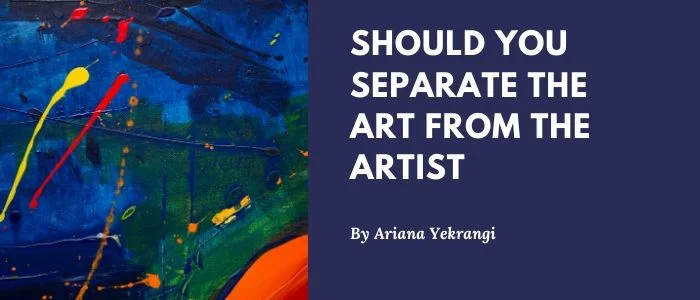 By Ariana Yekrangi

Does good art justify the person or does a quality human being justify his art? Do you think the art is separable from the artist? Can the lifestyle of an artist, however deleterious and odious it has been, be dissociated from his or her creation and the way you perceive their work? Why is it that we hold our answers to be true when it comes to some artists, but not others?

It is, of course, true that Picasso was a more complex human being than his repugnant misogynist characteristics and his behaviour toward women would suggest. Wagner was, too, a man beyond his anti-semitic ideology, and Woody Allen has probably more human traits than the abuse of his children. You probably knew that both Caravaggio and Ben Jonson killed men in brawls, Norman Mailer once attempted to kill his wife and Byron committed incest with his half-sister.

It is rather easy to see that If one were to eliminate all art by artists who turn out to be less than exemplary in their demeanour, there will be too little art left.

Artists are not paragons of virtue
It is no secret that we like to idealise people. Our culture often glorifies heroes such as poets, composers, painters and politicians based on their achievements and not their way of life. As long as our idealisation of someone is carried out to a realistically sustainable degree, the benefits of this process often outweigh the costs. However, we must remember that almost everyone has a skeleton in their closet.

Art isn't always an extension of one's personality
Information can greatly increase the level in which we enjoy and perceive works of art, in positive, as well as negative ways. While no one can experience art in its "truest form" simply by relying on their own judgement, one must take into account that an artist, at times even without intention, creates micro worlds with complex internal structures that can be understood and analysed in a vacuum based on their own merits, without having to rely on any need of background information of its creator. This itself is enough reason to discredit lines of thinking such as: by enjoying this you are supporting this [work or its creator]".

It is important that In the light of revelations of misbehavings of artists we must exercise a certain level of flexibility of thought, so we could improve upon our incomplete picture of the art and artist.

No one is above the law
Whether someone should be punished for their wrong-doings is not up for debate, it is a matter for the judiciary. However, how cultural institutions and we as a society, choose to respond is something worth discussing.

Works relating to artists who are not alive:
Artists in this category are particularly difficult to deal with, as a great number of their works have found their way into our history books and daily cultural life. In fact, when it comes to this category of artists, we often choose to turn a blind eye to what we today may consider some waste-expelling orifices. Some examples include the symphonic composer Bruckner, who was also a well-known pedophile, the known sculpture Eric Gill, who sexually abused his daughter, sister and even his family dog, or even the painter Paul Gauguin, who took three child brides and infected them with syphilis.

In museums and galleries, we also often hear of the difficulty curators face in exhibiting items relating to historical incidents such a slavery, colonialism and the representation of non-European cultures. In such instances we must pay extra attention to how we choose to react. Censorship must not be an option. Humans have always killed, looted and enslaved each other for what can only be considered as selfish purposes. We must be careful not to whitewash our history and its disgraceful routes.

Works relating to artists who are alive:
With the rise of the Me-too movement and the empowerment of abused people to come forward with their stories, we have learnt that pretending that everything is normal is not an option anymore. The artist must be confronted and held into account for their actions. There are multiple ways that an art institution such as an orchestra, gallery or theatre can choose to deal with the problem, here are a few of them:

The asterisk approach
Telling the audience the good as well as the bad about the artist is an approach that has recently been popular in coping with sexually offending artists by some museums and galleries. The idea is simple, you start a conversation and let the audience make an informed decision on what they think about the piece of art.

To remove the work
While this approach may, arguably, enter the realms of censorship, it is often the most effective. The accused will not be promoted until light comes to the situation. This scenario may also offer an opportunity for artists whose works may need more attention.

Do Nothing
Doing nothing is also an option. This is perhaps an appropriate approach if the work in question expresses beyond its creator or has absolutely nothing to do with accusations the person is associated with.

Beauty lies in the eyes its beholder
Museums, theatres, cinemas and concert halls are upholders of our rich and diverse cultural heritage and should express the good as well as the bad in the society. People are entitled to tell their stories, and we have the right and the responsibility to hear the stories they wish to share. It is then our job to weigh this information with the work in question and judge it based on a variety of factors and decide whether and how we let it shape our judgement.

In the light of such phenomena, asking the following questions may help you make a more conscious decision whether the piece of art in question should be shunned and avoided.

What do the accusations mean in their relevant historical contexts? What is the historical background of the work of art in question and was the act the artist is accused of considered a taboo in its time?
Does the work not only remind you of the offence, but in any way reflect and promote the values of the offender?
Who suffers when the offender's work remains accessible and conversely, who suffers when their work is no longer a part of our cultural heritage?
Poetry is the pity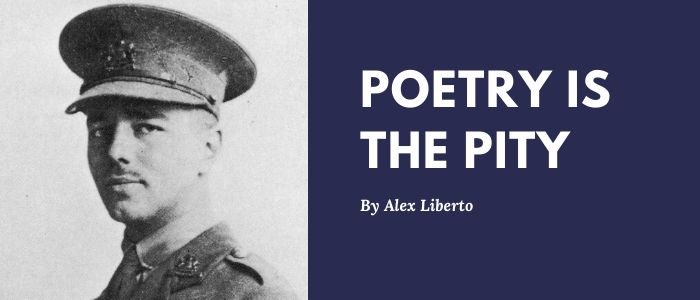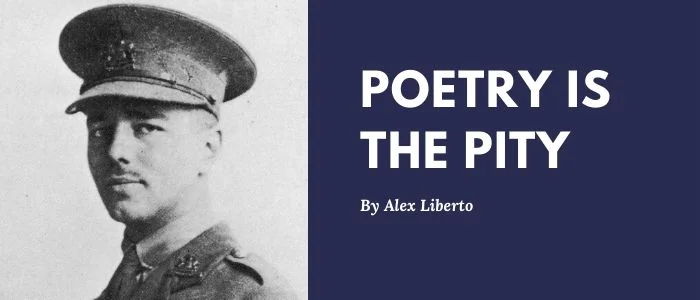 By Alex Liberto

Looking at the War Poetry of the early 20th century we have seen the glorification of war through patriotism and the personal philosophical perspective through imagery and symbolism. Today we shall see how the poetry of Wilfred Owen (1893 – 1918 ) dealt with the reality of that senseless war. He was neither perfunctorily patriotic nor poetically philosophical. He was brutally realistic. More than any other, Wilfred Owen was the true poet/spokesman for the horrors the soldiers were facing on the battlefields. He wrote:

My subject is War, and the pity of War.
The Poetry is in the pity.
His poetry did not euphemistically romanticise death and suffering, but it focused on the documentary reality of terror, dread and anguish. In direct opposition to the ideals of Rupert Brooke, Owen shattered the false belief that war was glorious and that dying for one's country was patriotic and romantic. His poetry portrayed the reality of war as though it was a photographic reportage.
The poem I shall briefly look at, is a typical case in point. The title is sarcastically echoing Brooke's patriotic belief that it is glorious to die for one's country. The title is, Dulce Et Decorum Est , which is a quote from The Odes by the Latin poet Horace, the English translation being, It Is Sweet And Fitting… the lines are actually followed by "pro patria mori", which means "to die for one's country".

"It is sweet and fitting to die for one's country" is in sharp contrast to the gruesome picture Owen paints in the poem.
He describes broken men marching like "old beggars under sacks/Knocked kneed, coughing like hags…" They are "drunk with fatigue" and seem to be more like an army of zombies than soldiers.

The poet then describes a gas attack. The limping, blood-shod men panic under the billowing lime gas and clumsily strive to cover their faces with masks, but not everyone manages. One poor soul breathes the gas and drowns in the green poison.

He plunges at me, guttering, choking, drowning.

Rupert Brooke would have envisioned a romantic burial for this brave, unfortunate soldier. A burial in a "corner of a foreign field / That is forever England." However, in reality the dying soldier is "flung" behind a wagon where his head hangs "like a devil's sick of sin" and the blood comes:

…gargling from the froth-corrupted lungs,
Obscene as cancer, bitter as the cud
Of vile, incurable sores on innocent tongues
The picture is a stark realistic image of physical suffering and a graphic depiction of bloody wounds and horrific injuries. The end of the poem explains the title by calling it an old lie.
Read the full poem here.
April Quiz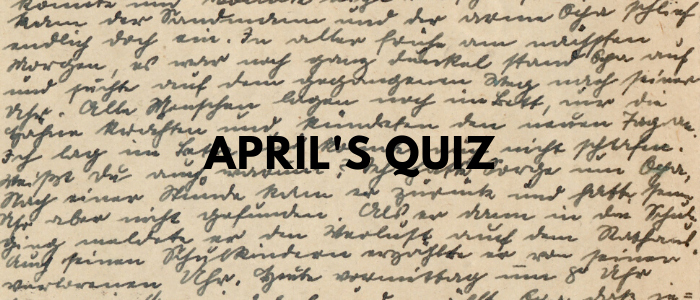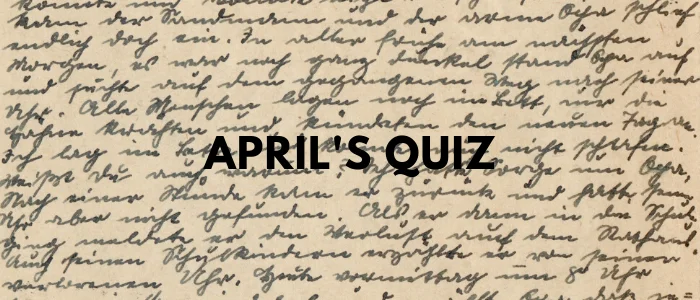 1. Which American songwriter, born in Imperial Russia and died in New York at 101 is famous for the following songs, amongst many others
Alexander's Ragtime Band
What'll I do
Blue Skies
Puttin' on the Ritz
Cheek to Cheek
White Christmas
There's no Business Like Showbusiness
God bless America
2. Who Created the following franchises?
Star Trek
Peanuts
Star Wars
3. Which religions are these scriptures associated with?
The Avesta
The Guru Granth Sahib
The Bhagavad Gita
The Dhammapada
The Hadith
The Talmud
4. What are the titles of the autobiographical works of these famous Africans?
Nelson Mandela
St. Augustine of Hippo
Ken Soro-Wiwa
5. Where were these people burned at the stake?
St. Joan of Arc
Giordano Bruno
Jacques de Molay
6. What is the new date for the Tokyo 2020 Olympic Games?
7. Which South American country are the Guaraní people mostly associated with?
8. What seas or oceans do the following canals link?
The Suez Canal
The Panama Canal
The Kiel Canal
9. Which Italian painter is reputed to have painted the fresco cycle in the Camposanto in Pisa?
10. Can you name the five overseas regions and departments of France?

Quiz Answer Sheet (Don't cheat!)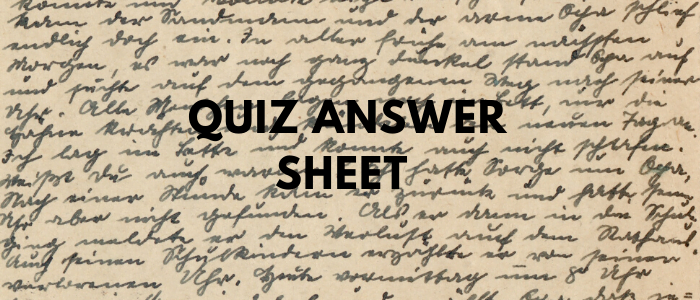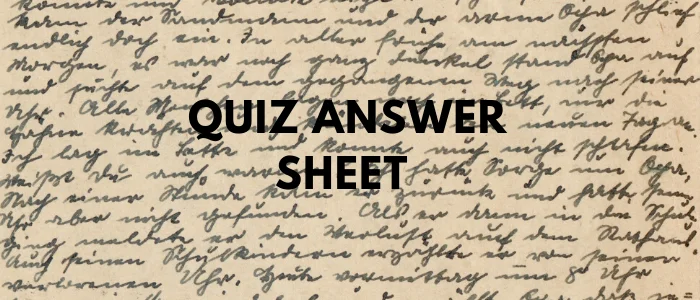 1. Irving Berlin
2. i) Gene Roddenberry; ii) Charles M. Schultz; iii) George Lucas
3. i) Zoroastrianism; ii) Sikhism; iii) Hinduism; iv) Buddhism; v) Islam; vi) Judaism
4. i) Long Walk to Freedom; ii) Confessions; iii) Silence Would Be Treason
5. i) Vieux-Marché in Rouen, France (Rouen was under English rule at the time) ii) Campo dei Fiori, Rome; iii) Paris, on the Ile des Juifs, a small island in the Seine near the palace garden
6. July 23, 2021
7. Paraguay
8. i) Mediterranean Sea and the Red Sea; ii) Atlantic Ocean and Pacific Ocean; iii) North Sea and Baltic Sea
9. Buonamico Buffalmacco
10. Guadeloupe, French Guiana, Martinique, Réunion and Mayotte.