UN-aligned becomes one year old!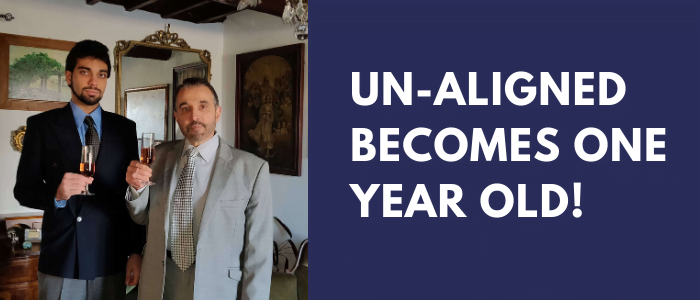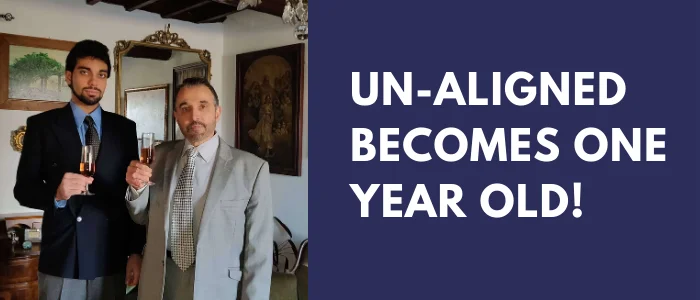 UN-aligned is one year old this month! The seed was sown some years ago in China and developed thanks to the dedication of like-minded people. We have gone from 22 Foundation Members to hundreds of followers from around the world: some are full members, others are subscribers, while many follow us on Facebook. To all our supporters, we wish to offer a big THANK YOU!
Unlike most organisations, UN-aligned is, primarily, its members. We are the New United Nations and though just a drop in the ocean, for now, we will carry on growing until we will become a force to be reckoned with! Our Mission Statement and Manifesto clearly indicate what we stand for, but they are not written in stone and with your help we hope to learn and evolve so that we can bring about the change that we know will make the world more sustainable and harmonious.
Refinement has been much of what this first year was about, also thanks to suggestions and advice form members and interested parties. For instance, we have made the website more user-friendly and improved its speed; we have improved the monthly magazine, now called The Gordian, and added new features to it and we commenced delivering the free English online classes to all UN-aligned members.
Watch This Space!
Now that we have consolidated our base and our structures, we are ready to launch into phase 2!
First, we are in the process of progressing from a Voluntary Association to a Non-Governmental Organisation (NGO). This will give UN-aligned more clout and will make it easier for it to be represented at international forums. This will strengthen our activism and our presence on the global stage. As soon as our application is approved, we will be furthering our cause through a number of manifesto-related campaigns.
Second, we are about to launch the UN-aligned Publishing Site. The first book will be a critique of the United Nations and will offer suggestions on what should replace it (UN-aligned, of course!). The book should be out at the end of spring or early summer. All members will have access to the site, should they wish to publish their own works.
Finally, so far, we have managed without funds, however, we realise that some will be necessary in order to help us carry out our activities. We will therefore be opening an UN-aligned bank account that will be completely transparent and visible on the UN-aligned website. All proceeds from the first book will get the account started. Funds will be a bonus. We managed without funds so far, and we will continue whether we have them or not. What is certain is that we will not be harassing our members or potential members for donations as many NGOs tend to do. What we really want is your enthusiasm!
How you can help further
We need members! The more of us there are, the more chance we have of achieving our aims. Help us by promoting membership to you friends or to people you think have similar values. If every member added another, membership would snowball and we would be unstoppable!
However, we also need active members: people who roll up their sleeves and contribute to the work of the organisation. Some already have, for instance, by writing articles for The Gordian, or offering to help with proofreading. A special thank you goes to you! Now that we are entering a new phase, the opportunities for action and fulfilment are vast. Please come on board! We need you!
We are looking for an UN-aligned Administrator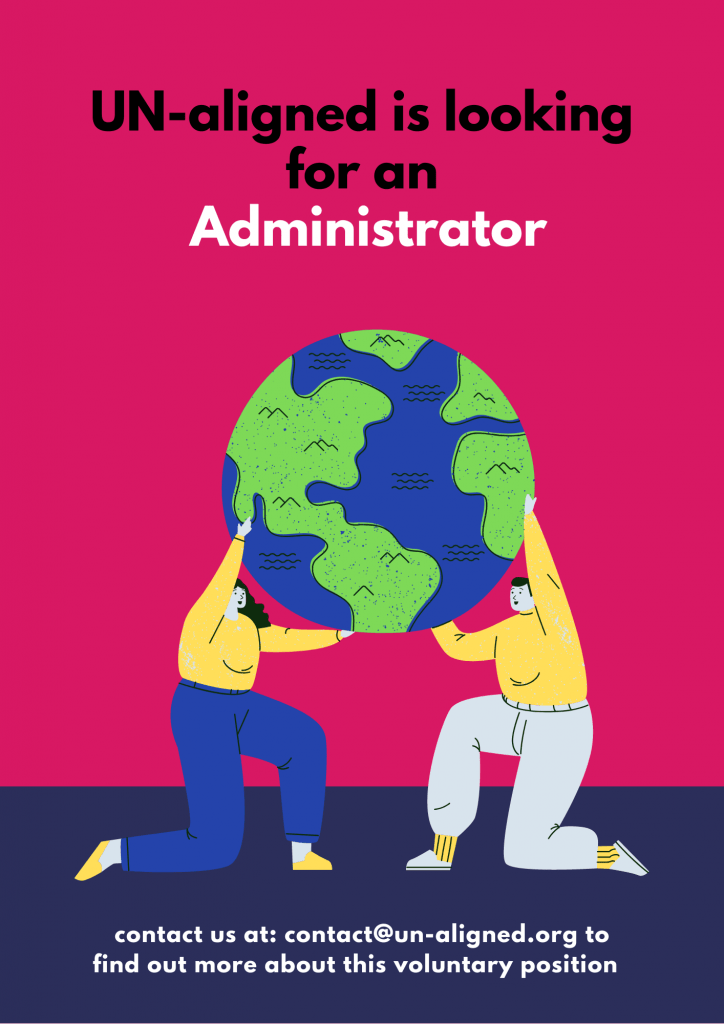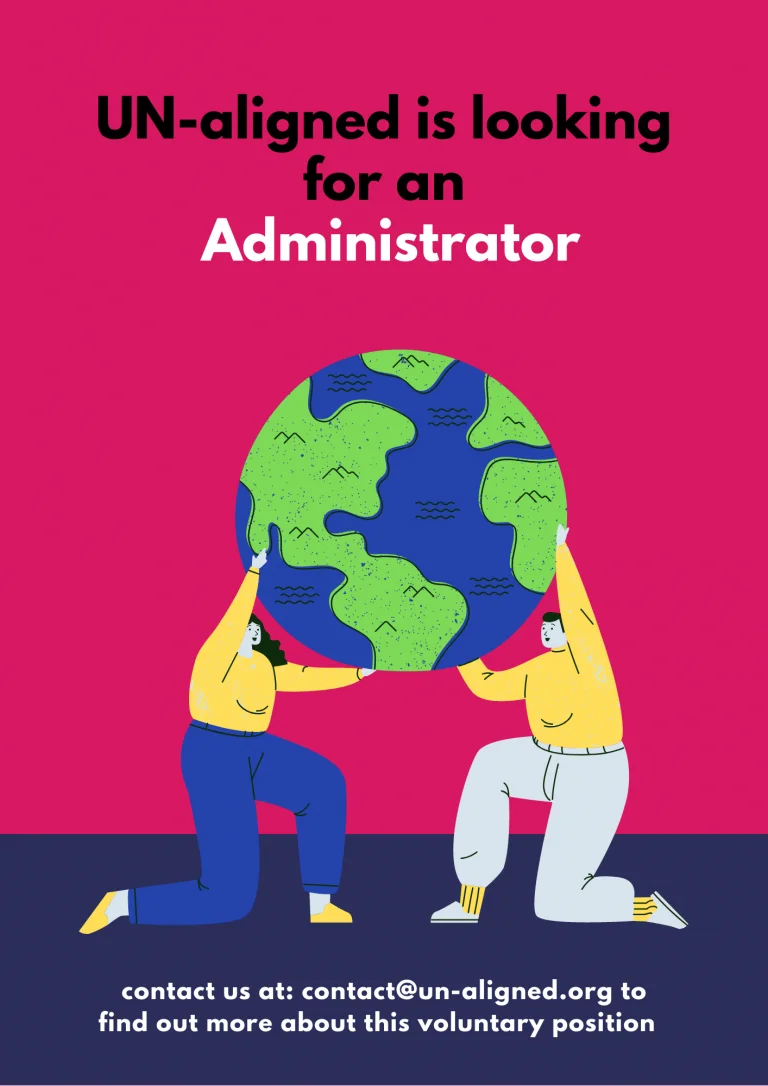 Do you want to be at the helm of a new and exciting organisation, spearheading the change you want to see in the world? Well, here is a golden opportunity for you!

As UN-aligned heads towards the first anniversary of its founding, we are looking for a Senior Administrator to be part of the management team that will propel the organisation into the next stage of its evolution.

Our primary aim is to create a new United Nations; one that is founded on principles of justice and sustainability and that is free from the need to kowtow to corrupt leaders and manipulating superpowers.

We already have members from all over the world, but we need inspired and dedicated people to help us move forward. You can find all the information about our mission on our website and a full job description here.
Apply here.

All positions are currently voluntary, but this will change as the organisation develops.
What you may have missed in April 2020


AFRICA
30.04.20: South Africa. Anti-apartheid activist, Denis Goldberg, died of lung cancer in his home near Cape Town at 87. He had been tried with Nelson Mandela and spent 22 years of his life in prison.
24.04.20: Democratic Republic of Congo. Hutu militiamen killed 16 people, including 12 rangers of the Virunga National Park, which is a sanctuary for endangered mountain gorillas and other rare species. The civilians were part of a convoy being protected by the rangers when the rebels attacked.
18.04.20: Nigeria. Gunmen in the State of Katsina raided several villages, killing 47 people. The area is prone to attacks by criminal gangs.
18.04.20: Chad. 44 Boko Haram members were found dead shortly after their arrest with 14 other jihadists in what is suspected to be a mass suicide.
09.04.20: Burkina Faso. Security forces executed 31 detainees in the northern town of Djibo in what appears to be a case of extrajudicial killings.
06.04.20: Mali. 25 soldiers were killed and six were injured in a rebel attack
AMERICAS
24.04.20: Brazil. Justice and Security Minister, Sergio Moro, famous for his anti-corruption policies, resigned after clashing with President Bolsonaro over the latter's sacking of the federal police chief. A week earlier, Bolsonaro had also sacked his Health Minister, Luiz Henrique Mandetta who disagreed with the President's business as usual attitude to the coronavirus pandemic.
19.04.20: Canada. Gabriel Wortman, a dentist working in Nova Scotia, went on a shooting rampage killing 22 people in a random, but calculated attack that even involved disguising his car as a police vehicle.
07.04.20: Ecuador. Former President, Rafael Correa, was sentenced in absentia to eight years in prison for corruption while in office. Correa, who is now living in Belgium, was one of 18 people convicted on bribery charges.
06.04.20: Brazil: The Environment Minister, Ricardo Salles, has sacked a government analyst who opposed relaxing an environmental review that was due to look into thousands of shipments of wood exports that were by passing required approval.
03.04.20: Mexico. About 20 people died during clashes between two criminal gangs in Madera, Chihuahua. The gangs are fighting for control of drug trafficking routes by the Sonora border with the USA.
01.04.20: USA. The Jazz pianist and educator, Ellis Marsalis, died at the age of 85 due to complications from COVID-19.
01.04.20: Mexico. March saw the most homicides since President Obrador took office despite the fewer people on the streets because of COVID-19 outbreak. There were 2,585 homicides, 7% more than in March 2019.
ASIA
30.04.20: North Korea. After weeks of speculation, there is still no news regarding the wellbeing of Leader Kim Jong-un who had undergone surgery on April 12. Japanese sources on the 28th, suggested that the leader was in a vegetative state, while others sources claim that he has died. The latest rumour is that he is sheltering from the coronavirus.
28.04.20: Lebanon. Protests against increasing hardships due to the economic situation intensified, targeting banks in particular, which were set ablaze. One demonstrator died during the riots.
22.04.20: Lebanon. A man stabbed his wife and then shot and killed eight other people in what is believed to have been an honour killing in the mountain village of Baakline, near Beirut.
20.04.20: Tajikistan. Rustam, the eldest son of President Rakhmon, was nominated to the powerful post of speaker of the Senate. Rakhmon's daughter is his chief of staff, while other family members hold central positions.
18.04.20: Hong Kong, China. Many leading pro-democracy activists and former lawmakers were arrested in connection with the protests that rocked the country last year, in what is appearing to be a sustained crackdown during a time when the world's attention is on the coronavirus pandemic.
16.04.20: South Korea. President Moon Jae-in was rewarded by voters for his handling of the pandemic with the biggest majority since the country's transition to democracy.
16.04.20: Bangladesh. A boat carrying about 400 Rohingya refugees was intercepted by the coast guard who found that more than a score of those on board had died of malnutrition and exposure. They had been drifting at sea for almost two months. Some reports claim that the boat had been turned back when it had reached Malaysia, owing to fears of the pandemic.
14.04.20: Kazakhstan. The Foreign Ministry summoned the Chinese ambassador to protest against an article on a Chinese website that claimed that the country wished to become part of China.
06.04.20: Taiwan. The PR success that followed Taiwan's donation of 6 million masks to Europe to help it battle the coronavirus pandemic, was soured by the announcement confirming that Weng Jen-hsien was executed for an arson attack that claimed the lives of six people. This is the second execution during Tsai's presidency.
02.04.20: China. A US intelligence report accused China of under-reporting COVID-19 related deaths and misleading information concerning the outbreak. Meanwhile, Reporters without Borders formally protested China's suppression of criticism regarding its handling of the outbreak.
01.04.20: Turkey. Istanbul Mayor, Ekrem Imamoglu, was accused of raising funds to help those battling the coronavirus pandemic without government approval. President Erdogan, his arch-rival, launched his own "National Solidarity" campaign and pledged seven months of his salary to its fund.
EUROPE
29.04.20: UK. Captain Tom Moore, who hit 100 on April 29, has become a sensation by walking around his garden to raise money for the NHS. He raised £32 million, beat the Guinness World Record for a charity walk, topped the UK charts with Michael Ball for their rendition of 'You'll Never Walk Alone' and has been promoted to Honorary Colonel!
16.04.20: Spain. Luis Sepulveda, the acclaimed Chilean writer, died of COVID-19, aged 70. He opposed Dictator Pinochet and was tortured and imprisoned by the regime. One of his best-known books is his first novel, 'The old man read love novels'.
12.04.20: UK. Sir Stirling Moss, the Formula One racing driver and winner of various races died in London aged 90. He was described as the "greatest driver never to win the World Championship!"
06.04.20: UK. Actress Honor Blackman, Best known for her role as Cathy Gale in The Avengers series and the Bond beauty, Pussy Galore, has died aged 94.
OCEANIA
01.04.20: Vanuatu, Solomon Islands, Fiji and Tonga. Cyclone Harold which began to form at the beginning of April has caused widespread damage and the loss of about 30 lives in a number of Pacific islands. The damage is calculated to cost in the region of $123.5 million.
07.04.20: Australia. The former Vatican Treasurer, Cardinal George Pell, was freed from jail following a High Court decision that acquitted him of sexually assaulting two teenage boys in the 1990s. the 78-year-old had been convicted in February 2019.
Suffering a sea-change: looking on in silence as the waters continue to rise.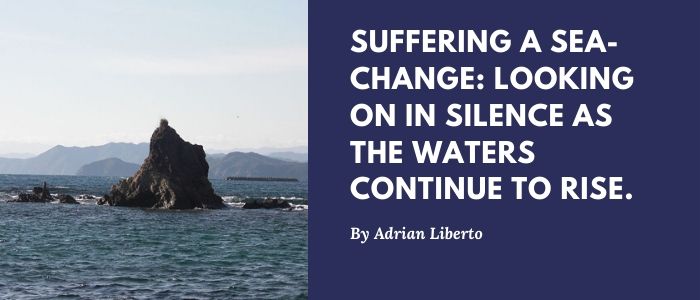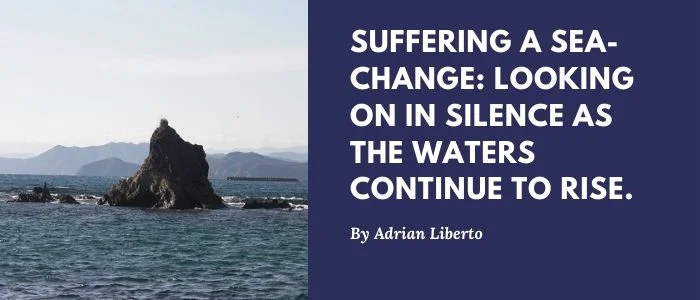 By Adrian Liberto
"Just walking dully along…"
If minutes were days and days were years, would we have prepared for and dealt with the coronavirus pandemic any better? The logical answer would be in the affirmative, however, unlike Vulcans, logic is not always what motivates us. Climate change is like a pandemic and so far, at least, it is progressing slowly. Yet little is being done to prepare for it and even less to stop it. Besides, pandemics occur regularly; it is not as though we were unaware of the likelihood of there being one sooner, rather than later.
Pollution and climate change are far deadlier than viruses. According to the World Health Organisation, pollution alone kills about 4.6 million people a year… every year; while climate related disasters, such as famines, floods, hurricanes and wildfires kill many millions more. Climate change approaches us with the irrevocability and cruelty of a sadistic executioner… and still we do precious little. Moreover, even though the climate change apocalypse is progressing slowly for now, there is no guarantee that it will not reach a tipping point that will precipitate a global cataclysm. Yes, climate change can be stopped, but certainly not as long as we stick to this business as usual mentality.
Remarkably, during this coronavirus pandemic, even greedy countries are now prepared to watch their economies flounder in order to save lives, partly because they know that neglecting those lives would leave their economies worse off. The crux of the issue is that we are too dull to react until a problem hits us in the face. Only then do we realise that we are in the firing line. As long as the danger is out there in the future, it is not really our problem; just as present disasters, that are out there in distant lands, are not our concern.
Few countries, therefore, are prepared to make significant changes to save future lives and economies. We are like parents who are happy to sell their children into slavery and unimaginable hardship, just so that we can hang on to all the luxuries that we take for granted. It is a bit like eating meat: as long as we do not think about the cruelty and suffering that goes on behind the scenes too much, it is not an issue.
The tragedy is that climate change is upon us. Just as some heads of state were calling coronavirus a "little flu" or "a hoax", well into the spread, the climate change deniers are still waving away the issue. Others seem more interested in exonerating human activity as the likely cause than bothering to do anything about it. In previous issues of The Gordian, we have already covered some of the dire consequences of climate change, such as the sixth mass extinction; this month we will focus on melting ice and rising water levels.
A sobering seascape
Global warming has caused the earth's temperature to increase by 1°C since industrialisation began a couple of centuries ago and it is generally agreed that the global sea level rise is attributable to anthropogenic greenhouse gas emissions. The average rate of the global yearly mean sea-level rise has gone up by about 2mm since the early 90s and could soon start reaching several centimetres a year. Even in a low emission scenario, the waters are likely to rise by one metre by 2300. The consequences of such a rise will be devastating, especially for the populations of developing countries that are least responsible for the crisis.
Whilst the melting ice sheets of Greenland and Antarctica have been the focus of concern, melting ice outside these areas has contributed more mass to the oceans than both those ice sheets combined. This influx of fresh water also affects ecosystems and currents, such as the Gulf Stream, thus creating a whole new set of issues. Moreover, with regards to rising water levels, it is not only the melting ice that is the problem. Increasing temperatures lower the water density and this too, therefore, causes the oceans to expand and rise.
Failing to rise to the challenge of the rising seas.
Over the past few years, the national speeches at the United Nations General Debate have been punctuated by pleas from Small Island Developing States (SIDS). Their message: "S.O.S. WE ARE SINKING! We are sinking!" The world's reaction is a bit like the joke about the young German controller of a nearby ship, who panics somewhat at the message and then bewilderedly asks: "What are you szinking about?" Only that this situation is no joke.
"Time is running out" warned President Danny Faure of the Seychelles at the last Debate. "Act with the same urgency as a mother who had lost her child!" Pleaded President Michael Chastanet of Saint Lucia. "Climate change is not only a political issue for us, but also one of survival!" Stressed King Tupou VI of Tonga.
The main problem is rising sea levels, but these are linked to other climate-related threats, such as hurricanes, which also exacerbate the situation. Of course, SIDS are not the only ones who are in trouble. It is estimated that 25% of the world's population lives within 100 km of the coastline, so these communities are also extremely vulnerable, especially those living in low-lying areas. Projections of what landscapes can look like in a few hundred years are jaw-dropping. Great Britain, for instance, could end up becoming a cluster of smaller islands, with much of its territory below the sea level.
Despite some progress in confronting the threat, such as policies stemming from the Paris Agreement that came into force in November 2016, the pace is not even close to what it is required to be in order to stem the tide. It would be bad enough even if it were, since the positive effects would not be felt for many decades. 'Oceans and the law of the sea' a March 2020 UNGA advisory report for the 75th General Assembly due in September, warns:
"Even if the rise in global temperature slows or reverses, the global mean sea level would continue to rise owing to the effect of lags caused by the long timescale on which such processes operate."
In fact, the sea level is projected to continue rising beyond 2100, "under all emission scenarios".
The consequences go beyond loss of land and massive displacements
Within the next thirty years, as many as 250 million people could be displaced because of rising sea levels. Pacific Islands, like Kiribati, the Solomon Islands and Tuvalu are particularly at risk. Contingency plans to help evacuate and relocate threatened populations, however, were removed from a report that was drafted for the Paris Summit on climate change because of insistence from the Australian government. Australia, of course, has serious problems of its own, from desertification spreading from its centre, to coastal degradation at its extremes. Nevertheless, the refugee problem will not go away; nor will the loss of life.
Land loss and related displacements is just one of the effects of rising sea levels. The repercussions are much more complex than disappearing land alone. Storm surges and higher tides will intensify coastal flooding, causing salination of soils, disruption of ecosystems; contamination of ground and surface fresh water and impeded drainage. Food security and public health will be severely affected. Moreover, regular extreme sea-level events will result in countless casualties and the disruption and destruction of coastal infrastructure, such as those relating to power, telecommunications and transport. Coastal erosion and ecological degradation will also adversely affect tourism, on which many seaside resorts rely. In other words, well before the land is submerged, vast areas could become uninhabitable. The cost involved in preparing for such disasters is already too great for many governments to bear, while those in a position to help are happy to bury their heads in the sand.
King Canute, a lesson worth heading
UNGA Resolution 74/234 on the eradication of poverty, adopted on December 19, 2019, highlighted the seriousness of climate change and rising sea levels, by reaffirming that:
"climate change is one of the greatest challenges of our time, that its adverse impacts undermine the ability of all countries to achieve sustainable development, that increases in global temperature, sea level rise, ocean acidification and other climate change impacts are seriously affecting coastal areas and low-lying coastal countries, including many least developed countries and small island developing States, and that the survival of many societies and of the biological support systems of the planet is at risk, which further threatens food security and efforts to eradicate poverty and achieve sustainable development…"
The UN advocates international cooperation in efforts to reduce carbon levels, and "planning and implementation of successful legal, policy and management responses at the regional, national and local levels." Without every nation doing its part, however, especially those who are better placed to make positive and effective changes, the problems will only get worse. Sitting by the sea shore on a throne made of economic prosperity, telling the waves to stay back, like the story of king Canute, will not work.
The coronavirus has shown us that drastic measures can be taken and that they do make a difference. More importantly, it has shown us that we elect stupid and loud mouth politicians at our own risk and the detriment of the planet as a whole. We need to wake up. We need to tell our friends to wake up. We need to make our voices heard. As the wise Einstein put it:
"The world will not be destroyed by those who do evil, but by those who watch them without doing anything."
The more members UN-aligned has, the louder our voice and the more we can achieve. Please help us expand by inviting your friends to join this growing movement.
The rise of sea levels – what is it and can the UN lead a global effort in stopping it?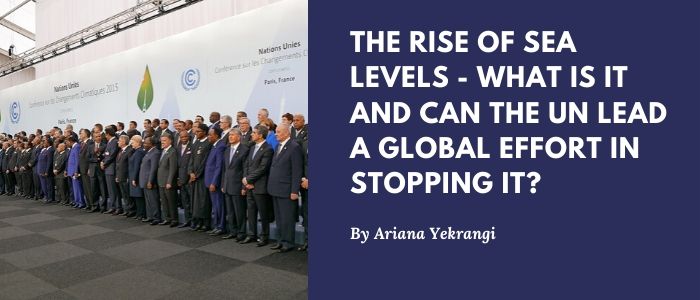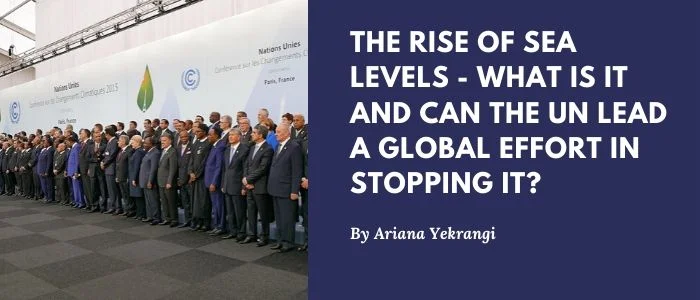 By Ariana Yekrangi
Our oceans are getting warmer and sea levels are rising as a result of increasing concentrations of greenhouse gases in the atmosphere. About 93 percent of the heat created by global warming alone has so far been absorbed into the oceans. This change in sea levels has already had dire consequences on human and animal lives, some of which include: the devastation of coastal habitats, the acceleration of coral bleaching, the increased likelihood of extreme weather events and soil contamination with salt. This change in sea levels is often linked to two primary factors, which are also caused by climate change:
Thermal expansion
As water warms, it expands. This expansion has indeed been the major cause of sea-level rise. Just over the last 25 years thermal expansion has contributed about half of the 7 centimeters of global mean sea level rise.
Melting Glaciers
Glaciers are made up of snow that compresses into large thickened ice masses. It is natural for them to melt a bit during each summer, however recently this melting exceeded its average rate which creates an imbalance between runoff and ocean evaporation, causing sea levels to rise. Melting Glaciers contribute 7 to 24 cm to the rise of global sea level.
The rise of sea levels will not only continue, but also accelerate with time. Quick and decisive action by states, policymakers and people is needed.
The UN's failure in dealing with the crisis
Scientists, such as Edward Teller, have been warning oil companies and governments about the devastating effects of climate change from as early as 1959. Yet, it took the United Nations nearly thirty-five years to ratify the United Nations Framework Convention on Climate Change (UNFCCC) in 1994. Without being able to produce any significant results, parties of this convention have met annually to negotiate multilateral responses to climate change. At the third conference of UNFCCC , in 1997, parties finally achieved a milestone with the adoption of the Kyoto Protocol, the world's first greenhouse gas emissions reduction treaty. Wasn't this great? Finally a change? Well, no.
It was not until 2005 that the treaty actually entered into force. At the time the treaty needed 55 industrialised nations to sign it before it could come into effect. The United States, who was responsible for 36% of emissions in 1990 refused the protocol in 2001, saying it would harm its economy and unfairly favour developing countries. Australia had also refused to approve it. Eventually Russia's vote ended up saving the Kyoto protocol from collapse in 2004. Before the second commitment period of the protocol was due to expire, negotiations were held on how to extend the treaty; the result was the famous Paris Climate Agreement, which ended up reducing member state's carbon footprints and saved the earth. Yes, I have been pulling your leg again. We all know what happened with the Paris agreement accord.
The UN is frequently undermined and bullied by its most powerful members. Bodies of the United Nations are too often at the mercy of those most responsible for climate change. While efforts of the UN in leading such a crisis are sincere, they will remain futile.
The United Nations is flawed. Calls for the UN to be reformed constitute a recurring theme of the yearly General Debates, but the UN is fettered by permanent members of the Security Council and unable to make any significant progress. Our efforts in dealing with rising sea levels, and indeed the climate catastrophe, must therefore be as urgent as our efforts in reinventing the UN because without proper leadership there is no way out of the crisis.
UN-aligned offers such alternatives, see where we stand.
Imposter Syndrome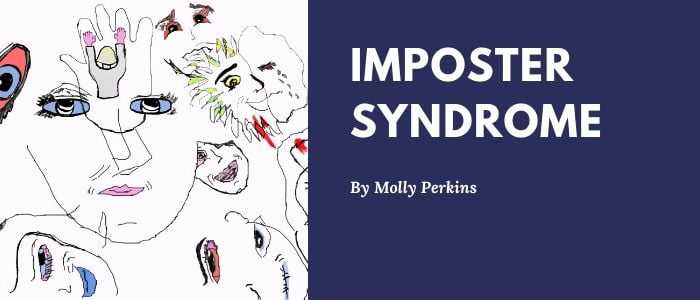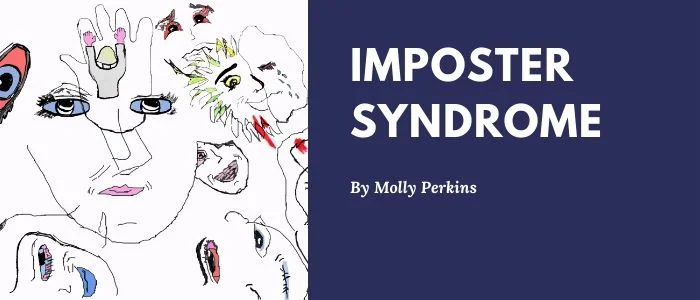 By Molly Perkins
There are many reasons why some of us choose to set up life in a new country. The prospect offers numerous benefits, such as satisfying a yearning for exploration, self-improvement or a higher standard of living. Living abroad is undoubtedly a highly enriching experience, it broadens your mind and provides exposure to different ways of life; it offers a more immersive language learning opportunity and your self-sufficiency will come to know no bounds as a result of having to jump through strange and complex bureaucratic hoops in a foreign language. Despite how beneficial life as an immigrant can be, there are some very real side effects. A combination of triggers mean that you are frequently reminded of that fact that you are a foreigner and don't really fit in. Speaking the language like a beginner, or even fluently, but just not like a native, is a significant one. How you look and act can also draw attention to you, both positive and negative, as you and those around you notice that there's something off and that you probably don't belong here. A culmination of these factors serve to contribute towards feelings of 'Imposter Syndrome.' A term more frequently used when referring to feelings of unworthiness in the workplace, Imposter Syndrome is one of the very real and discomforting side effects of life as a foreigner.
Imposter Syndrome is defined by experiencing constant feelings of self-doubt accompanied by the fear of being exposed as a fraud. The type of Imposter Syndrome one deals with as an immigrant can be influenced by numerous factors. Living in an increasingly globalised world, we as a society are becoming more and more aware of the benefits of multiculturalism and integration. Alongside these developments however, has been a corresponding wave of international conservatism. Narratives of xenophobia and racism are ever present within politics and the media, filtering their way through to public opinion. In a world where some of the most powerful leaders are vocally making the equation that foreign equals evil, could an increasing presence of xenophobia be one of the main reasons that foreigners living abroad are prone to feelings of Imposter Syndrome? This anti-foreign mindset goes hand in hand with contributing towards notions of national stereotypes. It's easier to condemn a nation if it's populace all behave in the same negative manner, which is how harmful stereotypes come to emerge and be held against people. Being aware of how the citizens of your nation are regarded overseas can often lead to feelings of guilt and shame when living abroad, along with a responsibility to challenge these perceptions, never daring to fit into any national stereotype. Stereotypes and feeling the need to fight them only serve to reinforce feelings of Imposter Syndrome due to an overwhelming awareness of being a foreigner.
In less ideological terms, many Imposter Syndrome triggers are things that are often encountered in daily life. Upon announcing a move overseas, many of us are met with the response that we will pick up the language of our new home country in no time. Of course, there is arguably no better place to learn a language than in a country where it is natively spoken, but as a foreigner you are often harshly reminded that the language learning process is a long one that takes time. It can be unbelievably frustrating not to be able to express yourself in the way that you wish, or how you could so easily manage in your mother tongue. Going shopping and trips to the doctor or the bank become far more complicated due to fears of not being understood and not being able to understand. Imposter Syndrome can also create feelings of guilt, guilt that you don't speak the language well enough or guilt that you rely on others to speak English on your behalf. Having English as your native language is a huge privilege, but can also contribute to feelings of Imposter Syndrome. In an international group of friends, the common language is usually English and native speakers therefore have the luxury of conversing while thinking in their mother tongue. A lack of linguistic ability serves to further contribute towards feelings of Imposter Syndrome as you feel unable to utilise a huge tool of access to national culture. Language is one of the foundations of culture and national identity, and not being able to understand or speak the language of the country you're living in to any degree leaves you feeling alienated and like you're missing out on something. Experiences of Imposter Syndrome can be ignited by numerous triggers with feelings of unworthiness contributing towards day to day inconveniences, which make life as a foreigner challenging. A nagging sense of not belonging may lead us to feel that we are not a valid member of the society we are living in. We may find ourselves questioning our entitlement to resources, such as healthcare or state welfare, and whether this entitlement is as worthy as that of a national citizen.
Whilst all of the above may appear solely negative in focus, there are in fact ways in which Imposter Syndrome can be overcome to make life abroad all the more rewarding. From an outsider's perspective, my own position as a white British female is one of extreme privilege, and that's true. My experiences of Imposter Syndrome are nowhere near the degree of what others face when immigrating to a new country, but they are still real, and valid. This leads to the point that feelings of unworthiness and not belonging are so often intensified in our own heads. In no way am I denying the presence of xenophobic discrimination, but feeling guilty for merely existing and taking up space in a foreign country is something we can try to combat within ourselves. It's easy to focus on the negative, like how our language skills aren't good enough or how we are always the odd one out. What we so often see as negative, however, is all down to perspective. Efforts to integrate are undoubtedly appreciated by countries' national citizens, but the presence of new cultures is also welcome. Those who feel threatened by anything foreign should not be satisfied by triggering feelings of Imposter Syndrome within its nation's immigrants. After having lived abroad, many of us may go on to experience Imposter Syndrome when we return to our native lands. We come to consciously, and unconsciously, adopt new cultural practices which just seem alien to those back 'home.' Feeling like you don't belong where you now live and feeling like you don't belong where you originally come from, highlights that none of us really belong anywhere, and that's not a bad thing. I have personally struggled with my national identity for years, but have come to make peace with the fact that I don't have to align myself with one singular citizenship. Despite how we may sometimes feel, we all have a right to be where we are and xenophobic attitudes should be the problem of those that preach them.
____________
About author:
Molly is originally from the UK and has spent the last five years living in Spain, Germany and Austria. Graduating with a degree in Literature and History, she works as a teacher and freelance writer.
Document no. 3 and what it reveals about the Chinese Communist Party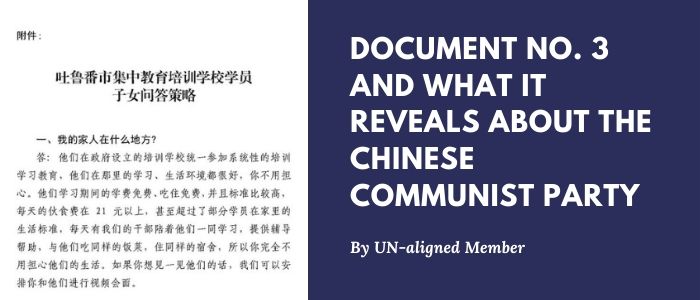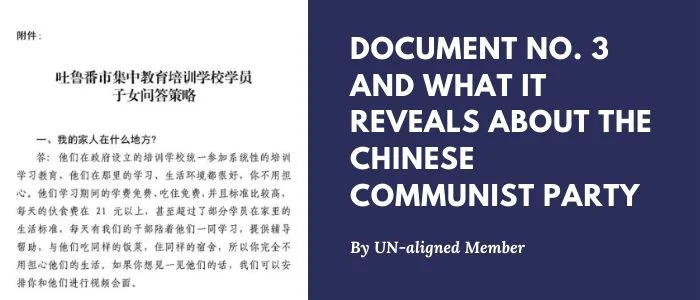 By an UN-aligned member who wishes not not be named
Where we are
The global pandemic known as the COVID-19 Pandemic started in December in Wuhan China, and as of 26th of April, 210 countries and territories have been affected by the virus, close to 3 million people have been diagnosed with the disease, and more than 200,000 people have tragically passed away of the virus.
In late January Dr. Zhong Nanshan, one of the advisors in managing the crisis in China, was asked whether he thought that the virus outbreak would be as bad as the 2003 SARS pandemic. Dr. Zhong Nanshan replied with absolute certainty that this would not be the case. He attributed this to advancements in medical sciences and the experience gathered from the SARS pandemic. The SARS outbreak in 2003 only infected around 8000 people and killed a bit over 800. At this point approximately three months have passed since that initial interview and we must ask ourselves how things ended up like this…
Why we are here
There are many reasons why the COVID-19 pandemic unfolded as it did. COVID-19 was a novel virus with countless unknown factors such as the infection rate, fatality rate, symptoms etc. Of course, a lack of known effective medicine and a vaccine made things even more difficult. But all of these factors aside, there is one other reason why we are here, and that is that the Chinese Communist Party concealed very crucial information related to the novel coronavirus.
The Beijing Government hasn't been up front about the virus situation in China, including details about its origins. It has also failed to share medical facts with the rest of the world. Some side effects of the virus, such as liver damage and higher risk of blood clots, are only just being discovered by western countries such as the U.S and Italy. Up until now, the allegations that China hasn't been honest with the world has been mostly based on observations and speculations, however now there is evidence proving that the Chinese Communist Party has actively kept many things from other countries. An article posted on the Caixin news media uncovers the truth behind some of CCP's actions.
What is document no. 3?
On 26th of February 2020, the Chinese news media Caixin published an article explaining the COVID-19 situation and all that was known about it. In this article, which has already been taken down, a detailed timeline of COVID-19 events starting from December to the end of February was given. This article also contains an interview with a genome sequencing company worker and talks of a certain article no.3.
I will quote part of this lengthy article here.
"A scientist working in the Beijing Genomics Institute, a Chinese genome sequencing company, headquartered in Shenzhen, revealed that on the 1st of January 2020, he had received a phone call from a Hubei official. In this call he was instructed that they ought to stop gathering samples from the 'Novel Coronavirus', and that all already gathered samples would have to be destroyed. He was also instructed not to reveal or share any information, and that publishing papers or data on the novel virus would carry a serious penalty."
These instructions were reinforced in document no.3. Sadly, the original content of document no.3 is not shared with the public, but it's a document which is mentioned repeatedly on numerous official websites including the School of Information Science and Technology of Fudan University.
What does this cover up mean?
Not sharing information on a matter such as a global pandemic should be considered a crime, and the Chinese Communist Party should pay the price for their wrongdoings. But let's first address some of the possible reasons why the cover up might have happened.
Maintaining "national pride"
The Chinese Communist Party wants the rest of the world and its own people to think that they have full control over all situations. Consequently when a deadly and uncontrollable disease such as COVID-19 emerges, maintaining this pride at any cost is to be expected from the CCP.
Covering up a laboratory leakage
The story of a deadly virus emerging from a wet market may have seemed legitimate in the beginning, however as more and more evidence is gathered, these claims have been questioned. Some reports even say that the Wuhan wet market has never even sold animals like bats and pangolins, and that all the people selling other types of animals were selling them with a legitimate permit.
On the other hand the Wuhan Institute of Virology is only a few kilometers away from the wet market, therefore it is possible that the CCP has used the Huanan Seafood Wholesale Market as a cover up to hide a laboratory leakage. Many foreign authorities have done inspections of the labs in Wuhan and have continuously reported a lack of safety measures and equipment.
But whatever the reason may have been, the actions of the Chinese Communist Party has had deadly impacts on the world and the CCP should be punished accordingly.
What should be done?
The number one priority at the moment should be the safety of people and nations, therefore cooperation between other nations and China should continue. However once the situation improves, China will have to answer some very serious questions. Fortunately investigations have already started. Countries such as the US and UK have already started investigating the true origin of the virus. Once irrefutable evidence accumulates, The CCP will have to pay a heavy price for its actions. The exact penalties are yet to be declared by global authorities.
____________
About author:
I am a linguistics researcher with a bachelor's degree in Chinese language. I also like chess and art!
The Bluster of Arrogance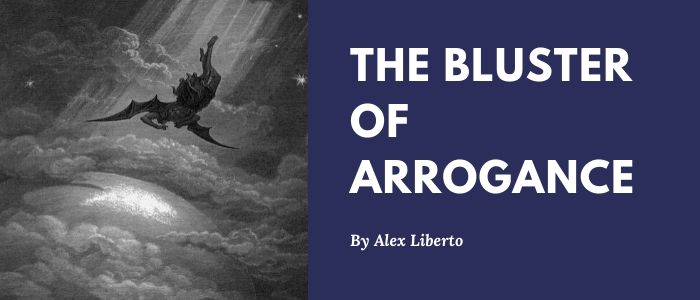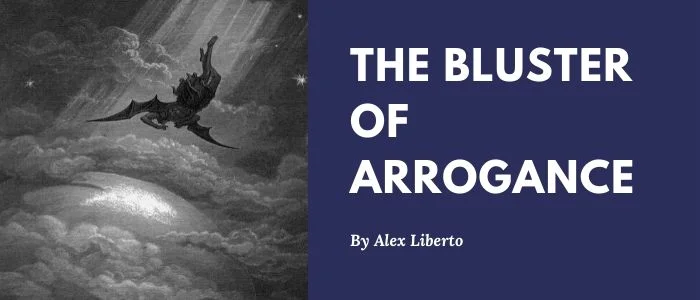 By Alex Liberto
Popular leaders nowadays seem to owe their success to noise, aggression and self-aggrandisement. I call this the Cassius Clay syndrome. The louder they shout, the more they are respected. The more brazen they are, the more they gain trust. The more they blow their own trumpet, the more credible they appear. This is the leader of our 21st century populist culture.
These loudmouths are distorted Machiavellian politicians. Distorted because the ends justified by their means are void of any political or social ideals. Their modus operandi is not based on any strategic acumen, it is improvised and opportunistic. It is sheer megalomania. They wallow in their own narcissism and arrogance, advocating an impoverished makeshift political agenda.
These would-be Princes flaunt their supposed superiority with such shameless hubris that they attract flocks of disgruntled masses who cower to the cult of grandeur. These leaders do not instil intellectual reasoning or cultural curiosity in their followers. They instil blind faith; faith fed with pub talk, catchphrases and monomaniac imaging. Such slogans as "America First", "Make America Great Again" or "Take Back Control" are the Pied Piper hymns that orchestrate the chanting.
The masses bleat their mantra of support, ignoring the lies, half-truths and blatant deceit. "When faith meets evidence, evidence doesn't stand a chance" wrote Nobel Prize-winning economist and New York Times columnist Paul Krugman.
Literature has always been there to denounce the arrogance of political power. Shakespeare exposed this danger in several of his plays: "Th' abuse of greatness is when it disjoins remorse from power." Shakespeare attempted to undermine the cult of greatness and superiority by focusing on the fragile human aspect of the leader: "I think the King is but a man, as I am. The violet smells to him as it doth to me. The element shows to him as it doth to me. All his senses have but human conditions. His ceremonies laid by, in his nakedness he appears but a man."
The Romantic poet Percy Bysshe Shelly best described the rise of political arrogance and its eventual crumbling into oblivion, in his sonnet, Ozymandias. In this poem Shelley tells us what happens to these megalomaniacs, these powerful braggarts, after time ravages their brief moment of greatness. They crumble to nothingness. In this poem, Shelley refers to the statue of Ramses II, the great Egyptian pharaoh. The huge stone statue is used as a metaphor for the political arrogance and hubris of the mighty. Ultimately, the poet suggests that we are all sterile dust in the lap of nothingness. However powerful and mighty one may be, greatness is fleeting.
Both Shakespeare and Shelley prove to us that literature will always outlive the bluster of arrogance.
Ozymandias
I met a traveller from an antique land,
Who said—"Two vast and trunkless legs of stone
Stand in the desert. . . . Near them, on the sand,
Half sunk a shattered visage lies, whose frown,
And wrinkled lip, and sneer of cold command,
Tell that its sculptor well those passions read
Which yet survive, stamped on these lifeless things,
The hand that mocked them, and the heart that fed;
And on the pedestal, these words appear:
My name is Ozymandias, King of Kings;
Look on my Works, ye Mighty, and despair!
Nothing beside remains. Round the decay
Of that colossal Wreck, boundless and bare
The lone and level sands stretch far away."
____________
About Author:
Professor Alex Liberto was educated in Malta, London and Rome, where he has held senior positions within International Academic Institutions and Universities, and with the International media. Due to his recognised work as a writer and poet, he was honoured with the international award of 'IL Leone D'Oro' and was nominated the winner, of the ' Premio Salvator Rosa'. He has been awarded the title of 'Accademico Corrispondente' by the 'Accademia del Mediterraneo', presided by Principe Alliata di Montereale, and the 'Certificate of Appreciation' by the City of Los Angeles, in recognition of his commitment to the International Student Exchange program between Los Angeles and Rome.
New: May quiz