What you may have missed December 2020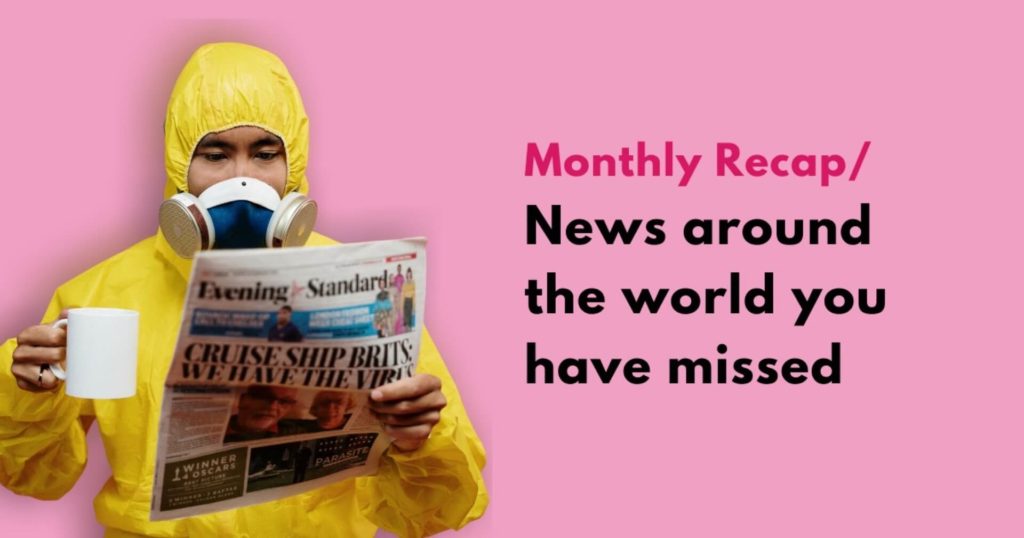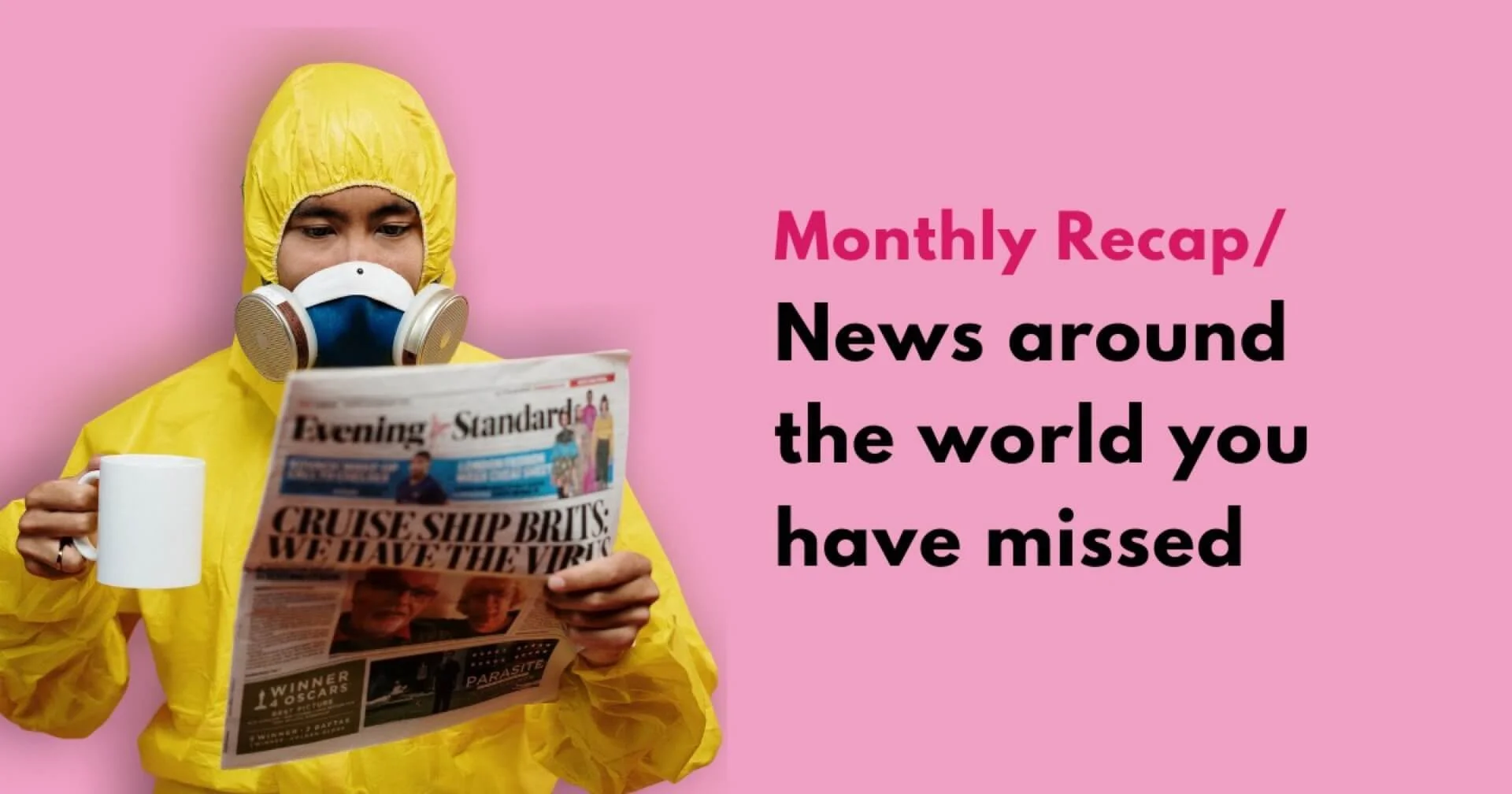 Africa
03.12.20: Central African Republic. The top court rejected former President François Bozizé's bid to run for president in the December 27 election against incumbent President Faustin-Archange Touadéra. The former president failed to meet the ethical standards required.
09.12.20: Ghana. Results of the presidential election held on Monday have confirmed a narrow victory for incumbent President Nana Akufo-Addo. His main rival was ex-President John Mahama. Supporters of both candidates took to the streets following delays in the announcement of the results and at least five people were killed in the unrest.
10.12.20: Morocco/Israel. The two governments have agreed to normalise relations in a deal brokered by the United States. Morocco is the fourth Arab country to open up to Israel in the past four months. One of the incentives for Morocco has been President Trump's recognition of Morocco's sovereignty over Western Sahara. The region is disputed between Morocco and the Polisario Front, a breakaway movement that claims an independent state in the territory.
11.12.20: Nigeria. Over 300 students from a boarding school for boys in Kankara, northwest of the country, were kidnapped during the night. The school of 839 students was raided by men on motorbikes. Many of the students managed to flee and hide in nearby forests. The area is not in the vicinity of regular Boko Haram operations and no group has yet claimed responsibility for the abductions.
13.12.20: Eswatini. The Prime Minister, Ambrose Dlamini, died in a South African hospital after contracting coronavirus. He was 52 years old.
13.12.20: Niger. Boko Haram jihadists slaughtered at least 27 in an attack on the village of Toumour in the Diffa region. Many of the victims were burned to death in their homes. Much of the village was completely destroyed, including up to 1,000 homes.
17.12.20: Nigeria. The Katsina State Governor confirmed that 344 of the boys that had been kidnapped by Boko Haram on the 11th had been released. No details were given regarding any likely deal with the jihadists.
23.12.20: Ethiopia. Over a 100 people have been killed in the western region of Benishangul-Gumuz only a day after prime minister Abiy Ahmed visited the area condemning ethnic violence.
25.12.20: Uganda. Over thirty people have drowned when a boat capsized because of bad weather on Lake Albert on the border of Uganda and the Democratic Republic of Congo.
27.12.20. Central African Republic. Presidential and legislative elections went ahead as planned and were declared a success despite the closure of 14% of polling stations owing to threats of violence. Three UN peacekeepers were killed in the run-up to the elections. President Touadéra, who is seeking a second term is blaming his predecessor, François Bozizé, for the unrest. The results will not be known for a few days.
27.12.20: Niger. In what is expected to be the country's first peaceful transition of power since independence from France 60 years ago, voters went to the polls to elect a successor to President Mahamadou Issoufou whose two five-year terms are coming to an end. Results are expected early in the new year.
America
01.12.20: USA. Court documents made public today reveal a Justice Department investigation into possible corruption regarding a presidential pardon that may have been issued following a bribe. Sensitive information was blacked out so details are sketchy.
01.12.10: Brazil. The right-wing government of President Bolsonaro confirmed that in the past year alone, over 2.7 million acres of the Amazon rainforest were destroyed. This is the worst toll in over 12 years.
05.12.20: Uruguay. Former President Tabaré Vázquez, who served as president from 2005 to 2010 and then again from 2015 to 2020, died aged 80. The centre-left politician was diagnosed with cancer towards the end of his last term.
09.12.20: USA. The Senate voted in favour of President Trump's high-tech weapons deals with the United Arab Emirates despite a motion to block it. The president threatened to use his veto if it was not approved. President Elect Biden is expected to review the deal when he takes office in January. It is feared that the weapons could be used to exacerbate the situation in Yemen, which is already ravaged by warring parties in the region.
10.12.20: Trinidad and Tobago. Police Commissioner Gary Griffith has encouraged women to apply for firearm licences amid a rising wave of violence against women and children.
09.12.20: Bolivia. A same-sex civil union was authorised for the first time following a two-year legal battle. Thanks to Resolution 003/2020, Guido Montano, a 45-year-old lawyer and David Aruquipa, a 48-year-old businessman, who had been together for 11 years, finally had their union legally registered.
12.12.20: USA. Charley Pride, singer, guitarist and professional baseball player, who sold millions of records and was the first African-American to become a member of the Country Music Hall of Fame, died aged 86 from COVID-19 related complications.
23.12.20: USA. President Donald Trump issued a presidential pardon to four mercenaries who massacred 14 civilians, including a 9-year-old child, while employed by the security firm Blackwater. The incident happened in Baghdad, Iraq in 2007 and the men were finally jailed in 2014. Trump's decision has caused outrage, particularly in Iraq.
Asia
02.12.20: Singapore. The country has become the first in the world to approve the sale of meat grown in a laboratory. Eat Just Inc., a company that creates meat and egg substitutes using animal cells without the slaughter of any animals, will start selling the product under the GOOD Meat brand.
10.12.20: Bhutan. Both houses of parliament of this tiny kingdom wedged between Tibet (Autonomous Region of China) and India approved a bill legalising same-sex relationships and respect of the presence homosexuality.
19.12.20: Turkey. The explosion of an oxygen ventilator treating COVID-19 patients in the intensive care unit of Sanko University Hospital in Gaziantep killed nine people.
23.12.20: Israel. Snap elections will be held in March triggered by the dissolution of parliament following Prime Minister Benjamin Netanyahu and his coalition's failure to pass a budget. It will be the fourth election in two years.
30.12.20: Yemen. Aden airport was attacked as members of the newly formed government were disembarking a plane that had brought them back from Saudi Arabia. Over 22 people were killed and dozens wounded, although the passengers were largely unhurt.
EUROPE
02.12.20: France. Valéry Giscard d'Estaing died with COVID-19 related complications; he was 94. During his tenure, the former president helped modernise France and strengthen its ties with Europe.
10.12.20: EU. The €1.8tn (£1.6tn) seven-year budget and coronavirus recovery fund has been unblocked after Hungary and Poland withdrew their veto. They were opposed to a link between payments and the upholding of the rule of law. The compromise was brokered by Germany and included a reassurance that "national identity" would be respected. Whilst this made little difference, many felt that the EU should not have allowed itself to be blackmailed in this way. Writing in La Republica (It), journalist Timothy Garton Ash echoed this opinion: "It is hard to say which is now the greater danger to the future of the EU: a democratic Britain that has left, or an undemocratic Hungary that remains."
12.12.20: UK. Espionage writer John le Carré died from pneumonia in Cornwall, aged 89.
21.12.20: Russia. A week or so after President Putin laughed off a journalist's reference to the Navalny's attempted murder by poison, saying that if he wanted him dead the chances are would be, Navalny duped one of those involved into talking about the plot. Konstantin Kudryavtsev believed he was giving a telephone debriefing to Russian Security Council officials, but was actually speaking to Navalny himself!
29.12.20: Croatia. A magnitude 6.4 earthquake struck central Croatia causing many buildings to collapse; scores of people were injured and at least seven have died.
29.12.20: France. Fashion icon and designer Pierre Cardin died in a hospital in Neuilly aged 98.
30.12.20: Norway. A landslide in a municipality near Oslo left ten people injured and 11 missing. Several buildings were swept away and over 900 people had to be evacuated from the area.
OCEANIA
02.12.20: New Zealand. The government declared a climate emergency with a 76 to 43 vote in favour of the move. The country also committed itself to becoming carbon neutral by 2025. Currently, about 30 countries have already declared such an emergency, which adds momentum to the initiatives in dealing with the crisis.
17.12.20: New Zealand. The government announced that it will be extending its offer of free coronavirus vaccines to the neighbouring nations as well as its own residents. Tokelau, Cook Islands, Niue, Samoa, Tonga, and Tuvalu will be eligible for the vaccines which the government is purchasing from AstraZeneca and Novavax.
21.12.20: Fiji. Cyclone Yasa has caused devastation in the island country with many villages wiped out and at least four fatalities. Prime Minister Frank Bainimarama declared a state of natural disaster and linked the disaster to climate change.
UN-aligned taking the leap from 2020 to 2021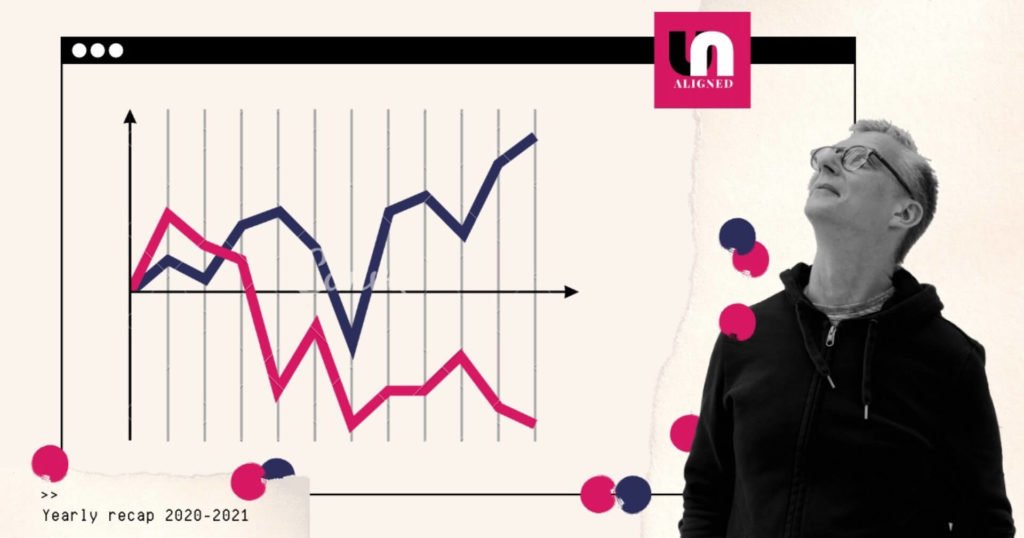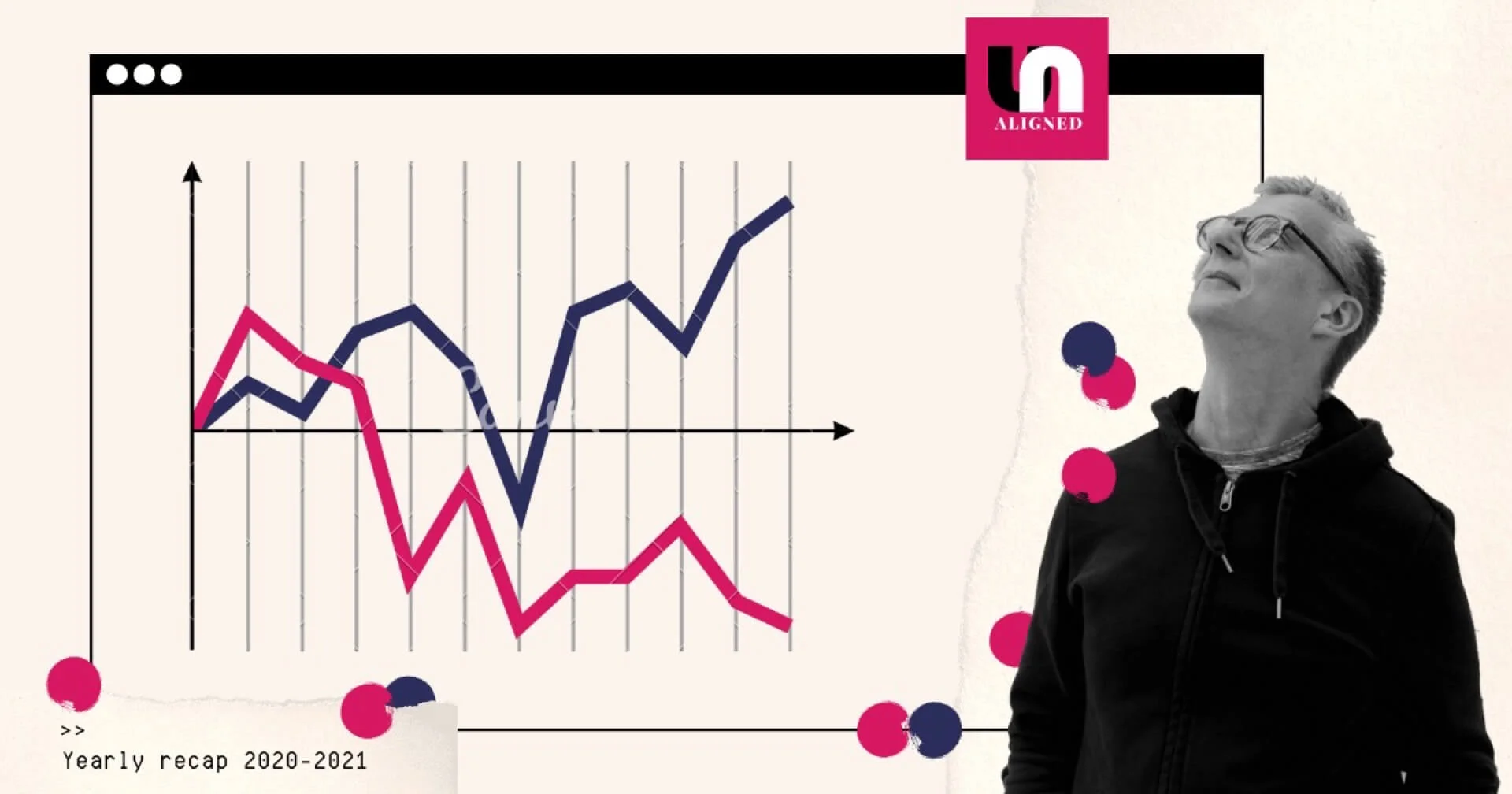 Read the UN-aligned 2020 report to see what we have achieved and how we are planing to take the leap to 2021.
Nasrin Sotoudeh/ Iranian lawyer declared as UN-aligned Person of the Year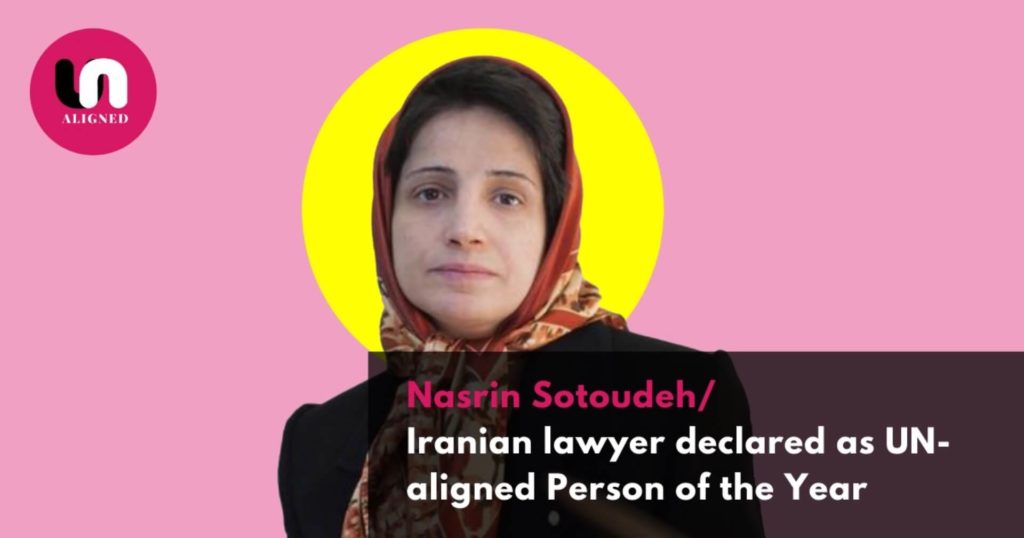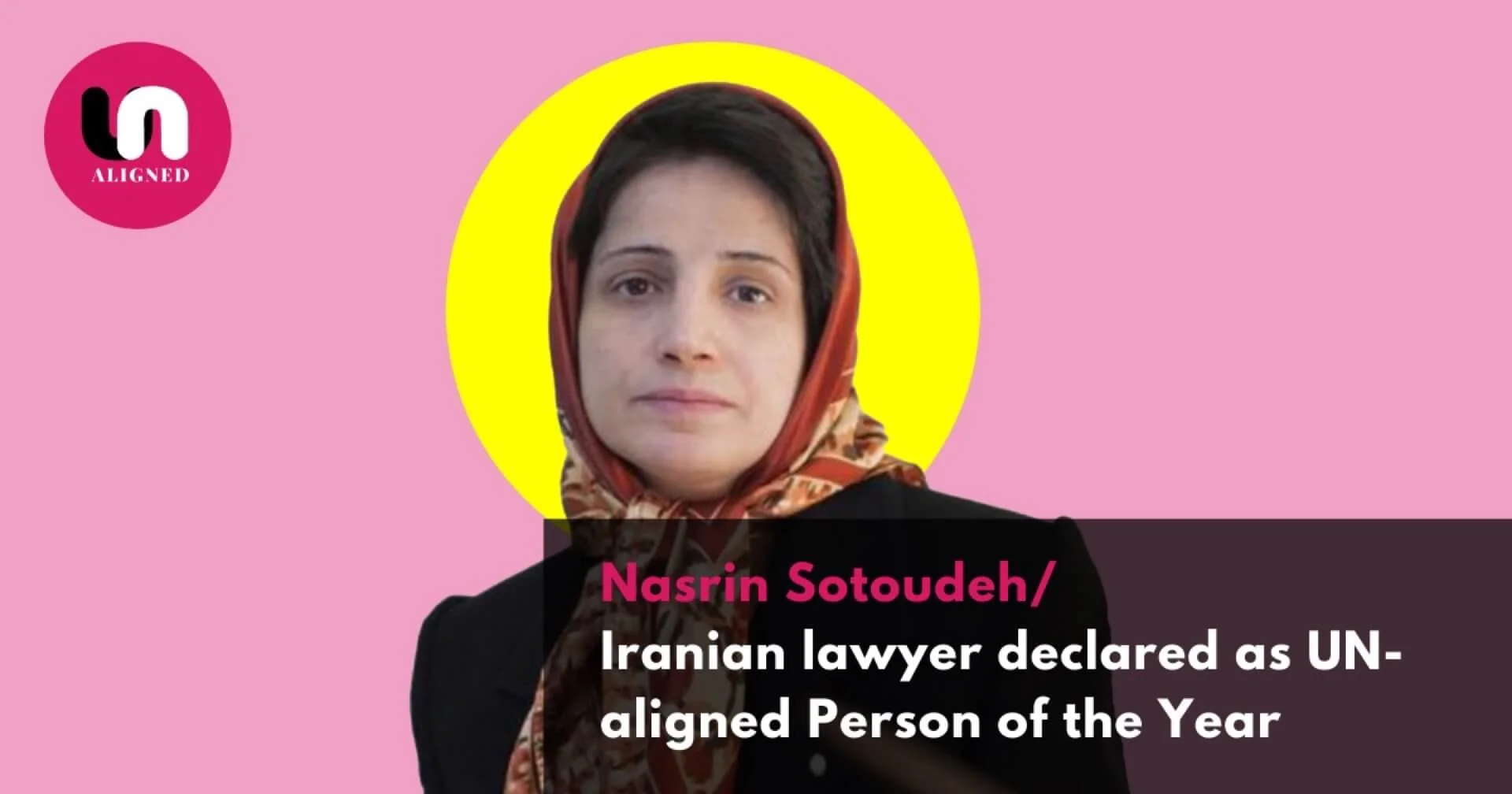 Nasrin Sotoudeh is an Iranian human rights lawyer who has been in and out of prison since 2010 for no other reason than defending men, women and children who suffered under the oppressive Iranian regime. Her clients included opposition politicians, journalists, abused women and children, women who were arrested for not wearing the hijab and prisoners on death row for crimes they allegedly committed when they were minors. On several occasions she went on extended hunger strikes to protest against the severity of the prison regime.
High-profile figures and organisations have spoken up for her and her one-time colleague, Nobel Peace Prize laureate Shirin Ebadi said of her: "Ms. Sotoudeh is one of the last remaining courageous human rights lawyers who has accepted all risks for defending the victims of human rights violations in Iran." She received numerous awards including the prestigious European Parliament Sakharov Prize in 2012, which she shared with Iranian film director Jafar Panahi.
Following Nasrin Sotoudeh's latest arrest, which occurred in 2018, she was handed a set of lengthy prison sentences.
UN-aligned is proud to declare Nasrin Sotoudeh its Person of the Year. In so doing, we also wish to draw attention to all the other people like her who are languishing in prison cells around the world merely for striving for a fairer and freer society. Human and animal rights activists, environmental protectors, journalists, lawyers, politicians… anyone who is behind bars as a result of a struggle for a better world: we salute you! You have not been silenced. Your message is loud and clear and we will amplify it with the utmost of our abilities, while not forgetting the struggle to set you free.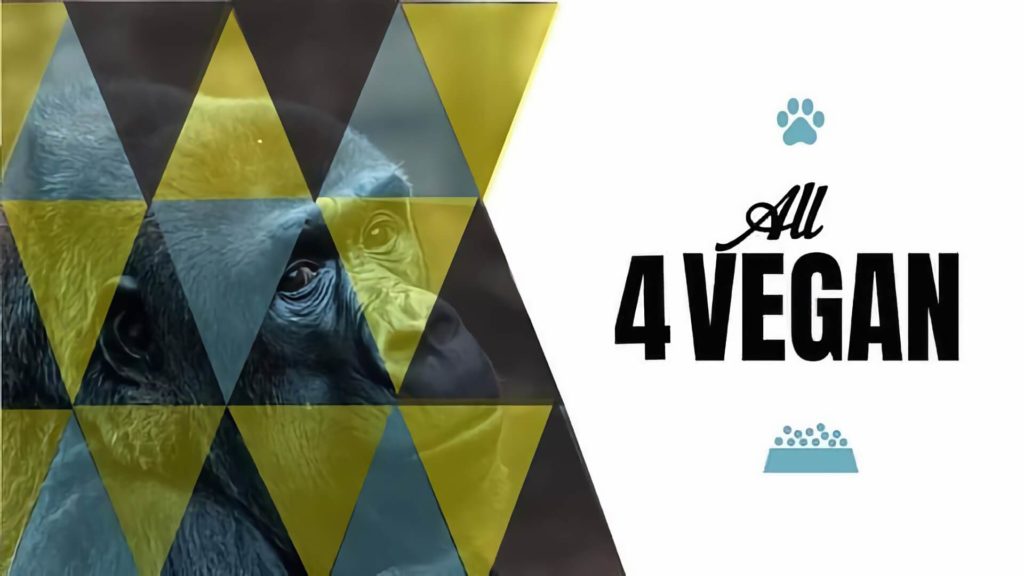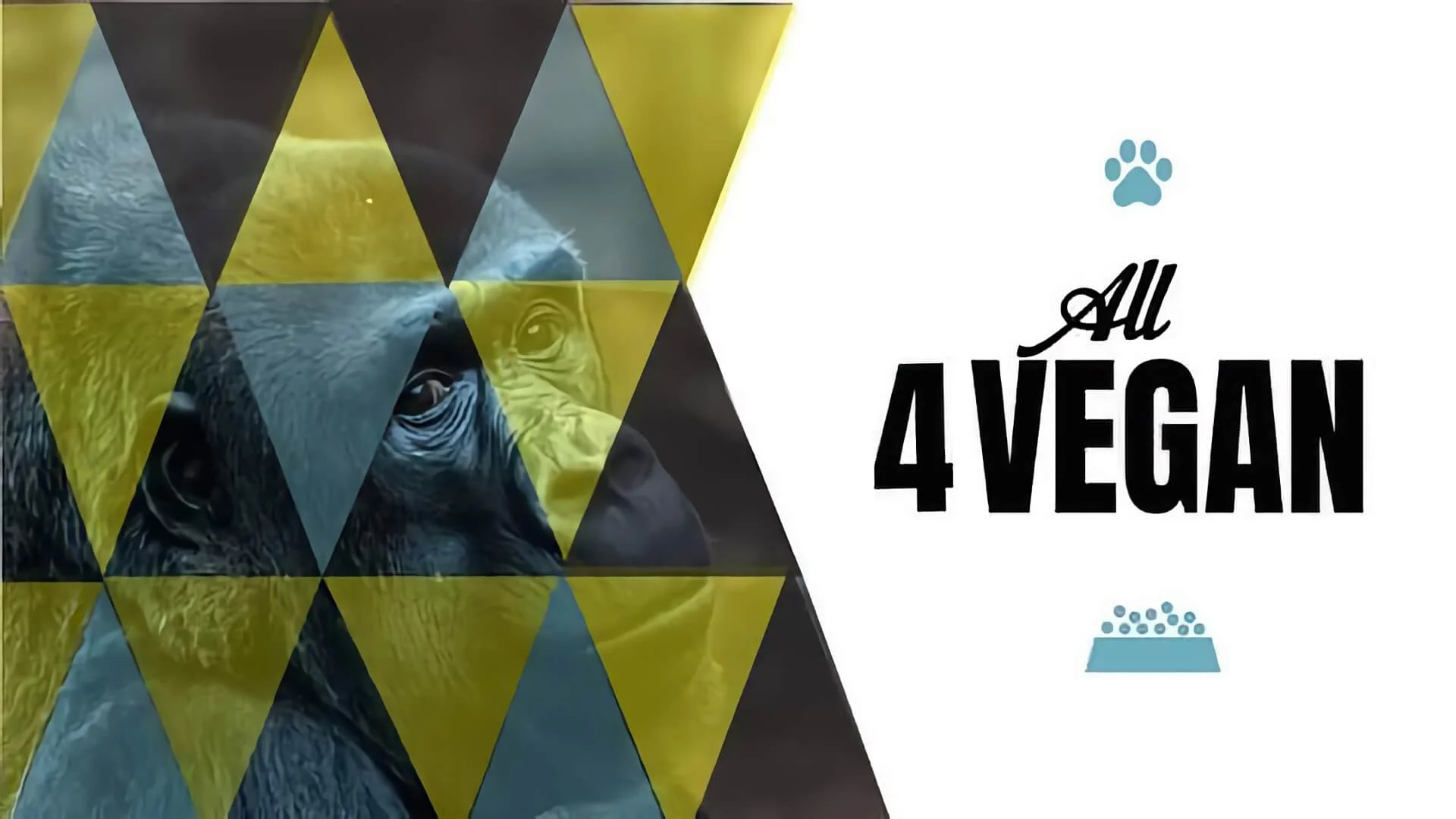 #advertising

All 4 Vegan welcomes you to our exciting group! Join us for everything from recipes to news and views, as well as details on upcoming events… Come and check us out at All 4 Vegan Advertising for bargains, business-related matters and information.
Veganuary/ how cultivated meat can save the planet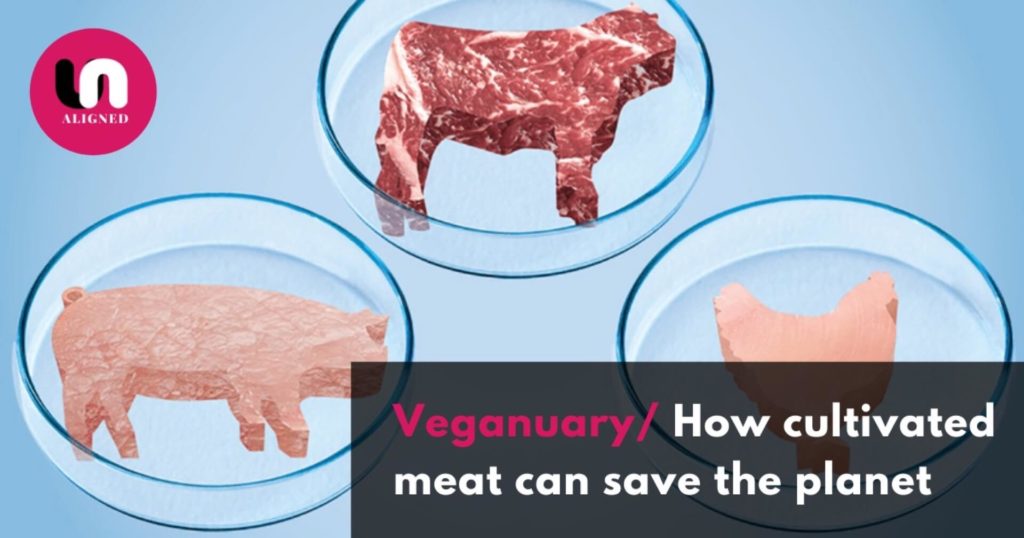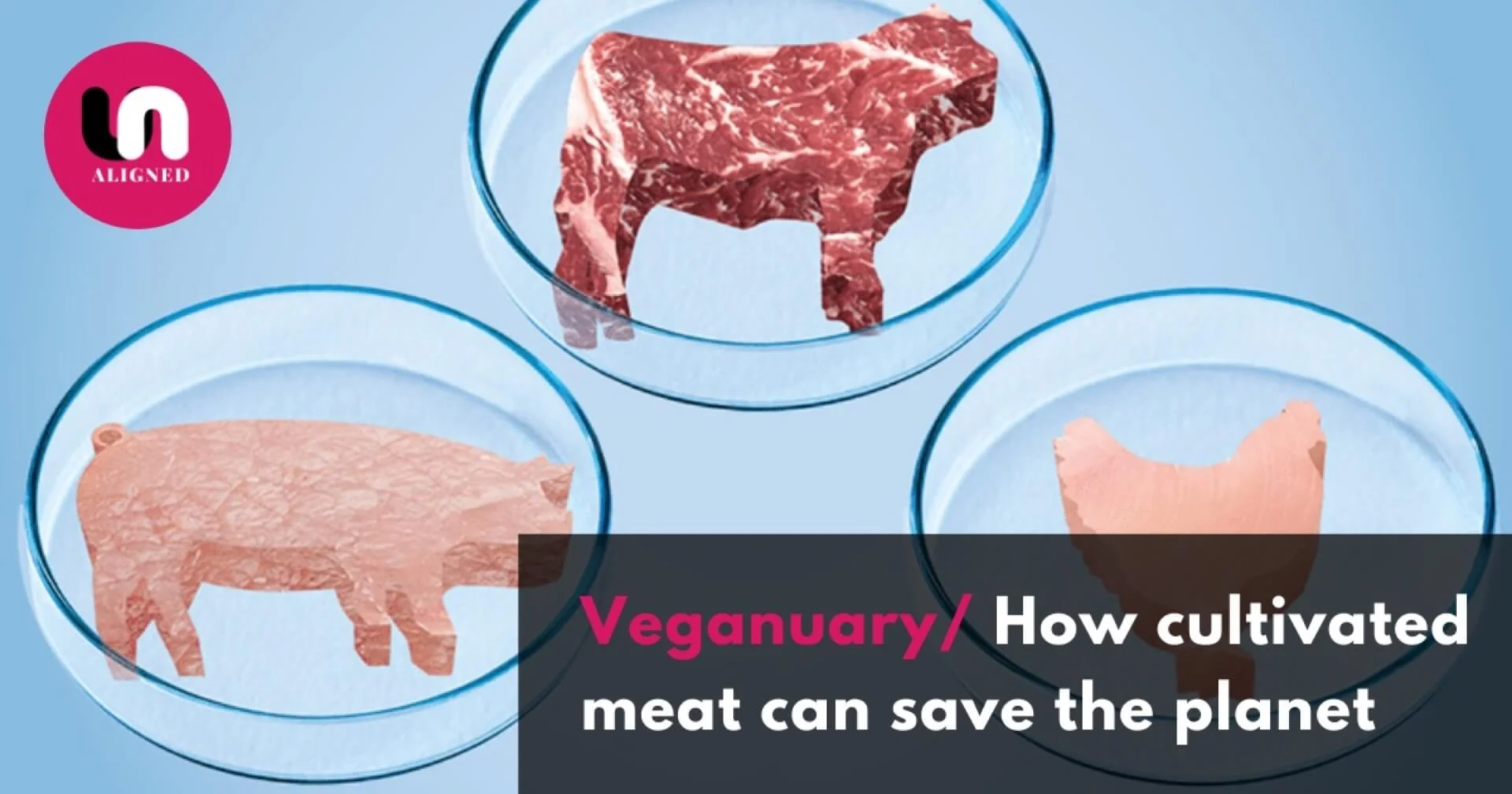 By Ariana Yekrangi
Cultivated meat will present a futuristic alternative to the callous, unwieldy and unnecessarily wasteful way animals are farmed today.
Animal agriculture is a major contributor to greenhouse gas emissions; it is driving up climate change, antibiotic resistance, deforestation and the resulting biodiversity loss. It is also an incredibly inefficient, as well as immoral, way to feed the planet. For example, in the United States alone, 56 million acres of land are used to grow feed for animals, while only 4 million acres are cultivated to produce plants for humans to eat.
In November, UN-aligned joined the voice of organisations like Oxfam and the WFP in warning against a hunger catastrophe already targeting millions of children and adults in the world's most vulnerable places. However, for those in the wealthier part of the world who enjoy relative food security, an appetite for meat is expected to grow. Regardless of how one feels about meat consumption, it is certain that until immediate action is taken against the way we use animal products for food and pleasure, we will risk further damage to our habitats and endanger our survival on this planet.
While plant-based diets have gained a lot of popularity in the past years, one must remember that there are many ways to skin a cat (okay, maybe not the best expression to use in such a context).
Cultivated meat, otherwise known by its unappealing name lab-grown meat, has real potential to make our food more sustainable as well as ethical. Remember, we are talking about real meat, not fermented mushrooms or soy, but meat that has been grown in shiny silver vats without having been butchered from an animal. Many have already abandoned eating meat for ethical reasons, however, people are different. Some simply do not wish to abandon the taste of meat, so as far as solutions are concerned, meat without animal farming can be a significant win.
In terms of environmental impact, meat and dairy production wastes a huge amount of resources (land and water, in particular) for very limited returns. Cultivated meat on the other hand can be up to 20 times more efficient than traditional animal farming as it uses about 95% less land and thereby significantly reduces our carbon footprint.
So you can easily see that with cultivated meat one can kill an awful lot of birds with one stone; right, I need to stop doing this!
The basic science of growing cells in a lab is nothing new and has been known for quite a while. In the spirit of Veganuary, we thought of giving you an idea of how this technology works and when you can expect it in your local supermarket.
How is cultivated meat (lab-grown meat) created?
Cultivated meat is essentially the process of taking stem cells from a living animal and growing them in nutrient-rich conditions.
It all starts from extracting a small sample of cells from an animal; the cell samples can be taken from an animal in pain-free procedures such as skin tagging or simply taking a sample from their umbilical cord. These samples are then put into incubators, also known as tissue culture flasks, filled with a liquid containing nutrients, amino acids and all the good stuff that is required for the cells to grow. Once the cells are populated to a certain number, the liquid that is fed to them is changed in order to facilitate further cultivation. The cells will then continue to grow in proximity to each other in a natural manner into what are known as colonies. The temperature of the liquid will match the animal's body temperature.
Depending on what kind of body part we wish to produce, different scaffoldings and biomaterial is used to support the cells' growth. For this reason, final meat products that require less structure and are more congealed, like a burger or sausage, are easier to produce than say a piece of bacon or steak.
Since the $330,000 clean meat burger in 2013 we have come a long way. Throughout the years many new startups and businesses have joined the race to produce more diverse cultivated meat such as beef, duck, chicken nuggets and tuna.
In 2020, the price of cultivated meat has become more reasonable too. The World Economic Forum's white paper on Alternative Proteins suggests that lab-grown meat can be made available with the price tag of $25 for one kilogram; this is a drastic improvement from that first eye-watering $330,000 burger.
When might it become available?
At the moment it seems that the biggest challenge facing the cultivated meat industry is cost and investment. Although the clean meat manufacturing sector continues to grow with the help of investors like Bill Gates, Richard Branson and prominent food companies, there is still considerable work required on many fronts. An increased scale in production, making the technology commercially available and lowering the cost of production are some of the challenges that we still face.
It is difficult to say when exactly the next cultivated meat burger will hit the shelves of your supermarket. The industry still needs continuous financial support and investments to be able to face up to the challenges mentioned earlier. Although there's enough going on in the world to suggest that sufficient momentum is building up behind such a technology, companies still have to convince people this is something they want to eat. I often hear hilarious comments from people angered by the idea of clean meat, to which I usually reply: "you're living in the past good man, keep up!"
Slaughter-free meat has become a growing trend. In 2019, astronauts produced the first meat in the International Space Station and in 2020, Singapore became the first country to approve the sale of a lab-grown meat product. The technology is certainly futuristic and promising, but as with every novel groundbreaking scientific development, it will create some new questions to think about.
Further moral questions arise…
With the development of lab-grown meat many new moral questions have sprung up for philosophers, artists and politicians to debate.
For example, is producing meat in a lab going to change the way we perceive life? How about cannibalism? If human meat can be available without the cost of human life, is it still considered cannibalism?
When the cultivated meat technology becomes perfect in its craft, it will have achieved a much cleaner and economically viable alternative to the old fashioned ways. The transition will be for our benefit, but also for the animals that we have abused throughout the years. However, how long will it take for cultivated meat to repair the damaged relationship humanity has to the nonhuman world?
Questions like these are provoking and necessary to explore. But at this very moment, they are not of much help. Factory farming causes animals to live and die in great pain each year. So far, our response has been almost total indifference and inaction. For this reason, we would like to invite you to join us in Veganuary; a campaign that encourages you to try vegan for January and possibly beyond.
Giving voice to the voiceless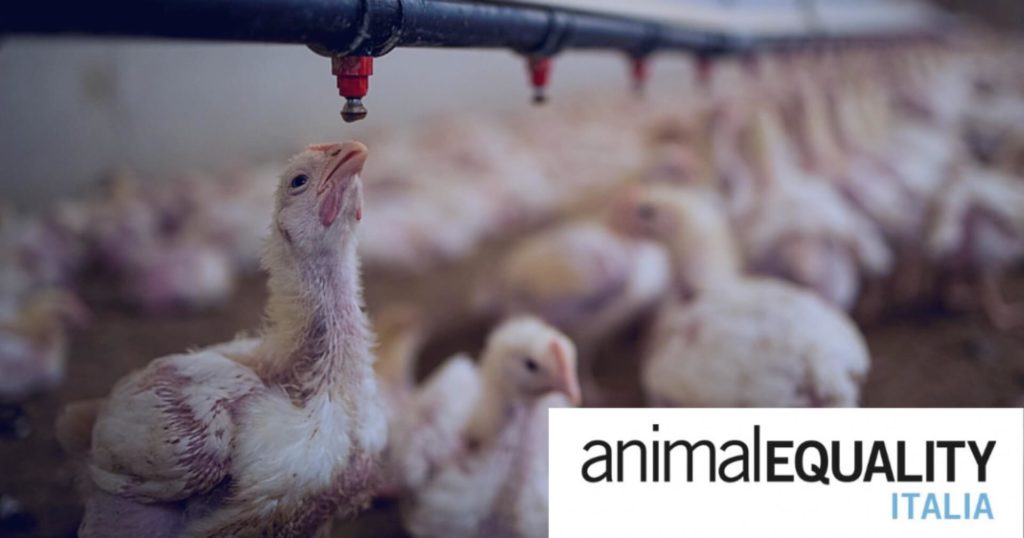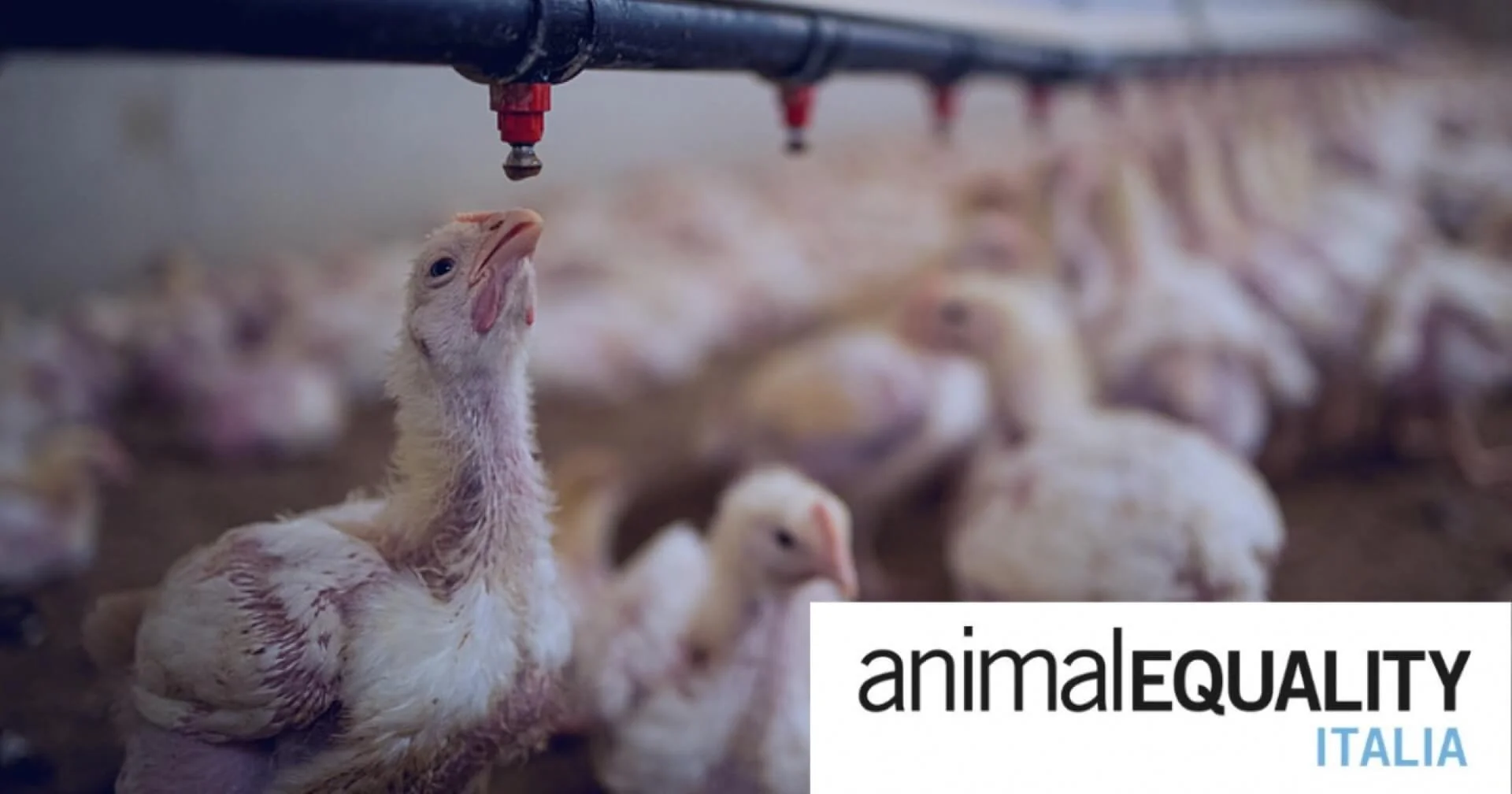 From Animal Equality
Animal Equality: a team of committed and passionate advocates dedicated to creating a more compassionate world for animals.
The original Italian version of this article can be read here.
La versione originale italiana di questo articolo può essere letta qui.
Animal Equality is an international organisation that was founded in Spain in 2006 by Sharon Nuñez, Jose Valle and Javier Moreno; their one objective: to protect animals. From that moment on, a growing enthusiasm and commitment ensured the organisation's global reach. It has expanded to such an extent, that it is now one of the most successful forces for the defence of farmed animals.
Animal Equality's vision is that of a world where all animals are respected and protected. Our core values are compassion, determination, and effectiveness; these guide us in our daily operations, which are designed to end cruelty to farmed animals.
At present, we are operating in eight countries and four continents. The Italian branch was founded in 2016 by the current international vice president Matteo Cupi.
The main international activities of the organisation are undercover investigations, education (raising awareness), corporate outreach and legal advocacy.
Undercover investigations constitute the lifeblood of our activities. In Italy, Animal Equality has been a pioneer in this undertaking. We can count on a specialised team of investigators who use advanced techniques for the purpose of bringing to light the appalling cruelty animals have to endure in farms and slaughterhouses on a daily basis.
Our footage is then used to educate millions of people around the world on the reality that farmed animals face on a daily basis and help them choose more compassionate food options.
Through the corporate outreach department, Animal Equality encourages businesses to implement meaningful animal protections that will significantly reduce the suffering of animals by ending some of the cruelest standard practices on factory farms and at the slaughterhouse. We concentrate primarily on caged egg-laying hens, chickens and male chick who are considered waste by the egg industry. In this way we achieve significant and lasting results.
Our organisation can also count on the backing and assistance of Animal Protectors, an international team of activists that is always ready to support our endeavours, in particular our corporate campaigns.
In Italy, Animal Protectors constitutes the largest and most active group of digital activists. It currently consists of over 30,000 people who are ready to act with us via fast and simple online actions, which have the power to permanently change the lives of millions of animals.
Moreover, Animal Equality works with law enforcement agencies and state and federal governments to hold animal abusers accountable and to help make improvements to laws that benefit animals.
Animal Equality are a team of committed and passionate advocates dedicated to creating a more compassionate world for animals.
Annus Horribilis? Looking on the brighter side of 2020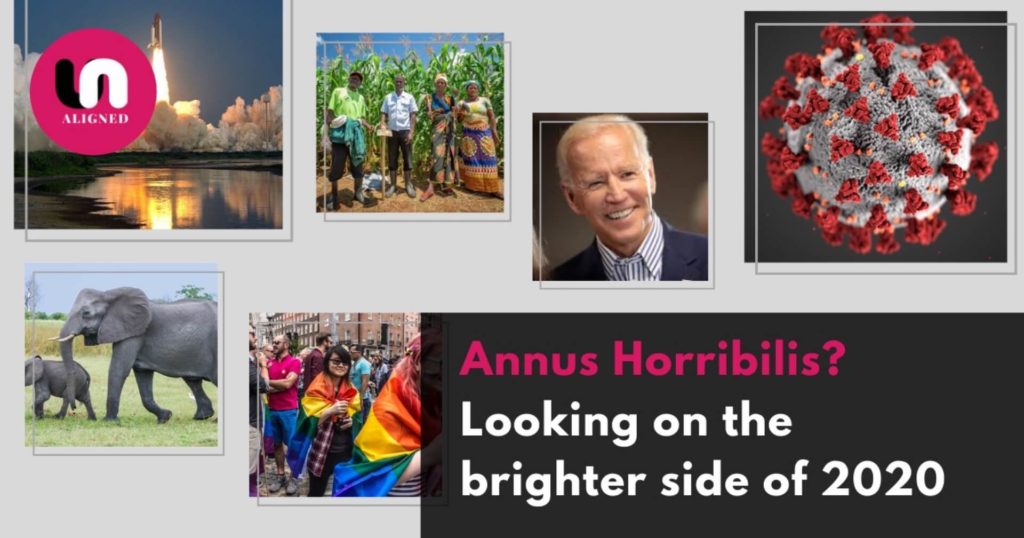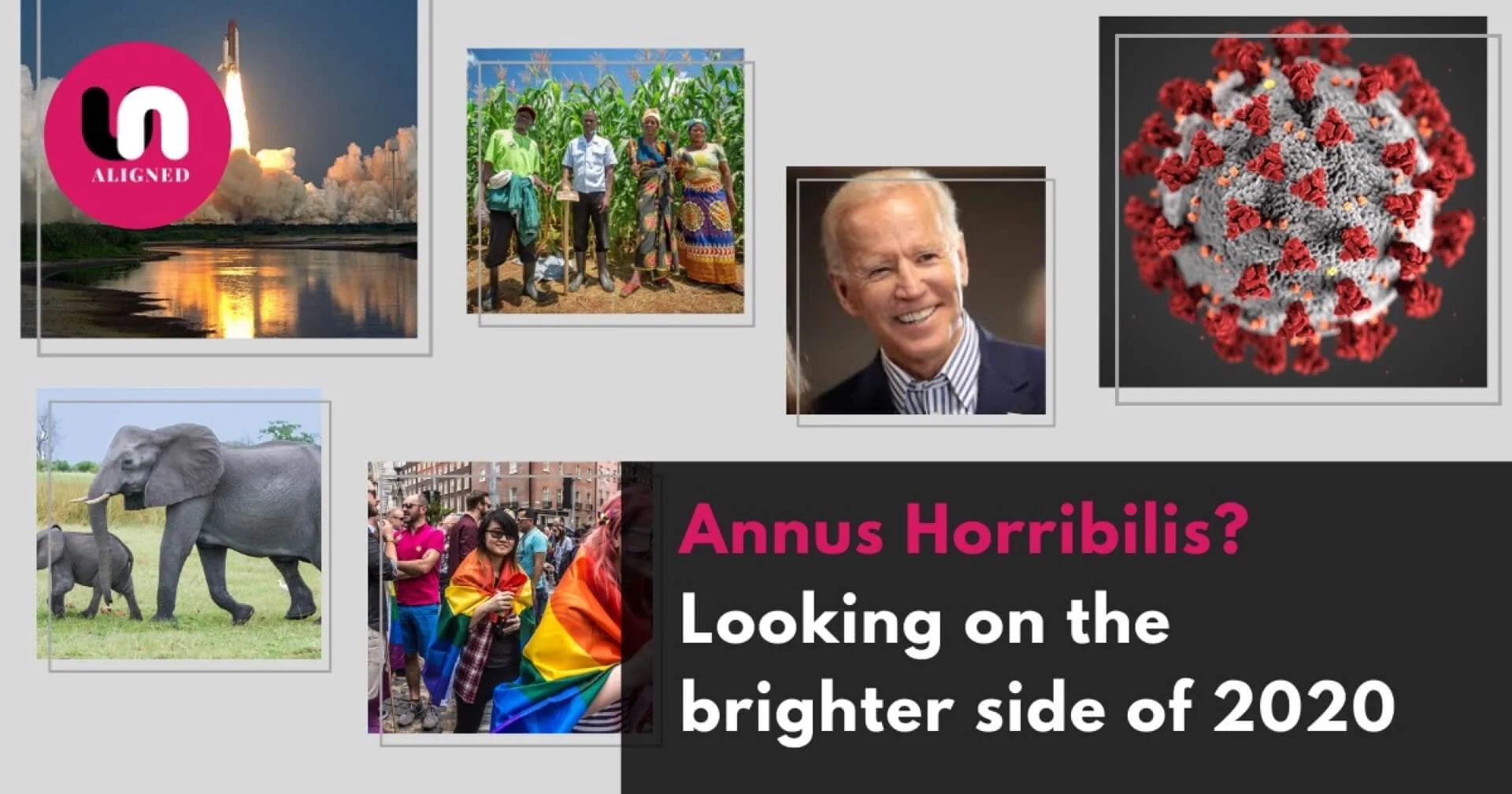 By Adrian Liberto
2020 has certainly been an Annus Horribilis, with plagues, floods, fires, terrorist attacks and wars, but it wasn't all bad… In the sciences for instance, vaccines to fight the coronavirus were created in record time. In business, SpaceX ferried astronauts to the International Space Station in the first commercial flight of its kind. Here are some of the success stories from 2020 with regards to human rights and animal welfare.
Human Rights
True, there is not much to write home about here, but there have been some really positive and ground-breaking moments, nonetheless. In the US, President Trump was voted out and despite his frantic attempts to undermine democratic processes, he failed. President-Elect Biden, has already made his commitment to human rights and the environment abundantly clear and his appointments to strategic posts testifies to his resolve. These include Deb Haaland, the first Native American to lead a Cabinet-level agency (the Interior Department) and Pete Buttigieg, the first openly LGBTQ Cabinet secretary to be approved by the Senate (Transportation Department). Moreover, Biden's running mate, Vice President-Elect Kamala Harris, will be the first woman, the first African American and the first Asian American to hold the post.
LGBTQ rights reached other milestones in several parts of the world. Same-sex civil partnerships or marriage were legalised in a number of countries and states, including Costa Rica, Montenegro and Switzerland, while some banned forced conversion therapy, including Germany and Albania. Also, the film industry continued its trend of openness with regards to LGBTQ characters and plots. Marvel and Disney, for instance, recently announced that two of their protagonists (Guardian of the Galaxy's Star-Lord, Peter Quill, and Loki in the Disney+ seies) are going to be cast as bisexual. On a more sombre note, homosexuality was decriminalised in Gabon and Bhutan, while Sudan lifted the death penalty for homosexual acts. Finally, Pope Frances surprised the world by stating that he too supported same-sex civil partnerships!
Animal Rights
2020 has actually been a good year for animal rights. The coronavirus brought a mixed bag of good and bad results. On the one hand, lockdowns around the world gave animals and their habitats a welcome break from detrimental human activity, but on the other the pandemic meant that animal welfare and environmental protection were pushed at the back of the queue when it came to funding and national priorities. Still, many of the amazing images shared by news agencies and social media of animals spilling into urban areas and waterways will stay with us for a long time and may jog us (one can but hope) to do more with regards to habitat and environmental protection. However, 2020 did a lot more for animals than just that, with a wave of animal friendly achievements. These included:
A rise in cruelty-free diets. A UK survey conducted by Applewood, for instance, found that 20% of respondents were committed to a vegan Christmas dinner
The opening of the first vegan butcher in London, which was so popular that it struggled to keep up with demand
The first commercially available lab-produced cruelty-free meat which hit the market in Singapore
The multiplying of vegan alternatives to meat and dairy and their availability in leading supermarkets
The commitment of more and more fashion brands, including Prada, to stop using animal fur
The rediscovery of the elephant shrew that had been considered extinct as it had not been spotted for 50 years.
Of course, there was a lot more to cry about! Still, 2021 is here and with it the hope of better times to come…
Accidentally Vegan Feature?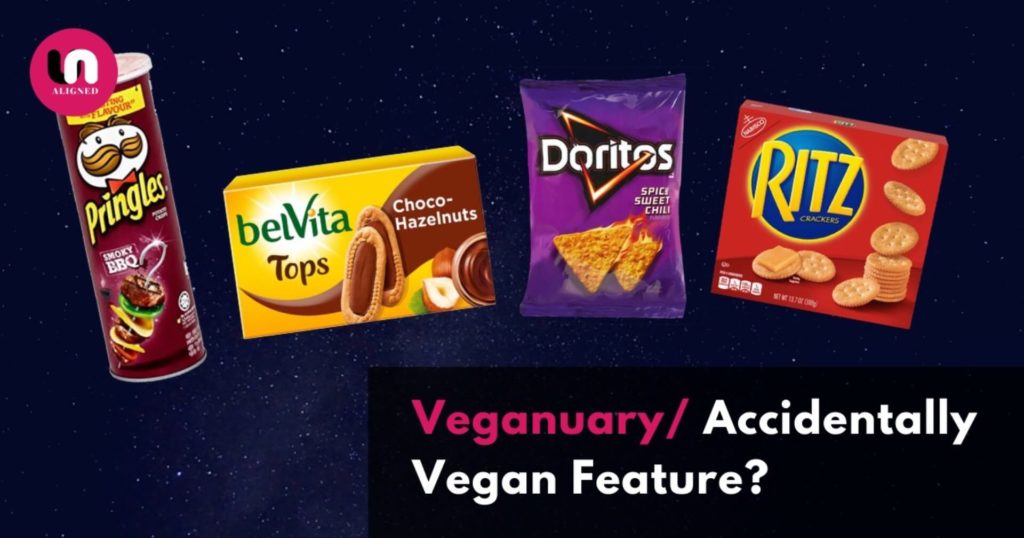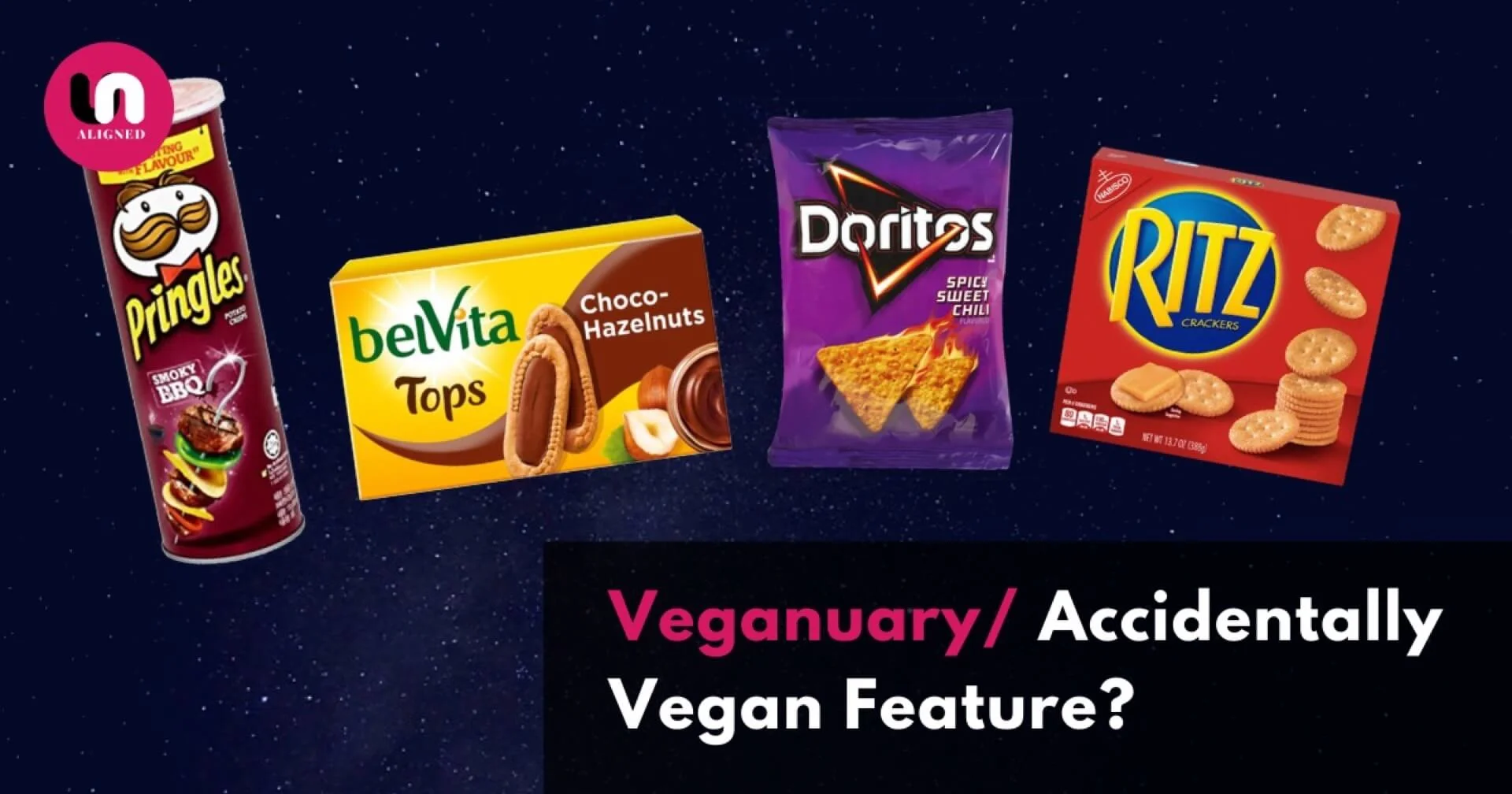 By Ruby Goldenberg
If you've pondered veganism but haven't yet followed through, it may be that you are put off by the myth of the diet being restricted. As with any lifestyle change, slow and steady tends to lead to longevity. It is much better to gradually cut animal products from your diet permanently than trying to be a strict vegan for a month, falling off the wagon, and being put off enough to never try it again.
While making some snack swaps, it can be comforting to know that there are many products, which we can call 'accidentally vegan'. They are not marketed in this way as their core selling point, but they do not contain animal products.
This makes them more accessible since you do not need to visit a specialist shop to have a choice of vegan snacks.
This list is prefaced by pointing out that it may not be the most nutritious collection of vegan snacks, but they will help in a pinch.
Which accidentally vegan snacks are already incorporated into your diet?
Ritz crackers
Doritos sweet-spicy chilli chips
Oreo original
Belvita breakfast Tops Choco-Hazelnut
Pringles Original flavour & BBQ flavour
Frys Peppermint cream bar
Ritter Sport Marzipan
Skittles
Lotus Original Caramel Biscuits
All savoury Ryvita Crunchy Rye bread flavours (excluding Fruit Crunch)
Please read the back of the label for these products in your country, as recipes may differ slightly between manufacturing regions.
The Boy who Produces Golden Eggs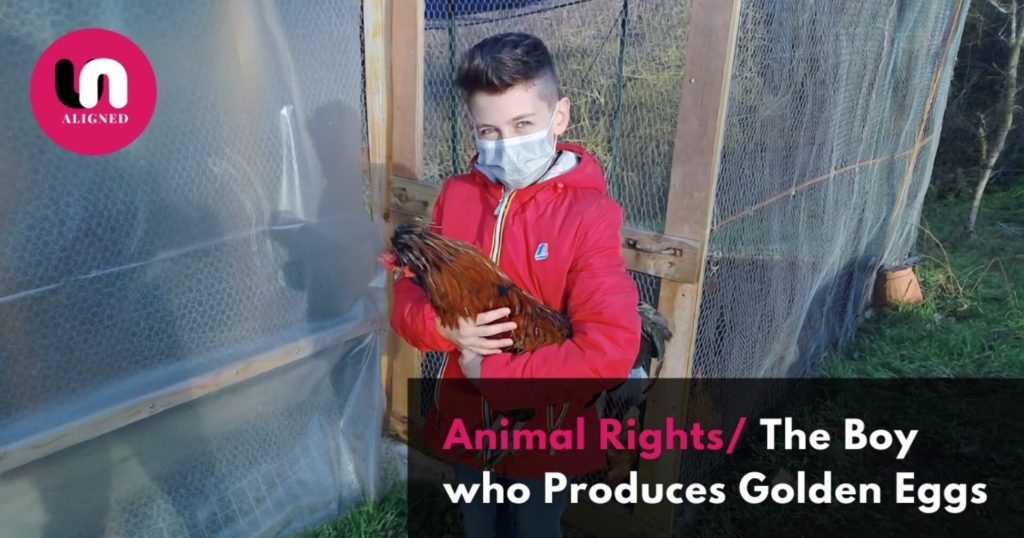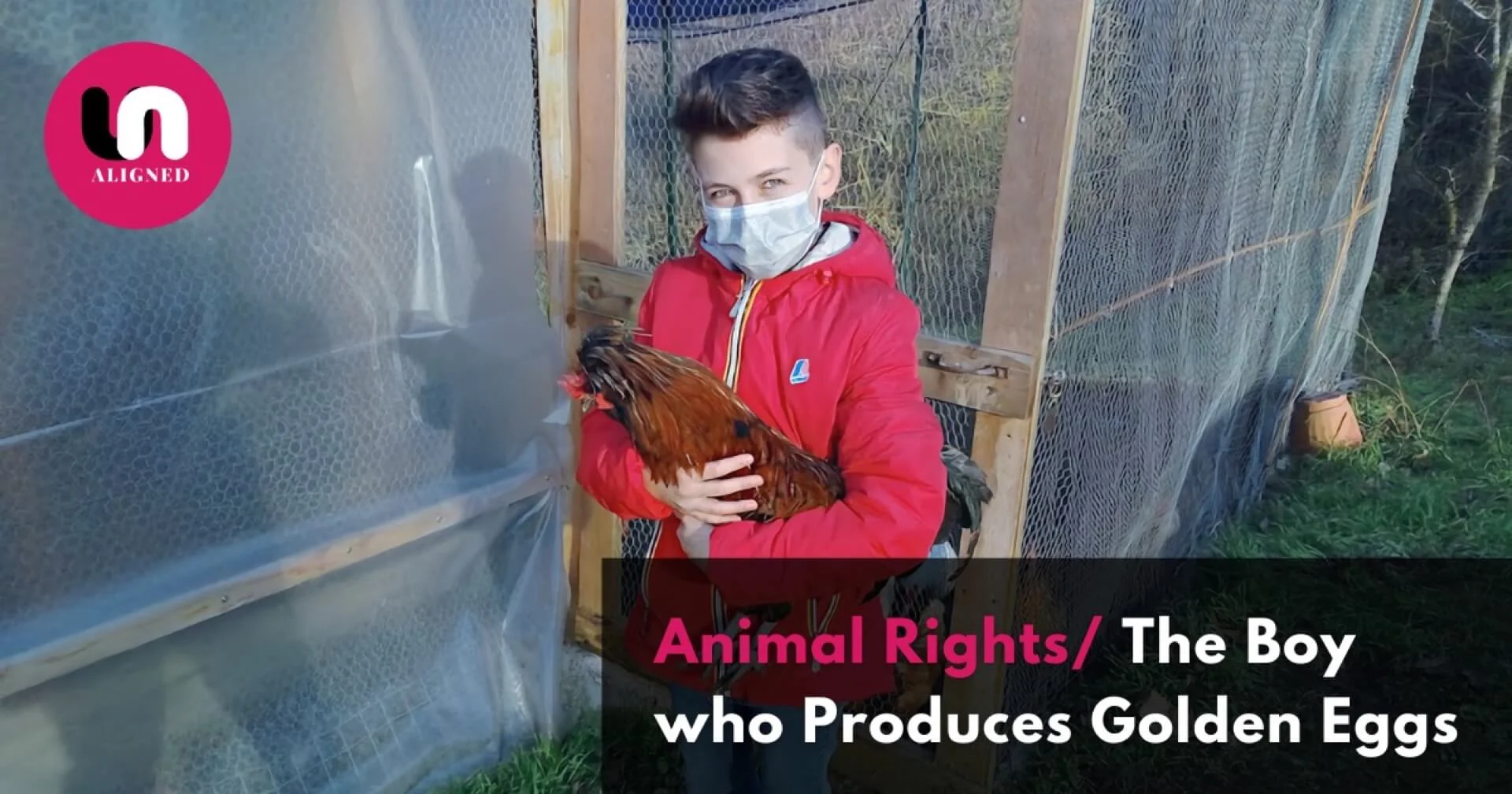 In a recent interview with UN-aligned coordinator, Adrian Liberto, the 11 year old Andrea Piccinelli shares his story about how he developed a love and friendship with his chickens.
"My passion for chickens was aroused by one of my cousin's teachers, who sells potatoes, but she also has chickens. My sister also knows her and when we'd go to buy potatoes, she would always suggest I went to have a look at her chickens. So, one day I agreed and when I saw the chickens I was immediately smitten! It was love at first sight! My uncle also has some chickens and he too would invite me to see them, so he contributed to this passion of mine…"
When Dilly-dallying Costs Lives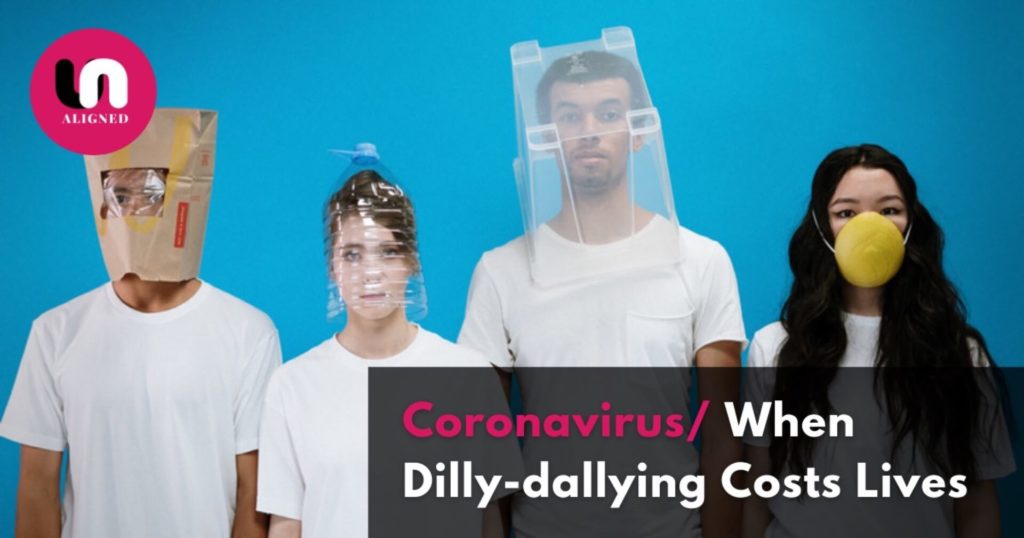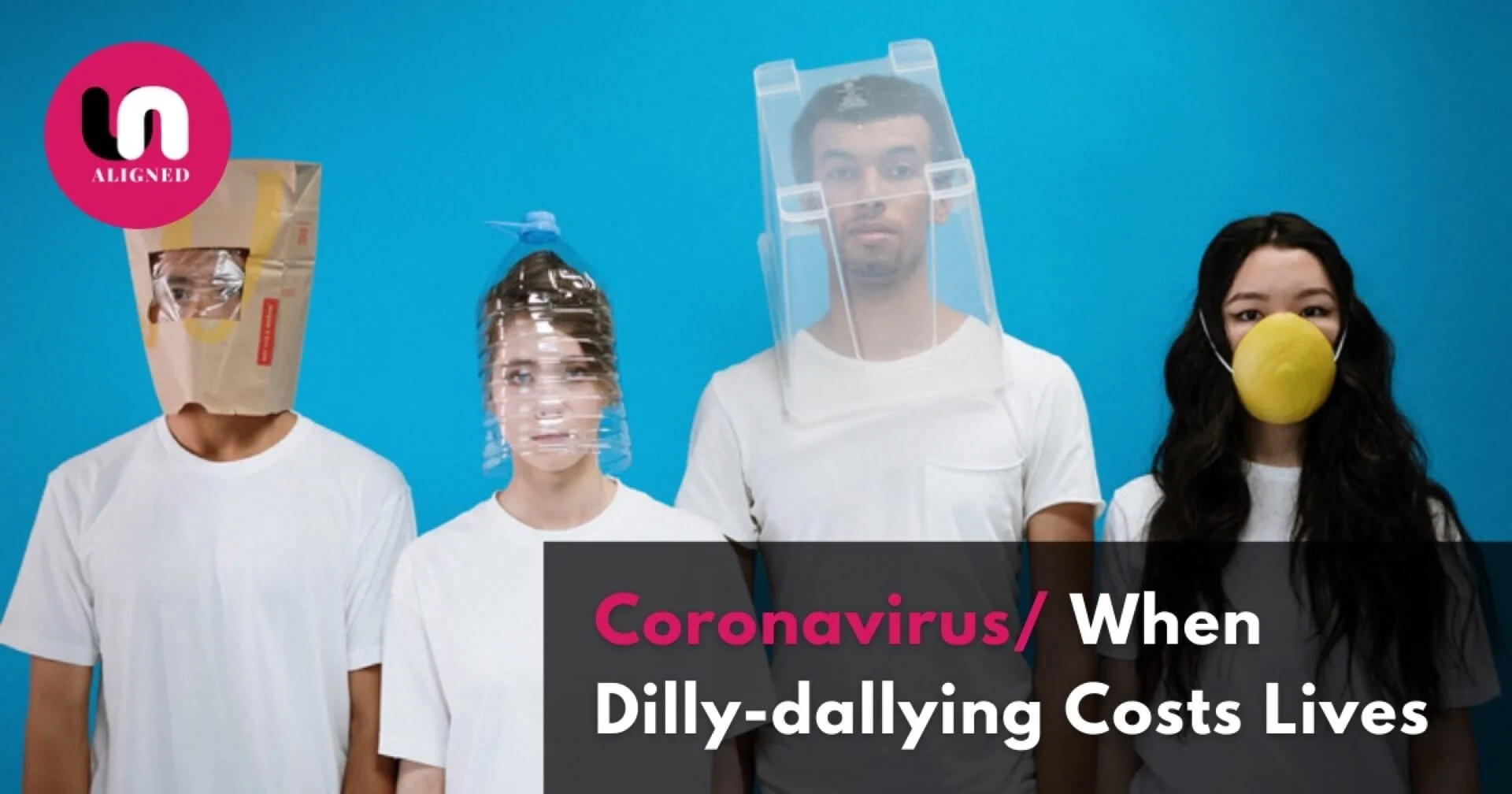 Anonymous
This year has been difficult for everyone. We have all had to adapt to new changes and the impact COVID-19 has had worldwide.
I am a classroom teacher based in a primary school in London. Since April, we have had to face many challenges due to the pandemic. Children have done an amazing job at adapting to necessary changes and staff have been very supportive of each other. We worked flexibly and creatively to help the school run as efficiently and effectively as possible. This last term, however, has been particularly draining for all of us!
Most of us had no choice but to get back to work at the end of the summer break, but we were nevertheless happy with our contribution to the economy and the maintenance of children's education. What we cannot comprehend is why the government would not want to shut down schools a week before Christmas, when the new strain of the virus was already spreading like wildfire. My school had received five positive cases within a week and they still refused to close the school. On the Tuesday of the last week before the Christmas break, we were given home test kits to do. On Friday evening mine came back positive. I had planned to leave London in order to spend Christmas with my fiancée, but of course, these plans had to be cancelled.
I am now having to quarantine in my bedroom for the next two weeks. This could have been avoided if schools closed early. Neither the school nor NHS has been in much contact with me.
Seeing as the news of the new and more contagious variant of the virus was already responsible for several deaths and countless infections, I believe the decision to keep schools open was wrong and reckless. We all know children's mental health and education is a priority, but something much more important was at stake here: the lives of thousands of people. Children themselves may not be high risk, but their families and staff could be.
My symptoms are not the typical ones, but then again, I understand they vary considerably. I started with a weird nauseous spell at work. A few days later I caught a cold and had the common flu-like symptoms. Days later, I felt a change in my sense of taste and smell and started to feel a strange sensation when breathing. I have no doubt that I will pull through, others, however, may not be so fortunate. Scientists, such as government adviser Professor Neil Ferguson, had claimed that thousands of lives could have been saved if the government had taken necessary precautions at the outset. It seems as though these lessons have not been learned and that the dilly-dallying is accompanying every new stage of this dreadful saga.
I hope that the government will broaden its views on how to tackle this pandemic and consider everyone's safety.
Be careful, stay safe, and be kind to your fellow humans!
Vegan recipes/ Bolognese with lentils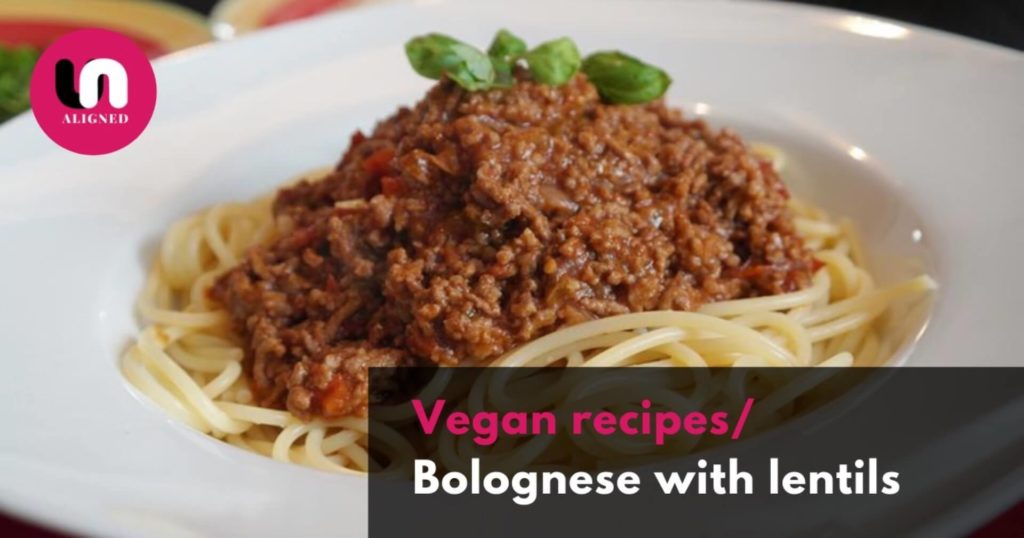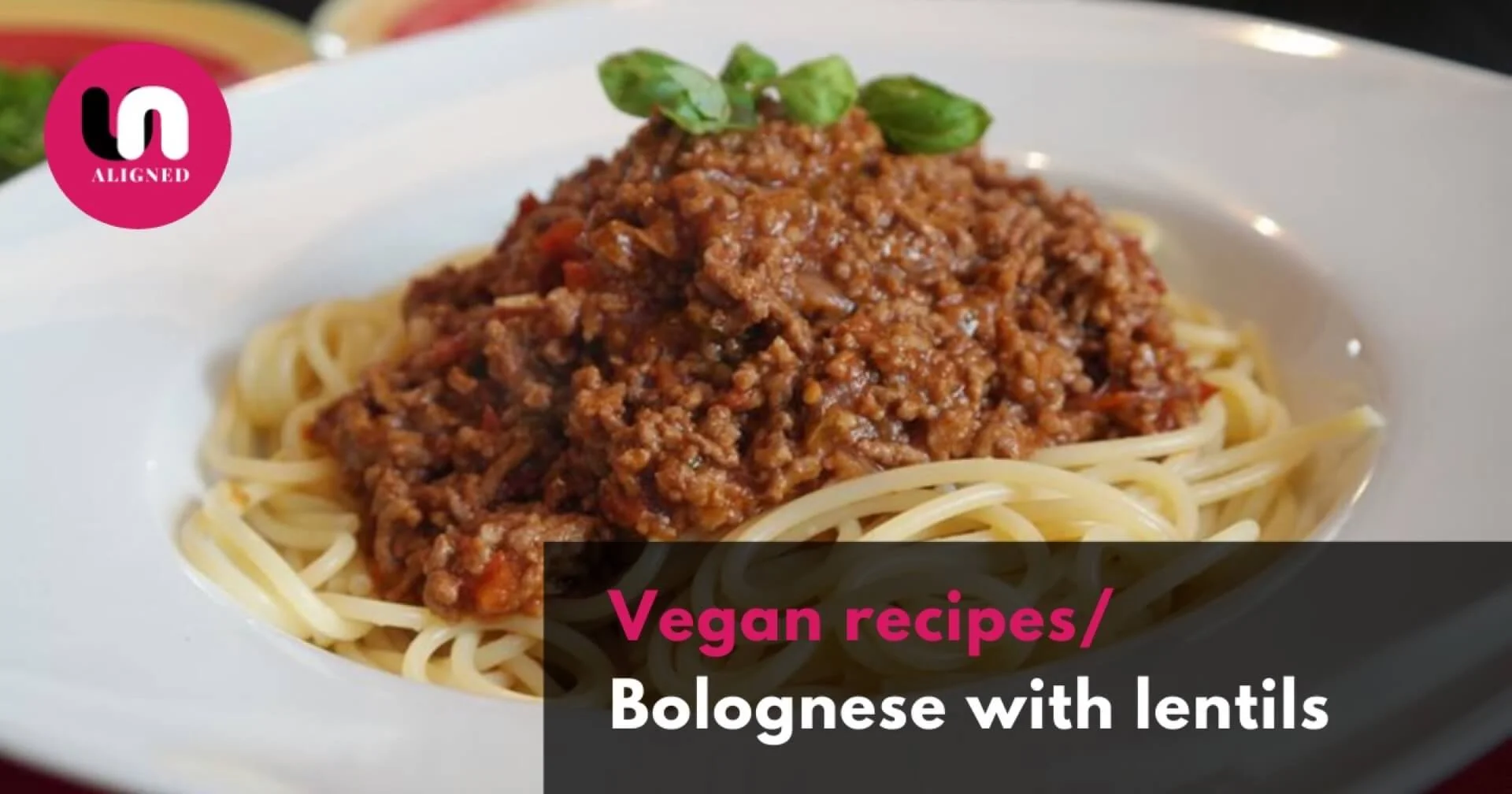 By Jonna Lappalainen
As Veganuary approaches, more and more people are looking to find ideas for healthier, more environment-friendly, and really yummy vegan recipes.
To support your efforts The Gordian Magazine has decided to regularly include new recipes in our monthly publication. Whether you are turning vegan to reduce carbon emissions, protect animals from slaughter or to save a few quid, we got you covered.
If you have any favourite vegan/vegetarian recipes, please send them to us. We would love to publish them. The following recipe was sent to us by UN-aligned treasurer, Jonna Lappalainen.
Ingredients for 3-4 people:
A can of lentils (about 230g)
2 carrots
Onion
Garlic cloves
Chili
2 tbsp of tomato paste or puree
2 tbsp of cumin
1 tbsp of cinnamon and smoked paprika
A can of tomato sauce or tomatoes (about 400g)
1-2 dl of water (if needed)
1 tbsp of vinegar
1 dl of basil
Salt and black pepper
How to make it
Cube or grate the carrots and slice the onion, garlic and chili. Fry the onions, garlic and chili until fragrant and then add the carrots.
Add the tomato paste and spices and fry for a few minutes. Then add the tomato sauce, vinegar, basil and season with salt and pepper. Add water if needed and bring to boil.
Rinse the lentils, add in and let it simmer for 5 to 10 minutes.
Serve with pasta, couscous or rice.
The Nymph Complaining for the Death of her Fawn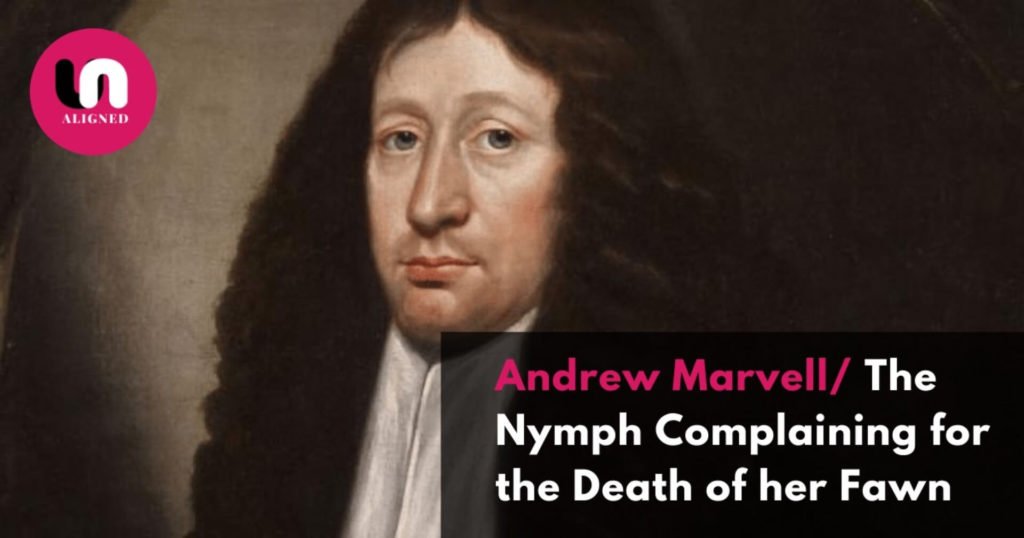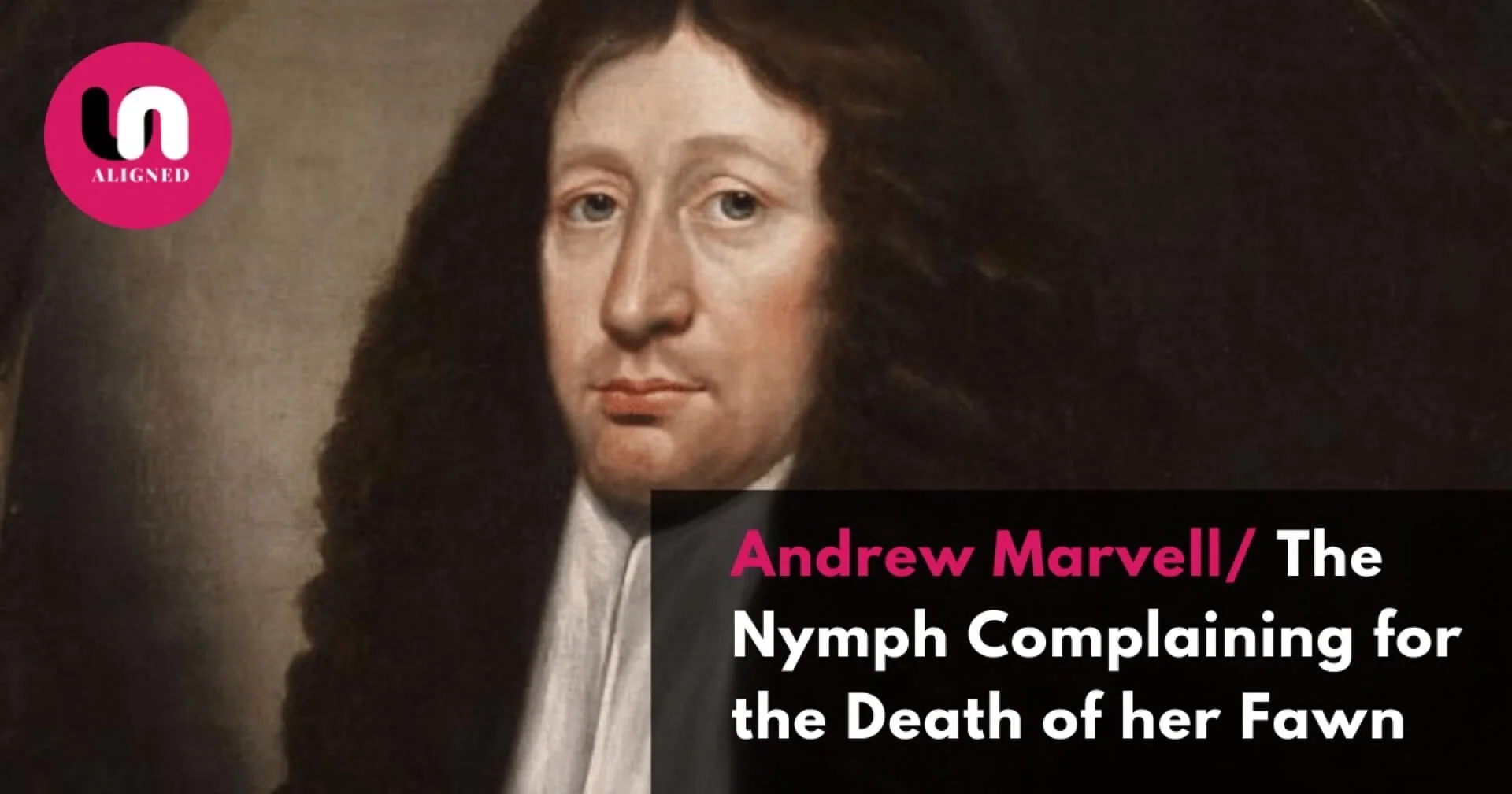 By Marvell, Andrew (1621 – 1678)
The wanton troopers riding by
Have shot my fawn, and it will die.
Ungentle men! they cannot thrive
To kill thee. Thou ne'er didst alive
Them any harm, alas, nor could
Thy death yet do them any good.
I'm sure I never wish'd them ill,
Nor do I for all this, nor will;
But if my simple pray'rs may yet
Prevail with Heaven to forget
Thy murder, I will join my tears
Rather than fail. But oh, my fears!
It cannot die so. Heaven's King
Keeps register of everything,
And nothing may we use in vain.
Ev'n beasts must be with justice slain,
Else men are made their deodands;
Though they should wash their guilty hands
In this warm life-blood, which doth part
From thine, and wound me to the heart,
Yet could they not be clean, their stain
Is dyed in such a purple grain.
There is not such another in
The world to offer for their sin.
Unconstant Sylvio, when yet
I had not found him counterfeit
One morning (I remember well)
Tied in this silver chain and bell,
Gave it to me; nay, and I know
What he said then; I'm sure I do.
Said he, "Look how your huntsman here
Hath taught a fawn to hunt his dear."
But Sylvio soon had me beguil'd,
This waxed tame, while he grew wild;
And quite regardless of my smart,
Left me his fawn, but took his heart.
Thenceforth I set myself to play
My solitary time away,
With this, and very well content
Could so mine idle life have spent;
For it was full of sport, and light
Of foot and heart, and did invite
Me to its game; it seem'd to bless
Itself in me. How could I less
Than love it? Oh, I cannot be
Unkind t' a beast that loveth me.
Had it liv'd long, I do not know
Whether it too might have done so
As Sylvio did; his gifts might be
Perhaps as false or more than he.
But I am sure, for aught that I
Could in so short a time espy,
Thy love was far more better then
The love of false and cruel men.
With sweetest milk and sugar first
I it at mine own fingers nurst;
And as it grew, so every day
It wax'd more white and sweet than they.
It had so sweet a breath! And oft
I blush'd to see its foot more soft
And white, shall I say than my hand?
Nay, any lady's of the land.
It is a wond'rous thing how fleet
'Twas on those little silver feet;
With what a pretty skipping grace
It oft would challenge me the race;
And when 't had left me far away,
'Twould stay, and run again, and stay,
For it was nimbler much than hinds,
And trod, as on the four winds.
I have a garden of my own,
But so with roses overgrown
And lilies, that you would it guess
To be a little wilderness;
And all the spring time of the year
It only loved to be there.
Among the beds of lilies I
Have sought it oft, where it should lie;
Yet could not, till itself would rise,
Find it, although before mine eyes;
For, in the flaxen lilies' shade,
It like a bank of lilies laid.
Upon the roses it would feed
Until its lips ev'n seemed to bleed,
And then to me 'twould boldly trip
And print those roses on my lip.
But all its chief delight was still
On roses thus itself to fill,
And its pure virgin limbs to fold
In whitest sheets of lilies cold.
Had it liv'd long it would have been
Lilies without, roses within.
O help, O help! I see it faint,
And die as calmly as a saint.
See how it weeps! The tears do come,
Sad, slowly dropping like a gum.
So weeps the wounded balsam, so
The holy frankincense doth flow;
The brotherless Heliades
Melt in such amber tears as these.
I in a golden vial will
Keep these two crystal tears, and fill
It till it do o'erflow with mine,
Then place it in Diana's shrine.
Now my sweet fawn is vanish'd to
Whither the swans and turtles go,
In fair Elysium to endure
With milk-white lambs and ermines pure.
O do not run too fast, for I
Will but bespeak thy grave, and die.
First my unhappy statue shall
Be cut in marble, and withal
Let it be weeping too; but there
Th' engraver sure his art may spare,
For I so truly thee bemoan
That I shall weep though I be stone;
Until my tears, still dropping, wear
My breast, themselves engraving there.
There at my feet shalt thou be laid,
Of purest alabaster made;
For I would have thine image be
White as I can, though not as thee.
Hormoz and its People – in picture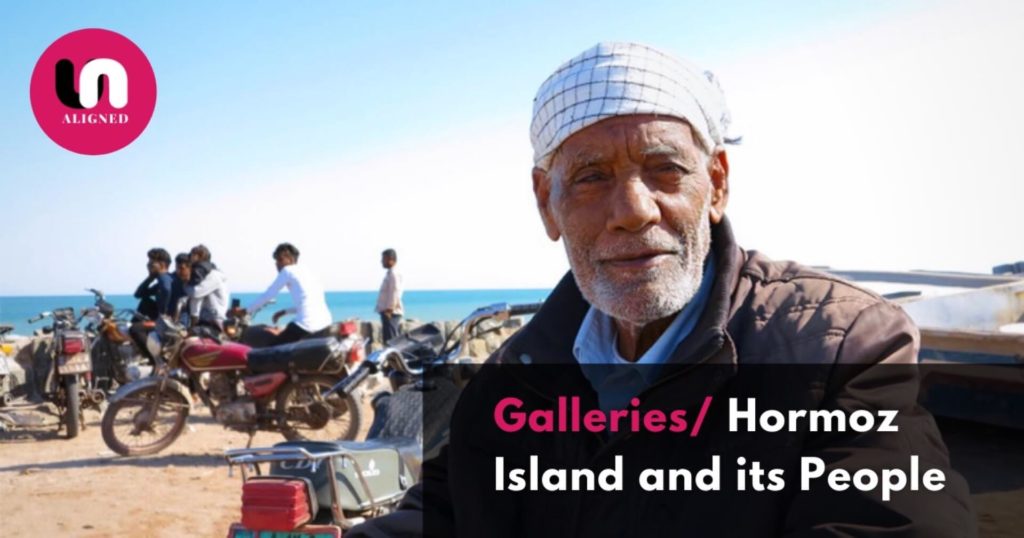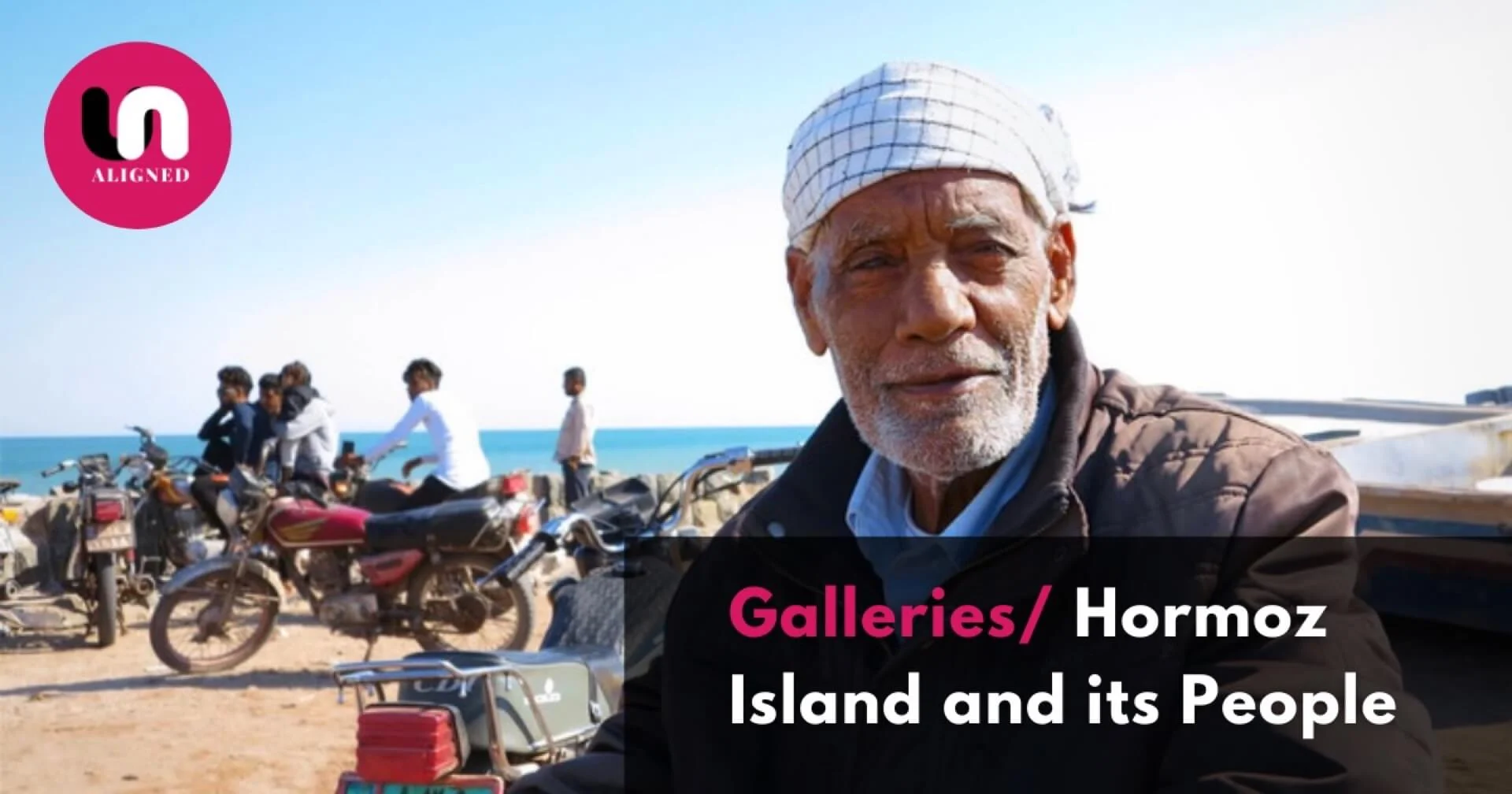 By Anahita Ahmadi
Did you know that you can publish your pictures on UN-aligned? Contact us with your offer.
How much do you know about your diet, animals and veganism?
Happy new year to all of our readers! We truly hope you have enjoyed this issue of The Gordian. If you have any comments or feedback, or simply like to say thank you, please write to us; we would love to hear from you. 🌹