Rishi Sunak's decision to axe the Birmingham to Manchester segment, packaged as a pragmatic financial choice, has ruffled feathers, not least those of former prime ministers David Cameron and Boris Johnson. Their collective critique, given their individual and joint legacies, is nothing short of ironic.
Sunak, in his address to the Conservative party's annual rally, positioned himself as a radical reformer. His vision of axing HS2's northern leg, introducing a broader Advanced British Standard to replace A-levels, and incrementally banning smoking are audacious moves. Yet, one cannot help but see these as emblematic of the Tories' recurring approach: prioritising headline-grabbing policies while seemingly neglecting dire issues such as child poverty, housing and climate change.
The HS2 decision is particularly telling. While Cameron laments the loss of a "once-in-a-generation opportunity", one wonders where this sentiment was during the Brexit chaos he instigated. The same can be said for Johnson's devious Brexi campaign. After navigating the UK through the tumultuous waters of post-Brexit negotiations and the ensuing socio-economic upheaval, Johnson's alignment with Cameron on the HS2 issue seems incongruous.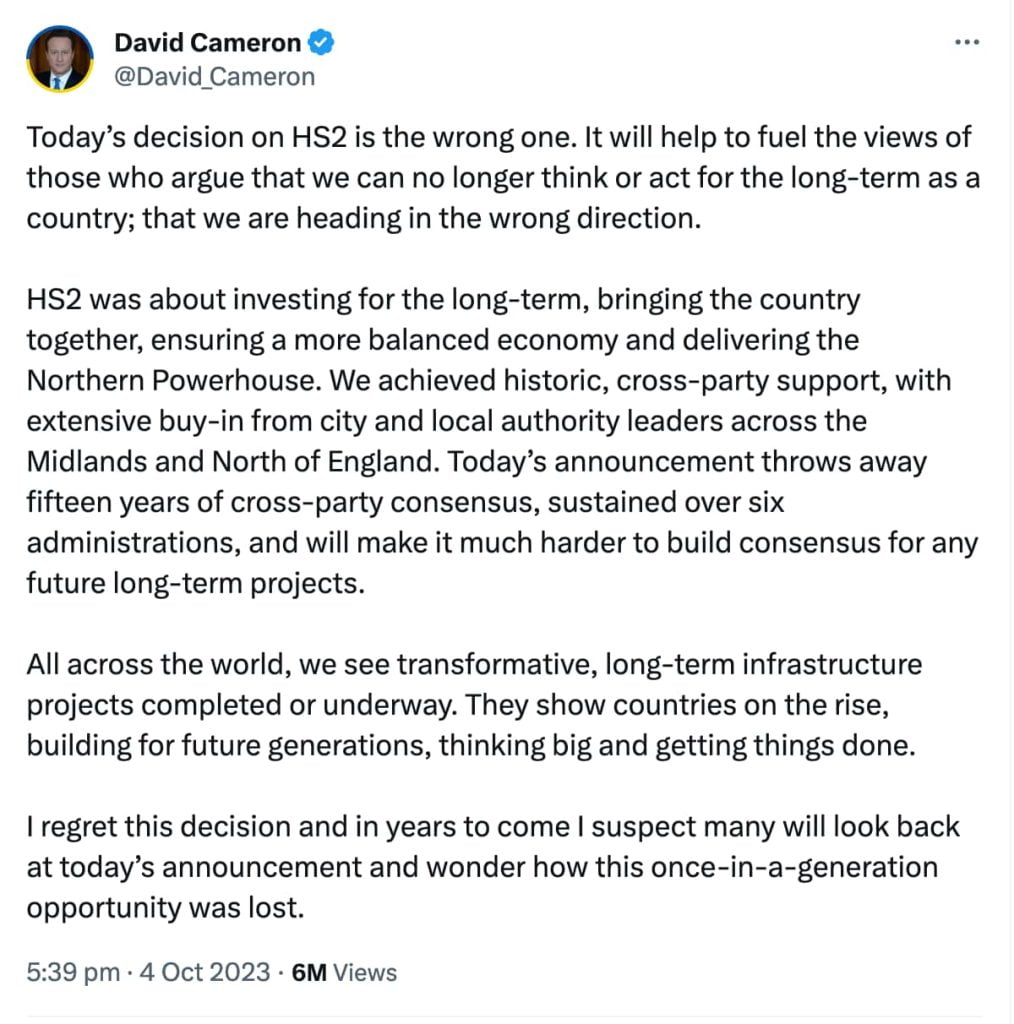 Sunak's vision for the UK, as depicted in his Manchester address, appears to be one of sweeping reforms and tough decisions. Yet, one cannot overlook the glaring inconsistencies in the Tories' priorities. On one hand, there's a push for ambitious redevelopment plans for Euston, with the potential for 10,000 new homes. On the other, there's a conspicuous silence on the deeper issues that plague the UK, from socio-economic disparities exacerbated by Brexit, to the ongoing challenges in public health and education.
Child poverty is on the rise, with many families struggling to make ends meet. The housing crisis continues to burgeon, with affordable housing becoming an elusive dream for many. Funding for the arts, a sector that contributes not just economically but also culturally, is dwindling. The rights of refugees, those seeking solace and a new beginning in the UK, often get sidelined in political rhetoric. Yet, the outcry over policies such as the HS2's northern leg axing, seems disproportionate in comparison.
Sunak likes to say he's committed to 'levelling-up'. The term, initially introduced with much fanfare, promised a more equitable distribution of resources and opportunities across the UK.
Yet, the decision to cut back on a major transport link like the HS2 raises questions. If the goal is truly to bridge the gap between the North and South, why scrap a project that could facilitate better connectivity and potentially stimulate economic growth in the North?
RMT General Secretary Mick Lynch's recent comments encapsulate the sentiment of many. He remarked, "The incompetence of successive Tory governments has now cost the taxpayer billions and led to this disastrous decision for Britain's economy, environment and our ailing transport infrastructure." He further highlighted the importance of a cohesive public transport network, stating, "Public transport investment is not an either-or question".