What you may have missed October 2020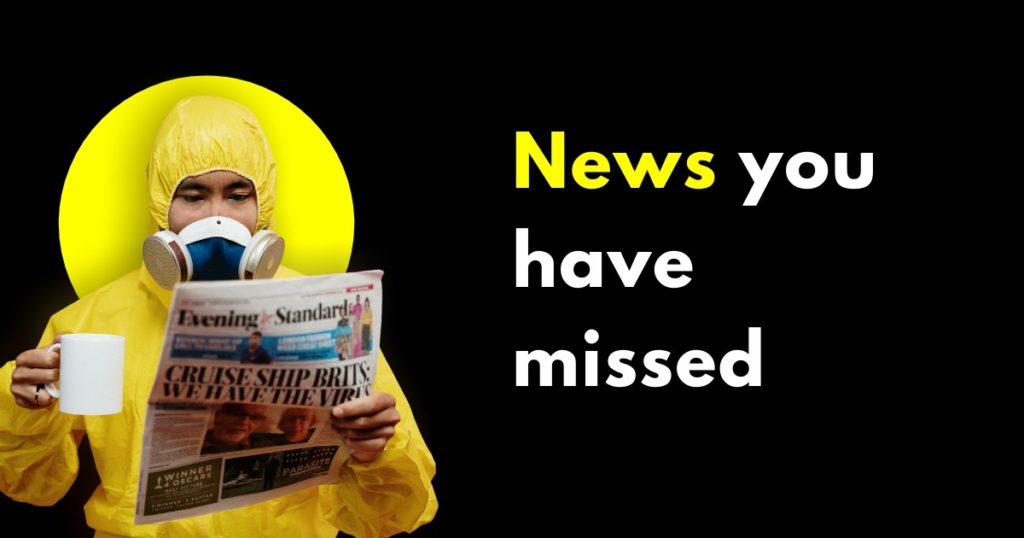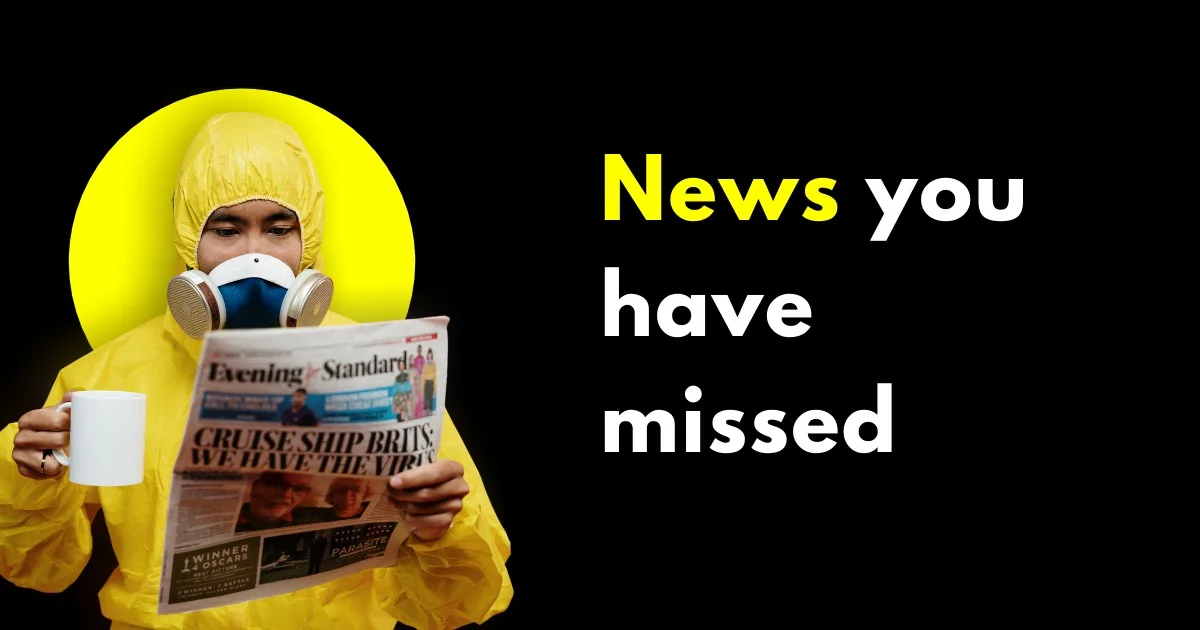 EUROPE
02.10.20: UK. The EU has set in motion legal proceedings against the UK after it reneged on sections of its Brexit "divorce" deal. Talks, however, are set to continue. The UK was given until November to respond to EU concerns.
07.10.20: Greece: The neofascist party Golden Dawn was declared a criminal organization for its role in a series of attacks on migrants and left-wing activists. The Guardian called it the "biggest trial of fascists since Nuremberg."
13.10.20: Cyprus. As of November, a scheme that sold EU citizenship to anyone willing to invest at least €2m in the country will no longer be available. The arrangement was ditched after an undercover operation by the Al Jazeera news network exposed corruption at the highest levels linked to the transactions.
16.10.20: France. Former president Nicolas Sarkozy has been charged with "criminal association" for his alleged part in accepting campaign funding from toppled Libyan leader Muammar Gaddafi, who is believed to have given Sarkozy €50 million for his presidential campaign in 2007.
21.10.20: The Vatican. The Pope has thrown his support behind same-sex civil unions during an interview in a documentary film called Francesco. He said: "Homosexual people have a right to be in a family. They are children of God and have a right to a family. Nobody should be thrown out or be made miserable over it. What we have to create is a civil union law. That way they are legally covered. I stood up for that."
29.10.20: UK. The previous leader of the Labour Party, Jeremy Corbyn, was suspended from the Party after he made dismissive comments relating to a report by the Equalities and Human Rights Commission on how complaints of antisemitism were handled by the Labour Party.
ASIA
01.10.20: Armenia: As the conflict in Nagorno-Karabakh intensifies, the Armenian Prime Minister Nikol Pashinyan accused Turkey, who is firmly on the side of Azerbaijan, of "once again advancing on a genocidal path."
02.10.20: China. The government in Beijing accused the United States of "fabricating lies" and trying to take the world back to the "jungle age" after Washington alleged China was responsible for "the murder of millions of baby girls." The Secretary of Education Elisabeth DeVos and Secretary of State Mike Pompeo, also implicated the U.N in their scathing report, which stated that China was forcing sterilizations, abortions, and implantation of birth control devices on minorities.
06.10.20: Kyrgyzstan. The results of the parliamentary elections were declared invalid by the Central Electoral Commission after mass protests in major cities around the country, which also involved the seizure of government buildings and the freeing of the previous president from prison. Many people were hurt during the riots and at least one person was killed. President Jeenbekov appealed for calm, while at the same time blaming protestors for trying to orchestrate a coup.
10.10.20: North Korea: Leader Kim Jong Un uncharacteristically wept at a military parade as he thanked citizens for their sacrifices and apologised for failing to improve their living standards.
12.10.20: Bangladesh. The Cabinet approved changing the maximum punishment for rapists from life imprisonment to death. The law will have to be approved by President Abdul Hamid before it goes into effect.
13.10.20: Afghanistan. The latest Taliban offensive in southern Helmand province has caused hundreds of casualties and led to thousands fleeing their homes.
13.10.20: Turkey. State media reported that at least 44 people died from bootleg alcohol poisoning as more Turks opt for cheaper options after sharp rises in taxes on alcohol. As well as raising revenue, the rise fits in with President Erdogan's Islamist agenda.
14.10.20: Vietnam. Torrential rains have caused floods and landslides that have killed dozens of people and left hundreds homeless. The hardest hit areas were in Quang Tri, Thua Thien Hue and Quang Nam provinces.
15.10.20: Palestine: According to Israeli government sources, authorities there have decided to bar the popular Palestinian singer Mohammed Assaf from visiting the occupied Palestinian territories.
20.10.20: Vietnam. As the floods continue to ravage the country, at least 105 people have now been confirmed dead and about 5 million adversely affected as the deluge carries away crops, livestock and homes.
21.10.20: Afghanistan. About a dozen women were crushed to death and many others injured in a stampede in a stadium that was being used to issue visas to Pakistan. Owing to a seven-month suspension of visa applications due to the coronavirus pandemic, "thousands of people" had gathered at the site and many were anxious they would not be seen.
22.10.20: Lebanon. President Michel Aoun renamed Saad Hariri as new Prime Minister a year after he resigned from the same post.
24.10.20: Turkey. President Tayyip Erdogan launched a fresh attack on French President Emmanuel Macron declaring he needed psychiatric help because of his attitude towards Muslims and Islam. The scathing attack follows Macron's pledge not to surrender to extremism in the wake of the beheading of Samuel Paty, a 47-year-old history and geography teacher at College du Bois d'Aulne on 16 October.
24.10.20: Brunei. Prince Azim, the son of Sultan Hassanal Bolkiah, died aged 38. He was a film producer and fourth in line to succeed to the throne of Brunei. The government declared a week of national mourning, although the cause of death was not disclosed. The prince was outed by Perez Hilton in 2019 after his father made gay sex a crime punishable by death.
AFRICA
03.10.20: Sudan. Government and rebel groups signed a landmark peace agreement that aims to bring an end to decades of violence that cost the lives of thousands of people.
06.10.20: Mali. Authorities have released 180 Islamic extremists from a prison in Bamako and flown them to the country's north, in what appears to be a prisoner swap that will guarantee the freeing of a number of prisoners, including Soumaila Cisse, a prominent opposition politician and French national Sophie Petronin, who was held hostage for four years.
20.10.20: Nigeria. At Least 15 People were killed according to Amnesty International as protests and riots against police violence intensified. Anger is particularly directed against the Special Anti-Robbery Squad, which is accused of kidnapping, harassment, and extortion.
23.10.20: Sudan. The government in Khartoum is the latest to agree to normalise relations with Israel according to US President Donald Trump. The US president also claimed that "at least five more" Arab states were planning to follow suit. He also removed Sudan from his list of state sponsors of terrorism.
23.10.20: Libya. The UN recognised Government of National Accord, based in Tripoli, and Khalifa Hifter's Libyan National Army agreed to a cease-fire which was signed in Geneva.
23.10.20: Namibia. Over 7,000 dead seals, many of them pups, were washed ashore on the Namibian coast over a number of days. The cause of the disaster has not yet been ascertained.
24.10.20: Cameroon. Suspected separatists stormed a school in the city of Kumba in the South West Region. The attackers shot indiscriminately and killed and wounded several children, some of whom were injured after jumping from second storey windows as they tried to save themselves.
25.10.20: Guinea. The electoral commission announced that President Alpha Condé won a controversial third term in office with 59.5% of the vote. The alleged victory, which still requires confirmation by the Constitutional Court, sparked violent riots which already cost the lives of over 30 people. Opposition leader Cellou Dalein Diallo said he would contest the result.
25.10.20: Seychelles. Wavel Ramkalawan, an Anglican priest, won the presidential election, marking the first opposition victory since independence from Britain in 1976. President Danny Faure conceded defeat.
AMERICAS
09.10.20: The Caribbean Community (CARICOM). A communique by CARICOM condemned the EU for continuing to blacklist countries as tax havens, the most recent being Anguilla and Barbados. In the statement, CARCOM accused the EU of an "ongoing unilateral, arbitrary and non-transparent blacklisting strategy" and called on it to "desist from this harmful practice."
14.10.20: Brazil. Jair Bolsonaro's deputy leader, Chico Rodrigues, was caught with a wad of banknotes worth up to 30,000 reais (more than £4,100) clenched in his buttocks, in another blow to the president's efforts to portray himself as the anti-corruption champion. The bundle was discovered while police were searching his home while investigating misappropriation of public funds.
15.10.20: Mexico. General Salvador Cienfuegos Zepeda, a former defence minister, was charged with drug trafficking and money laundering while holding public office. He was arrested at Los Angeles airport and is due to make a court appearance on four charges in California on Friday.
19.10.20: USA. As the U.S. death toll from COVID-19 surpasses the rest of the world with over 220,000 fatalities, President Trump launched a scathing attack on Dr. Anthony Fauci, the nation's top infectious disease expert, referring to him as an idiot and a disaster.
19.10.20: Bolivia: Exit polls suggest that Luis Arce, had secured more than 50% of the vote while his main rival, former president Carlos Mesa, received only 30% or so. Acre was representing the Movimiento al Socialismo (Mas), which is the party of Evo Morales, who had to resort to exile after having been accused of electoral fraud after the 2019 general election.
20.10.20: USA. Hundreds of immigrant children seized at the border between the US and Mexico are still unable to join their parents according to legal sources. Attempts to reunite about 545 children, who were separated from their families between 2017 to 2018, have so far failed because of difficulties in tracing their families. Many of the children were put in cages as part of Trump's no tolerance policy.
21.10.20: USA. As the U.S. death toll from COVID-19 reached 222,000, a report by Columbia University blamed Trump for monumental failures: "We estimate that at least 130,000 deaths and perhaps as many as 210,000 could have been avoided with earlier policy interventions and more robust federal coordination and leadership. Even with the dramatic recent appearance of new COVID-19 waves globally, the abject failures of U.S. government policies and crisis messaging persist."
21.10.20: USA. The NASA Osiris-Rex spacecraft successfully landed on asteroid Bennu about 300 million kilometres from earth, to collect samples for analysis back on Earth. The spacecraft is expected to return to earth in 2023.
26.10.20: Chile. At least 78% of people voted in support of rewriting Chile's constitution, which was drafted during the dictatorship of Gen Augusto Pinochet. Jubilant crowds took to the streets to celebrate the outcome of the referendum.
OCEANIA
04.10.20: New Caledonia/France. People in the French overseas territory, which had been annexed by France in 1853, rejected independence from France in a referendum, with 53.26% of voting to stay. The result was not as high as that of a similar referendum that was held two years ago.
17.10.20: New Zealand. Prime Minister Jacinda Ardern won a landslide victory in the general election securing an outright parliamentary majority.
Letter to UN-aligned members: Ask your government to take immediate action against the looming hunger crisis affecting millions of people worldwide.
By Ariana Yekrangi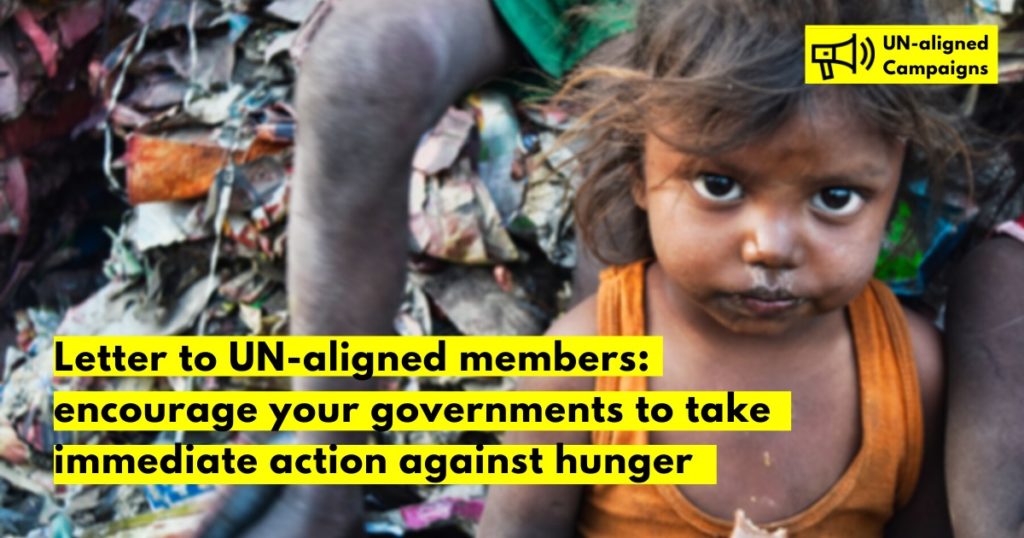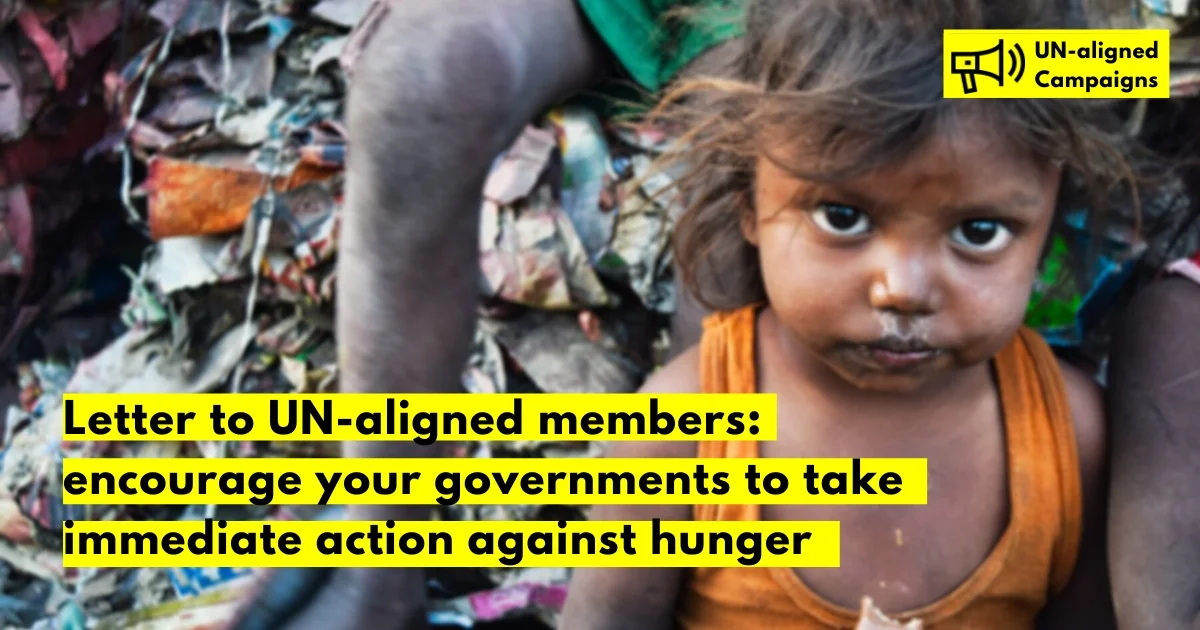 In a recent publication, UN-aligned joined the voices of organisations, like Oxfam and the WFP, in warning against a hunger catastrophe already targeting millions of children and adults in the world's most vulnerable places. The good earth is rich and can provide for everyone and in our world of plenty, no one should have to suffer hunger or malnutrition.
The solid frame-work the sustainable development goals provided during the last decade is threatened by an awful melange of disasters, such as Covid-19 and climate change. If no action is taken, many lives will be lost. Some estimates by Oxfam suggest up to 12,000 people could die every day as a result of hunger.
UN-aligned calls upon its members to use the template below to contact their local MPs or representatives and challenge them on this extraordinary issue. You could encourage Official Development Assistance (ODA) donors, especially those to Africa and Asia, to increase their support as encouraged by Ceres2030, a sustainable solution to end hunger by 2030.
For obvious reasons, UN-aligned is unable to send these messages on such a large scale. Moreover, we believe that citizens of countries will be in a better position to challenge their governments on their actions and spending plans.
Forward the following letter to your MP or local representative. Please remember to change the information inside the brackets.
Dear [name of MP or representative],
Recently, I have been made aware of a food crisis that is exacerbated by the Covid-19 pandemic and global warming. The pandemic is the final straw for millions of people already struggling with the impacts of conflicts, climate change, inequality and a broken food system that has impoverished millions of food producers and workers.
Ceres2030's research is backed by the German Government. It provides donor governments with a menu of policy options for directing their investments as well as the best innovative interventions.
The study reads that: "An estimated 690 million people are hungry and it is predicted that a further 95 million people will be living in extreme poverty and hunger as a result of COVID-19. Perversely, the very people whose livelihoods depend on food and agriculture are among the most likely to experience hunger." A pdf copy of the report is available here: Ceres2030
A link to UN-aligned's report, where I learned about this issue is also available here: www.un-aligned.org/press. UN-aligned is an international organisation that laid the foundations for an alternative United Nations, which aims to serve people before nationstates.
I want my country to support the development of sustainable agricultural production and food value chains, land management and the organisation of small-scale farmers, as highlighted by the Ceres2030 report. It is imperative that the government should take action before it is too late. As an official Development Assistance donor, this country must be accountable not only to its own people, but also to the global community.
The sustainable development goal to eradicate hunger must not, and cannot, be postponed. It is for this reason that I ask you to support and back the Ceres2030 study and its 10 key recommendations on the sort of interventions that will prove effective.
Having read the information in this letter, please let me know exactly what actions you are going to take, on behalf of your constituents, to address this profoundly serious and disturbing issue.
I await your reply.
Yours sincerely,
[write your name]
Update on the Ashin Wirathu Campaign
By Adrian Liberto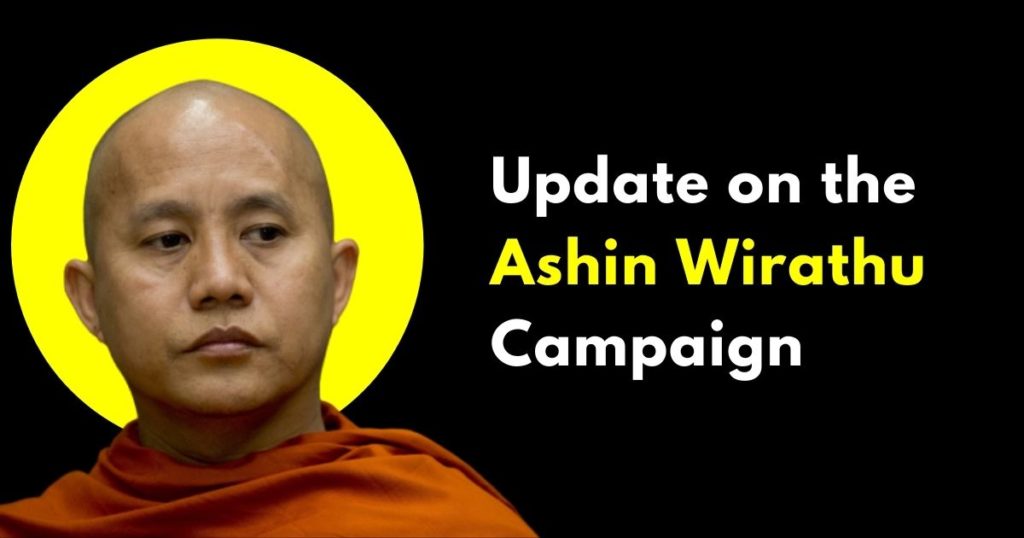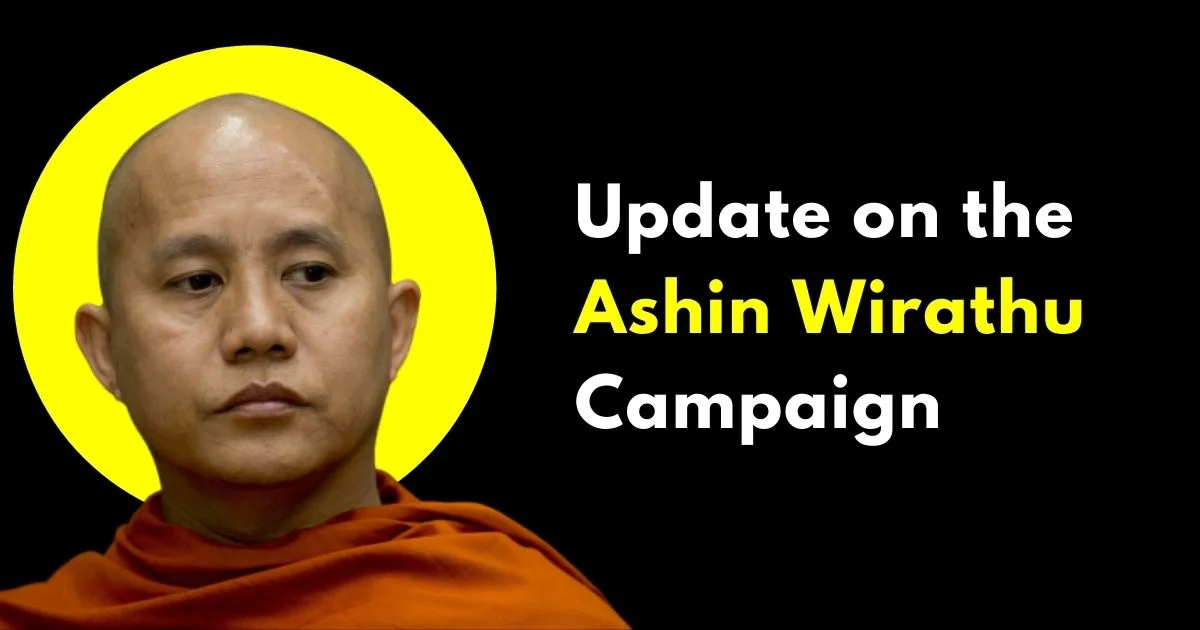 On 27 July 2020, UN-aligned sent a letter to the Burmese Buddhist monk Ashin Wirathu asking him, amongst other things, how he could reconcile his hostility to the Rohingya with his Buddhist creed. The letter was sent registered. Three months later, the letter is still sitting in a post office in Myanmar and the status of the letter is described as "in transit." The address was of course correct; in fact, the monastery he resides in is the well-known and accessible New Masoyein Monastery in Mandalay. So why on earth is the letter still stuck in Nowhere Land?
It would be nice to be able to blame the ridiculous delay on the incompetence of the Burmese regime, but sadly the condition of postal services has become a disgrace in so many places around the world now, that such incompetence is becoming the norm rather than the exception. I could write a lament of epic proportions of the disasters my acquaintances and I have had to put up with regarding lost, stolen, damaged and undelivered mail.
This month, NASA landed a probe on an asteroid: no address; no fixed abode… and yet our postal services cannot even get a simple letter or parcel from A to B, when that is precisely what they are there to do. I am not that old and yet when I was younger, I could always depend on the post. In fact, as a stamp collector I can see how mail was successfully delivered before the invention of the aeroplane and during world wars and other disasters. And yet taking something from A to B seems too much for the 21st century postal services!
Guaranteeing a decent infrastructure, including efficient postal services, is one of the articles of UN-aligned. The importance of postal services is also highlighted by the United Nations, which has a branch dedicated to it: the Universal Postal Union (UPU), headquartered in Berne, Switzerland. Sadly, however, many governments do not seem willing to take the responsibility seriously.
Well, back to the campaign. We will not give up and we are currently looking at alternative ways to ensure that the message to the Bhante is delivered. As our network of members increases, we should be better placed to overcome these problems. We already have members from several countries around the world… we need more! Spread the word and help us increase our members' pool so that we will be able to campaign more easily and effectively! In the meantime, we will keep you updated on developments regarding this campaign.
Five Reasons why this Year's Nobel Peace Prize was Misplaced
By Adrian Liberto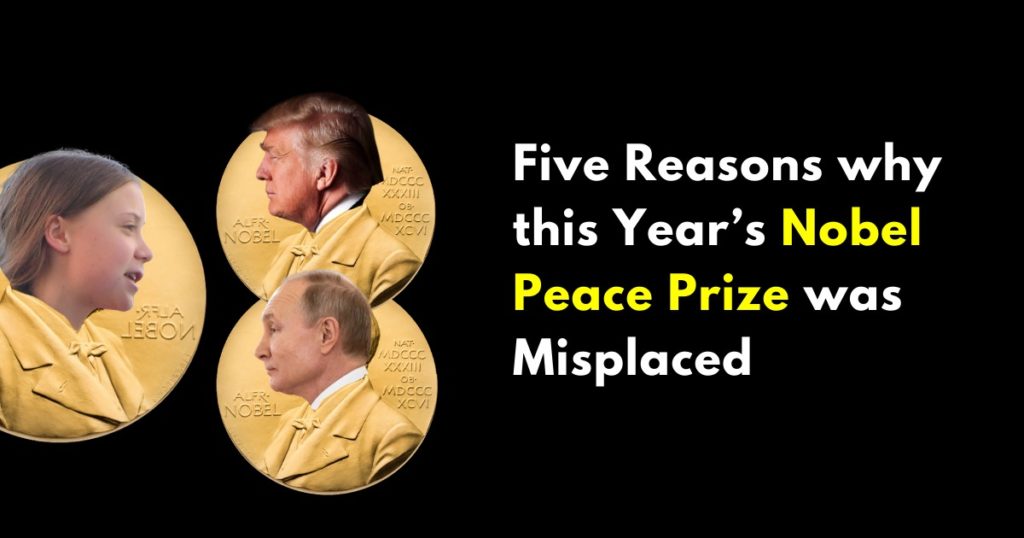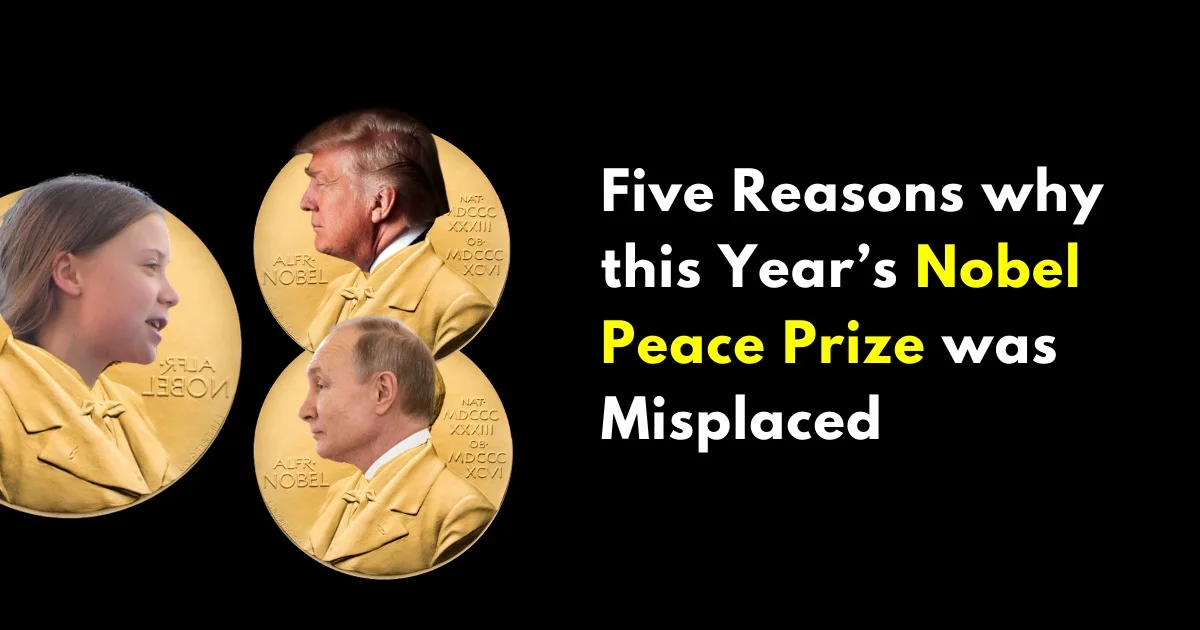 On 9 October 2020, the World Food Programme (WFP) was awarded the prestigious Nobel Peace Prize by the Norwegian Nobel Committee: "for its efforts to combat hunger, for its contribution to bettering conditions for peace in conflict-affected areas and for acting as a driving force in efforts to prevent the use of hunger as a weapon of war and conflict." No doubt this was a safe political move since even leaders who are hostile to the United Nations, of which the WFP is a branch, cannot feel affronted by such a selection. In dangerous times, however, a safe move is often a cowardly one and, in this case, it certainly feels like one. Here are five reasons why choosing the WFP was a bad decision.
One: The prize should focus on the direct furthering of peace
Supporting any one of the needs in Maslow's Hierarchy would constitute a "contribution to bettering conditions for peace." Anyone holding a decent job would, for that matter, qualify in this scenario. In the past, the Peace Prize has predominantly gone to champions of peace, such as arbitrators, founders and advocates; people like Fridtjof Nansen (1922), Frank B. Kellogg (1929), Jane Addams (1931), Karl von Ossietzky (1935) and Desmond Tutu (1984). Of course, there have been some dubious laureates too, such as Kofi Annan and the UN, who jointly received the Prize in 2001, despite Annan's appalling record in dealing with both the Rwandan and Srebrenica genocides. Nevertheless, peace was as a rule the central focus, not the by-product.
Two: As a branch of the United Nations, the WFP achieves nothing extraordinary
Combating poverty is in the WFP's job description. It is what it was set up to do. True, the coronavirus has made poverty more of a problem and tackling it is a huge challenge. That is why, for instance, the World Bank is proposing additional funds of up to $25 billion in emergency financing to help poor countries grapple with the repercussions of COVIV-19. Should it have got the Peace Prize too? For the UN it is all in a day's work. It has not miraculously multiplied any loaves or changed water into wine; it has carried out its day job with the funds provided to it.
Needless to say, within the workforce of the WFP there must be some veritable heroes, but there are possibly some corrupt individuals too. If the Nobel Committee really wanted to do its homework, then perhaps it should have identified an exemplary individual within the programme who could serve as an outstanding example of dedication to peace.
Three: The prize could have given a welcome boost to struggling activists
2020 has not been a good year for peace and justice. Old wars drag on; extinguished once rekindle. Also, apart from exacerbating the situation regarding poverty, the coronavirus has put many environmental issues at the bottom of the agenda as governments focus on saving the economy. People are dying daily in their battles for peace and social and environmental justice. People without a huge organisation like the UN behind them. Citizens protesting police brutality, students resisting oppression, journalists behind bars… These are people whose deeds need to be kept in the spotlight, for indeed, sometimes that is the only thing that stops repressive regimes from exterminating them altogether. The European Parliament's prestigious Sakharov Prize for Freedom of Thought, announced on 22 October, went to the brave opposition in Belarus, much of it spearheaded by women. Was the Nobel Committee really so short of ideas in times like these?
Four: By its nature, the UN or its branches should not qualify for Peace Prizes
The UN is an organisation made up of Member States. The greatest threat to peace comes from within the rank of these very States because of their nationalism, greed and narrowmindedness. Awarding the Nobel Peace Prize to a branch of the UN means turning a blind eye to the sins of the organisation as a whole. In this sense no organisation can be less deserving of the prize.
Five: By being ultra-cautious, the Nobel Committee has undermined its own relevance
There were 318 candidates for this year's prize, 107 of which were organisations. The nominations can be submitted by a limited range of nominators, including university professors of certain subjects, like history and philosophy, previous recipients and members of specific organisations, such as the International Court of Justice. Nominations are kept secret for 50 years, although nothing can stop a nominator from announcing his or her choice. This year, it appears that the likes of both Trump and Putin were nominated, but considering that Hitler himself was nominated in 1939 (though more as a protest than a genuine nomination), this is not surprising. Once all nominations are received, the Nobel Committee makes a shortlist, which is then reviewed by advisers who can spend months filing reports for further consideration by the Committee for its final decision. And the winner is… the World Food Programme. Well, what and anti-climax! Recent choices have been more adventurous, so the Nobel Committee can get away with the occasional bland choice. However, if it persists in opting for recipients who are less likely to cause ripples, it will end up being nothing more than an empty gesture that will barely be noticed by those who once looked to the Prize as a beacon of hope.
The 2021 Food Crisis and How to Prevent it
By Ariana Yekrangi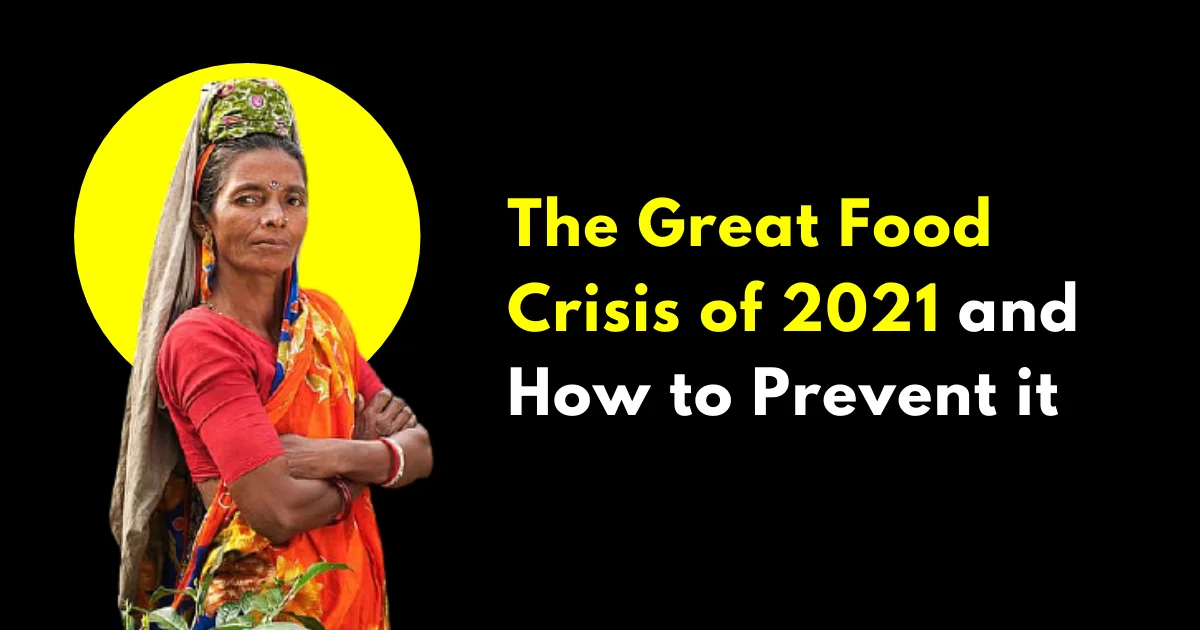 Many will face horrific hunger if relief efforts are not stepped up in a world heated by coal, infected with Covid-19 and separated by nationalists.
Five years ago, 193 countries lined up behind a comprehensive and ambitious set of targets – also known as the Sustainable Development Goals – to transform life and the planet by 2030. Contrary to most UN agreements that are ignored and unheeded by the member states, the project was more than a political platitude and successful on many fronts: extreme poverty fell dramatically and child deaths halved. The 17 Sustainable Development Goals will indeed remain a remarkable example of the tireless and significant work by the United Nations for the planet and its people. However, if everything were hunky-dory there wouldn't be a point in writing this piece, would there?
The Millennium Development Goals, whose 15-year mission included the eradication of extreme poverty and hunger, is threatened by a looming food crisis likely to wipe out almost ten years of achievements in development. Recently, you may have run into headlines warning about an unprecedented world famine targeting the already-vulnerable world's hunger hotspots. Of course, this being 2020, your compassion fatigue may have kicked in and pleaded with you to block unpleasant news in the hope that everything will get better. Regardless of how you chose to cope with this, global hunger is here to stay and it is getting worse. Much worse.
In early July, an Oxfam report estimated that up to 12,000 people could die per day because of a hunger crisis exacerbated by climate change and the covid-19 pandemic.
The rise in global hunger is accentuated by the climate emergency
More floods, more droughts, and fiercer storms have occurred. When a once-in-a-century severe weather event becomes the norm, farmers and farm communities around the world will be the first to be hit and challenged. The combination of advancing climate change and an already-vulnerable industrial system in developed countries will endanger farmers' livelihood and therefore our food supplies. It is also expected that when agricultural production declines, food prices will rise and make what little remains more valuable.
The way we produce food has long been caught in a vicious circle, with agriculture driving up greenhouse gas emissions and the dreadful weather conditions caused by climate change, making it impossible to grow the food we need.
The Covid pandemic has also hardly been an "equaliser"
For many, a combination of unemployment, low pay and wages that aren't rising, zero-hour contracts and the soaring cost of living means they are living on the breadline. The lowest paid will continue to be squeezed.
Arif Husain the chief economist of the World Food Programme (WFP) has warned that although the world has experienced severe hunger crises before, we are stepping into an "unprecedented and uncharted territory". About 135 million people had been already facing acute food shortages, but now with the pandemic, 130 million more could go hungry in 2020. As Yusuf Jonga Hinna, the Nigerian ambassador in Italy, puts it in his unambiguous and unadorned speech in a Ceres2030 convention in 2018: "No farmer no food, no food no nation."
It is increasingly clear that, unless urgent action is taken, there will be an imminent global food disaster that could have long-term effects on hundreds of millions of children and adults. You may be wondering how we can possibly go about addressing such a large scale issue. Well, there is hope.
The prospect of hunger is a familiar experience amongst many. It is easy to sympathise with someone who is hungry and, thus, it should be easier to assemble the necessary funds required to prevent this disaster.
National resources must take account of international needs
Putting your country first is one of the most selfish acts one soulless being can commit. It is obscene for half a country to live in luxury, while the other half is plagued by poverty and starvation. Similarly, parts of the globe should not languish in deprivation, when enough resources are available to resolve this deplorable state of affairs.
In a world of plenty, the fact that there are children all around the world who go hungry, are malnourished and in many cases die of starvation, is not only a tragedy, but an avoidable one.
How to end world hunger?
According to Ceres2030, a report backed by the German government, ending hunger by 2030 is possible, but will come with a price tag of $330bn. Although this number may seem daunting, it is only about 15% of what the 15 topmost spending countries spent on military expenditure in 2019.
The Ceres2030 report lays a combination of solutions ranging from social protection to investment in research and training, but most notably encourages:
International donors to spend an additional USD 14 billion a year on average until 2030.
Doubling the incomes of 545 million small-scale farmers.
Limiting agricultural emissions in line with the Paris climate agreement.
The empowerment of women is also key in bringing world hunger to an end. On average women make up to 43% of the agricultural labour in developing countries and this figure can even exceed 50% in some eastern African countries.
Women farmers are often held back by barriers that prevent them from feeding their families and reinvesting in their livelihoods. According to a report by Oxfam:
Women do not receive the same support as male farmers do. They have less access to land, loans and machinery.
Women are heavily involved in domestic activities including caring, cooking and cleaning, which remain hidden economically.
Women are disproportionately affected by climate change and face greater exposure to climate risks due to the same barriers that reduce their productivity.
By tackling these problems, the ability of hundreds of millions of woman farmers to effectively eradicate poverty and hunger could be unlocked.
Of course, throwing money at the problem is not the only solution. A change in the way we exploit the planet and its lifeforms is also essential if we are to deal with the problem rather than just the symptoms. Meat and dairy production, for instance, wastes a huge amount of resources (land and water, in particular) for very limited returns.
The industry is also responsible for "more greenhouse gasses than all the world's transport systems combined." Producing plant-based foods can supply food and water to about twenty times as many people, which on its own would go a long way to solving the world's food problem. According to PETA, in the United States alone, 56 million acres of land are used to grow feed for animals, while only 4 million acres are producing plants for humans to eat; and a good deal more animal feed is also imported from abroad, much of it originating from land claimed form the Amazon forests.
"It always seems impossible until it is done" – Nelson Mandela
Climate change and the covid-19 pandemic have fueled a devastating and unstoppable food crisis, one that is unlike anything we have seen. Moreover, ending poverty and hunger is an indispensable requirement for sustainable development. There must be an urgent political will to stop the target of zero hunger from going backwards.
Civilisation has accomplished marvellous achievements in the social order and it will continue to do so despite some primitive characteristics it has. World hunger is, to a certain extent, man-made and therefore, man-solvable.
UN-aligned is committed to international efforts to eradicate poverty and tackle climate change. It promotes public awareness regarding global issues and the responsibility of individuals and governments in resolving them.
Here I will leave you with a poem by Tyktmy.
Children starving,
children dying.
While the world just sits there,
Thriving.
Living in their own worlds,
without a care in the world.
Not worried because it's not them
out there all alone.
Why should we care?
Who are they?
Take care of our own first.
But they are our own
because we are all one.

We've got to take care of each other,
for if you don't take care of them,
Who will take care of you?
Each man for himself by tyktmy
Please read this month's campaign to see how you can get involved with this issue.
Itching for a change of scenery: A look inside Chechnya
By Ruby Goldenberg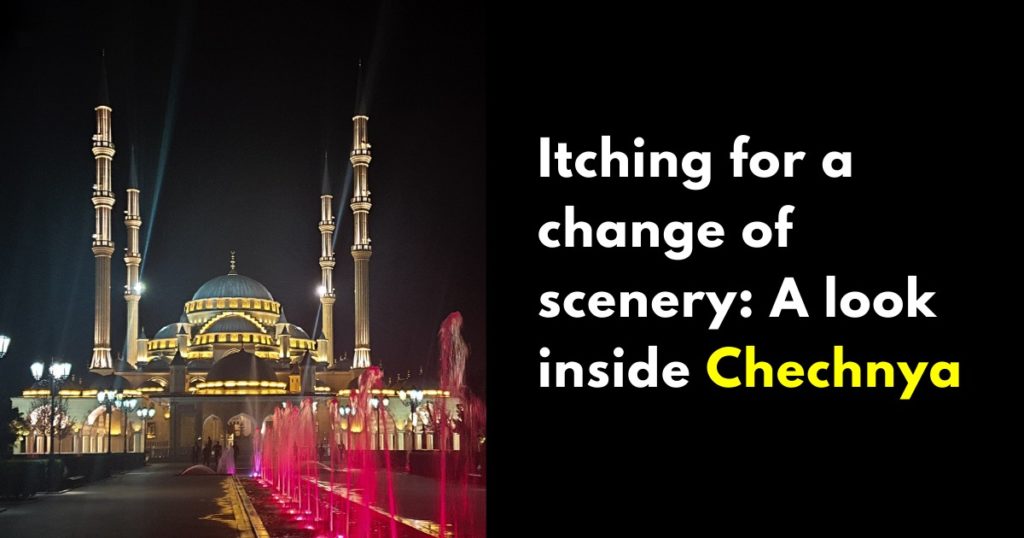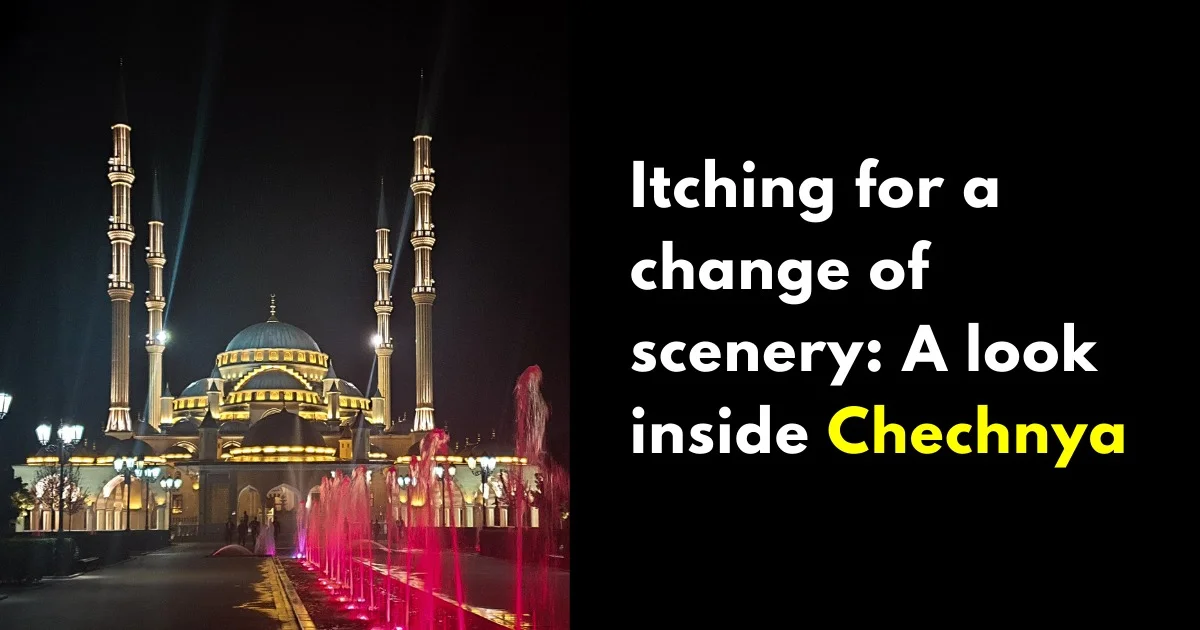 Did you know that you can publish your pictures on UN-aligned? Contact us with your offer.
Quiz: How much do you know about world hunger, irrational (but delightful) Italian superstitions and insects?