What you may have missed: August 2020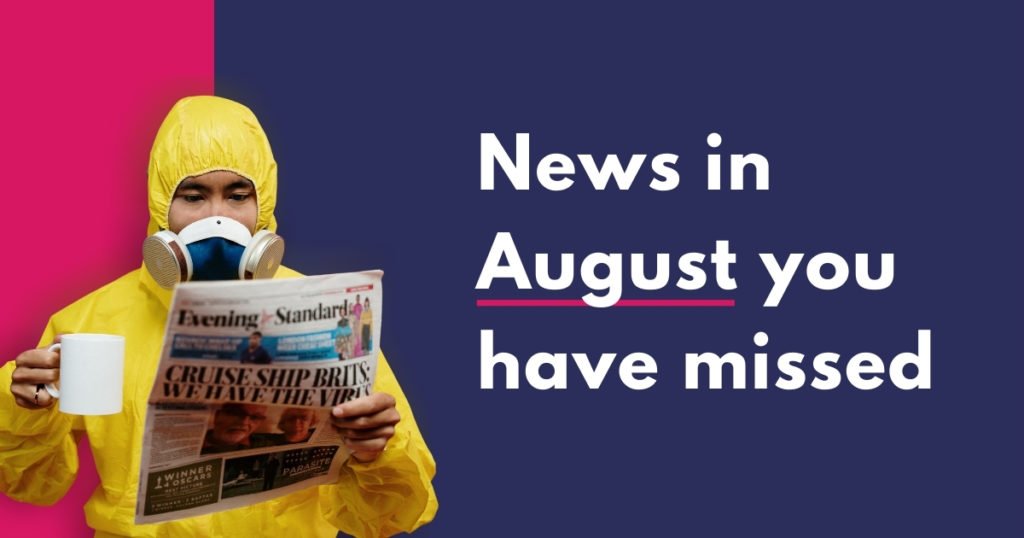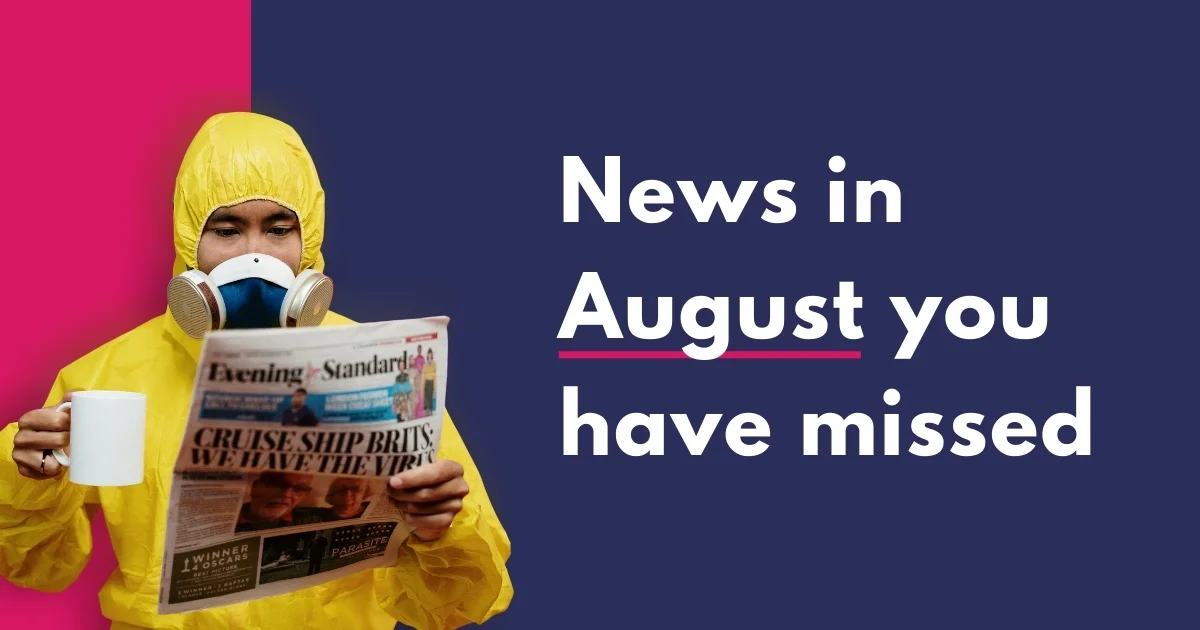 AFRICA
02.08.20: Cameroon. In a vicious grenade attack targeting a camp for displaced people, as they slept, suspected Boko Haram militants murdered over 16 people and wounded several others in the village of Nguetchewe, northern Cameroon.
04.08.20: Tanzania. Tundu Lissu, an opposition politician who survived being shot 16 times in an assassination attempt, will challenge President Magufuli in the October elections.
08.08.20: Mauritius. A state of emergency has been announced after an oil spill from a damaged Japanese ship is contaminating vast tracts of water. Baby tortoises and rare plants from an island near the spill, Ile aux Aigrettes, are being taken to the mainland to protect them from the worsening situation. The ship had struck a reef on July 25.
09.08.20: Niger. Six French aid workers, their driver and their guide who were visiting the Koure region were gunned down by men on motorcycles. The area is famous for its giraffes. A hunt for the assassins was immediately launched with the aid of the French government.
13.08.20: Saudi Arabia. The Guardian reported that thousands of sheep from the 58,000 sent back from Saudi Arabia to Sudan for violating quarantine directives died, mostly of hunger and thirst, on the return journey. Last year thousands more had died when the Saudi authorities stopped imports following the outbreak of Rift Valley fever. Saudi Arabia imports most of its livestock from Sudan.
16.08.20: Somalia. An assault by al-Shabab on a beachfront hotel in Mogadishu left 16 or more people dead and dozens wounded. The attack ended after a three-hour battle with security forces. Five of the assailants were among the dead
18.08.20: Mali. President Ibrahim Boubacar Keita has been overthrown by a coup organised by the military who pledged to restore stability in the troubled country and oversee a transition to elections within a "reasonable" period.
21.08.20: Democratic Republic of Congo. Another 13 people were killed in eastern Congo by the Allied Democratic Forces (ADF), a Ugandan armed group operating in North Kivu province. They have already killed more than 1,000 civilians since the beginning of 2019, according to U.N. figures.
28.08.20: Mauritius. Scores of dolphins have died in an area of Mauritius affected by an oil spill from a Japanese boat although the exact cause of death remains unknown. A scene of a mother dolphin trying to save her baby by raising her up to breathe went viral, but neither managed to survive.
AMERICAS
02.08.20. Guyana. Irfaan Ali has been declared the winner of the disputed election that was held last March. The announcement, that was made by the electoral commission, paves the way for the controversial leader of the People's Progressive Party to exploit the recent crude oil bonanza and develop the impoverished nation of 800.000 people.
09.08.20: Peru. Protests by indigenous people from Peru's Amazon region against Canadian energy company PetroTal Corp left at least three dead and 17 others injured. The activists are seeking compensation for the introduction of the coronavirus into their community and they want the company to reinvest some of the profits it is making into the area.
20.08.20: USA. Officials in Florida have approved the release of 750 million genetically modified male mosquitoes as a means of combatting various mosquito-borne diseases. Seeing as only the female mosquitoes bite, the released males have been designed to pass on a protein that will kill female offspring before they reach biting age. The young males, however, will reach maturity and continue to pass on the genes. Environmental groups are alarmed and have warned of unintended consequences.
22.08.20: USA. TikTok has announced that it was filing a lawsuit against the US government in response to President Trump's moves to block the Chinese-based video app from the US. The US is blackmailing TikTok into selling the app to an American company or face a national ban.
24.08.20: USA. 1.2 million acres of land have been burned and at least 6 people have died in record wildfires in California. The fires were ignited by incessant dry lightning strikes amid a record-shattering heatwave.
ASIA
01.08.20: China. 29,800 apps were removed from the app store of Apple Inc AAPL.N in China over licencing issues.
04.08.20: Afghanistan. ISIL militants stormed a prison facility in the east of the country, but were defeated by security forces after an intense battle that left about 40 people dead.
08.08.20: Sri Lanka. The Rajapaksa brothers have consolidated their hold on power with a landslide victory in the country's parliamentary election. Prime Minister Mahinda Rajapaksa's Sri Lanka Podujana Party (SLPP) won 145 of the 225 seats and he is expected to be sworn in by his younger brother, President Gotabaya Rajapaksa.
11.08.20: Lebanon. The government has resigned amid mounting anger over the August 4 explosion that devastated parts of Beirut and left more than 200 people dead. Although the exact cause of the disaster has not been confirmed, negligence played a big part owing to the 2,750 tonnes of ammonium nitrate that was stored unsafely at the port for years.
11.08.20: Russia. As the number of global coronavirus cases surpassed 20 million, Putin has announced the approval of a COVID-19 vaccine, even before the completion of clinical trials. The president boasted that his daughter had already received it.
13.08.20: United Arab Emirates/Israel. A historic agreement normalising ties between Israel and the UAE received mixed reactions, which ranged from euphoria to accusations of betrayal. The deal also put further annexation plan of Palestinian lands by the Jewish state on hold.
20.08.20: Russia. Putin critic and rival Alexei Navalny was rushed off a plane and taken to a Siberian hospital after having drunk tea that was probably laced with poison. This would not have been the first attempt on his life.
24.08.20: India. A five-storey building collapsed in an industrial town near Mumbai. Despite the 200 or so residents living there the fatalities appeared to be less than 20.
27.08.20: Turkey. Ebru Timtik, a human rights lawyer who was arrested in 2017 and given a lengthy prison sentence in a phoney trial, has died 238 days into her hunger strike in Silviri jail. She had been demanding a fair trial. Timtik was part of a group of 18 lawyers who were arrested at the same time and found guilty in March 2019 of membership or association with the outlawed Revolutionary People's Liberation Party/Front.
Police fired tear gas at her funeral as mourners were chanting "Ebru Timtik is immortal" and the "murderous state will be held to account,".
28.08.20: Japan. Shinzo Abe, the country's longest serving prime minister, announced his resignation, citing health reasons and apologising to the people for not being able to complete his term in office. Abe, 65, who has been suffering from colitis for many years, agreed to remain in post until a successor is chosen.
EUROPE
03.08.20: Italy. The new motorway viaduct that replaces Genoa's Morandi Bridge that collapsed killing 43 people on August 14, 2018 was inaugurated as planned despite the tight schedule. The new structure was designed by architect Renzo Piano.
03.08.20: Spain. Beleaguered ex-King Juan Carlos announced that he was leaving the country. Speculation in the media about his whereabouts ensued, with many assuming he had opted for the Dominican Republic as a place of exile. It later emerged that he had gone to the UAE. The Supreme Court had opened an investigation into his involvement in a high-speed rail contract in Saudi Arabia. He agreed to be available should authorities wish to question him.
04.08.20: UK. The number of British nationals emigrating to other EU countries has risen by 30% since the Brexit referendum according to a study by Oxford University in Berlin and the Berlin Social Science Centre. Daniel Auer, one of the authors, pointed out that the increases in numbers "are of a magnitude that you would expect when a country is hit by a major economic or political crisis…"
08.08.20: Belarus. Maria Moroz, the campaign manager for the leading opposition candidate Svetlana Tikhanovskaya, has been detained on the eve of the presidential election. Alexander Lukashenko, often referred to as Europe's last dictator, is seeking a sixth term in office
09.08.20: Belarus. The central election commission said incumbent President Alexander Lukashenko was ahead in five regions with around 82 per cent of the vote. The election results were immediately challenged and followed by mass protests.
11.08.20: Slovakia. The verdict in the trial on the murder of Slovak investigative journalist Ján Kuciak and his fiancée was postponed until September. The gunman was handed a 23-year prison sentence in April, but the verdict is still open regarding those who arranged the assassination.
28.08.20: France (Greece/Turkey). President Macron said that he had taken a tough stance over the summer with regard to Turkey's stance in the dispute over natural gas off Cyprus. He said that red lines are necessary as Ankara does not respond to words. The French president also called for the EU to support Greece and Cyprus in the conflict and proposed further sanctions at EU level against Turkey.
29.08.30: Bosnia Herzegovina. About 500 refugees and migrants have been sandwiched between two provinces on a railway track as one province decided to expel them, while the neighbouring one refused to admit them.
OCEANIA
28.08.20: New Zealand. After the Stock Exchange was targeted by cyber-attacks for a fourth day in a row, the government activated national security systems. There is still uncertainty as to the source of the attacks, although it is clear that they are originating from abroad.
UNITED NATIONS
14.08.20: The US has suffered a humiliating defeat at the UN as its proposal to extend an arms embargo on Iran only won the support from the Dominican Republic at the Security Council vote.
Amazon: An update on UN-alinged's campaign
By Ruby Goldenberg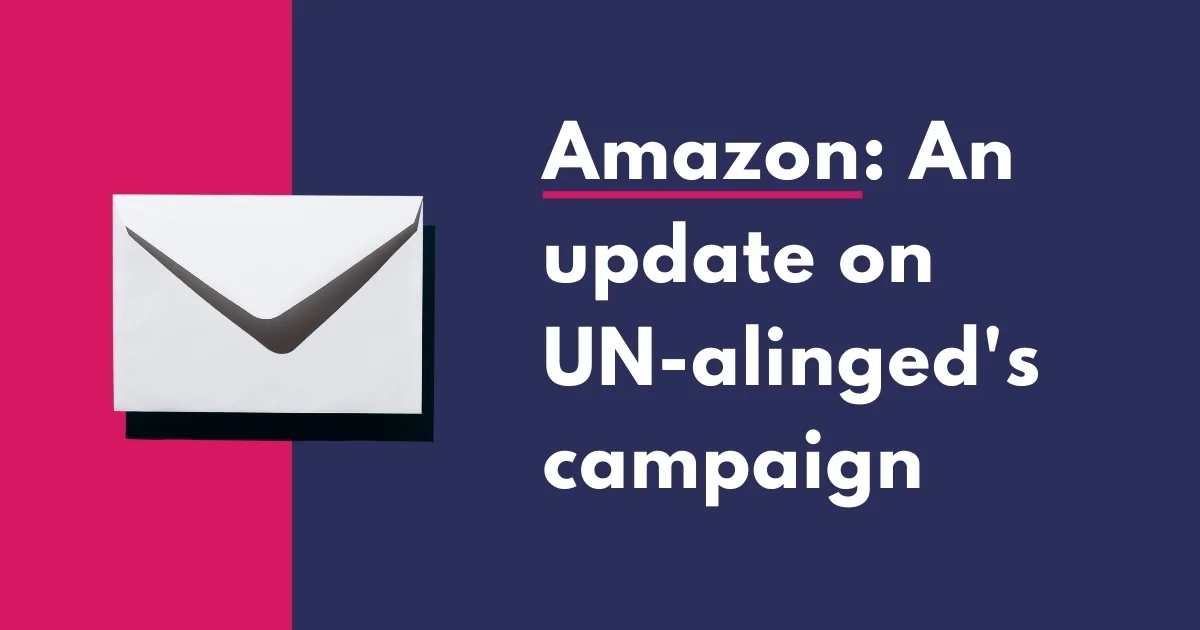 When UN-aligned launched our series of campaigns, we knew that asking the big and uncomfortable questions would not lead to quick and straightforward answers. So far, we have campaigned against anti-Muslim sentiment spearheaded by Buddhist monk Ashin Wirathu. We have campaigned against the death penalty for three young Iranian protestors and are preparing campaigns against the discrimination of the LGBT+ community to religious and political leaders in the Middle East. However, our most dedicated readers may be able to recall the first campaign of UN-aligned, which was an open letter to Amazon to discuss their cardboard packaging. Compared to the nature of the topics that we have campaigned about since, this campaign, by its nature, sounds rather tame and accessible. Our readers may be surprised to learn that sending the open letter to Amazon, to express our concerns (you can read the full letter here) has been a bigger undertaking than researching, writing and preparing the letter itself.
To put the chaos into context, my requests for a reply to multiple Amazon email addresses, specifically set up for PR purposes, have been left unanswered. I therefore approached a customer services representative requesting the contact of somebody who could either provide more detailed information on Amazon's environmental policies, or a section of Customer Services that could deal with general complaints/enquiries/suggestions. This request was met with confusion and the insistence that I would need to discuss any complaint as an Amazon customer in relation to a specific Amazon order. Customer Services did in the end provide additional email addresses where I could discuss this further. The fact that different email addresses were provided to receive clarification on the same topic shows a serious lack of consistency in attending to the more 'tricky customers', but this is a side point. Amazingly, my emails all bounced, except for one. The others did not receive incoming mail. So, it is unclear why these emails were provided to me in the first place, explicitly for the purpose of sending mail.
At this point, my faith is shaken somewhat in getting a timely, digital response. Letters have been written and posted the old-fashioned way to members of the Amazon executive team, plus the generic office address for Amazon in the US and the UK.
We await an answer but do not even expect an acknowledgement of receipt. More importantly, we continue to persist and think of new and creative ways to seek a response from Amazon and use this innovation when seeking answers for all of our campaigns.
Please note that I do not write this as a way to vent my frustrations, though I admit that writing this has had some therapeutic effects, but to address a larger problem relating to corporations such as Amazon. If Amazon is only willing to engage in conversations with people through the lens of an existing customer, then it closes itself off to commentary and suggestions on a macro scale. Its approach resembles a tank crushing all the small trees underfoot, both metaphorically and in a literal sense, if their cardboard packaging is anything to go by.
Letter to Dr. Zsuzsanna Jakab
By Ariana Yekrangi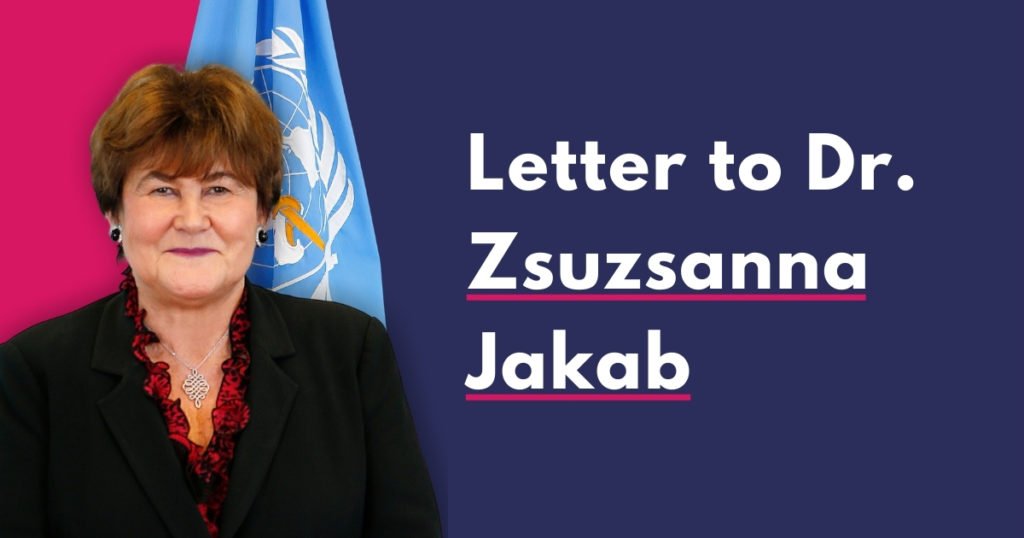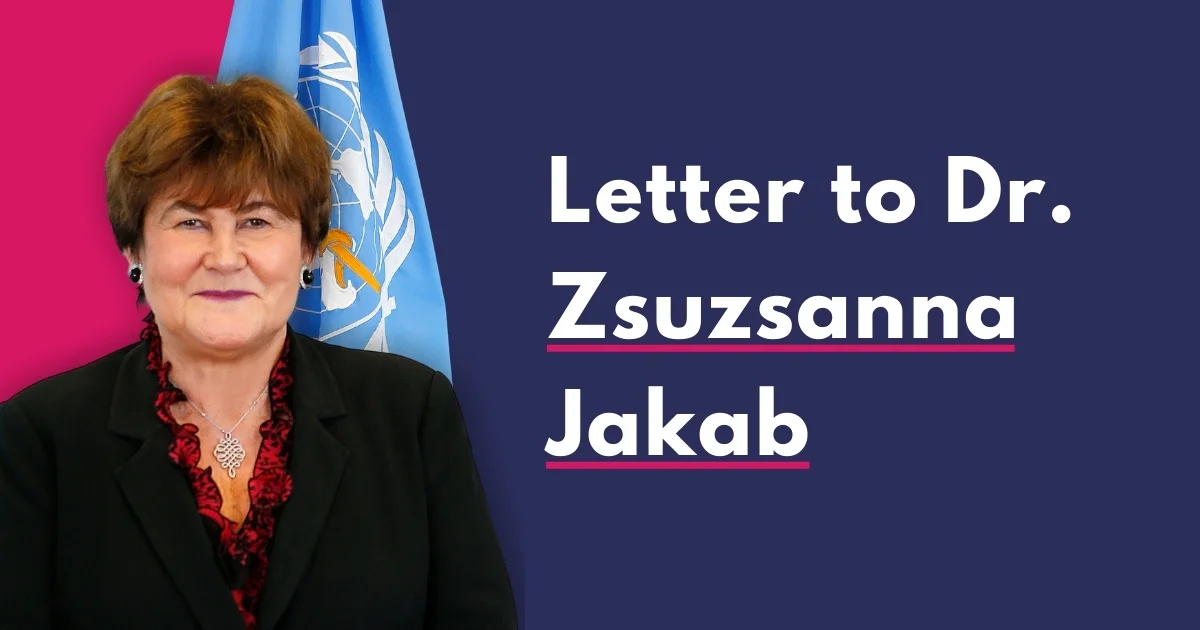 Dear Dr. Zsuzsanna Jakab,
I am writing to you on behalf of UN-aligned, an international organisation that laid the foundations for an alternative United Nations, which aims to serve people, before nationstates. Although we regularly campaign for reforms to the United Nations, particularly with regards to its structure and principles, we are also involved with other issues, such as human rights, animal welfare and environmental protection.
The coronavirus pandemic has become the defining global health crisis of our time and the greatest challenge we have faced since the Second World War. Since its emergence last year, the virus has spread to every continent. UN-aligned greatly admires the tireless work of the WHO and its dedication to catalysing global and national responses to this and other serious health crises. However, this pandemic has become more than an unprecedented tragedy. Recently we have received questions from our members about the relevance of the WHO's principles and its ability to serve everyone, regardless of their country's membership status in the United Nations. On behalf of our members we would therefore like to ask you the following questions:
Considering the WHO is not strictly a UN body and therefore not a direct pawn of the five permanent members of the Security Council, why is it so difficult for it to take a non-political and neutral approach towards countries like Taiwan, especially during a global pandemic whose virulence necessitates the full collaboration of all countries?
In your view, what are some approaches that the WHO can take to immunise itself against the threats of superpowers and their influence?
Should you be in a position to reply, your answer will be published on our website (un-aligned.org) and in The Gordian, our monthly magazine.
We look forward to hearing from you and thank you for your time;
Ariana Yekrangi
Founder and Coordinator of UN-aligned
"The Future We Want and the UN We Need": The UNGA Debates of 2020
By Ariana Yekrangi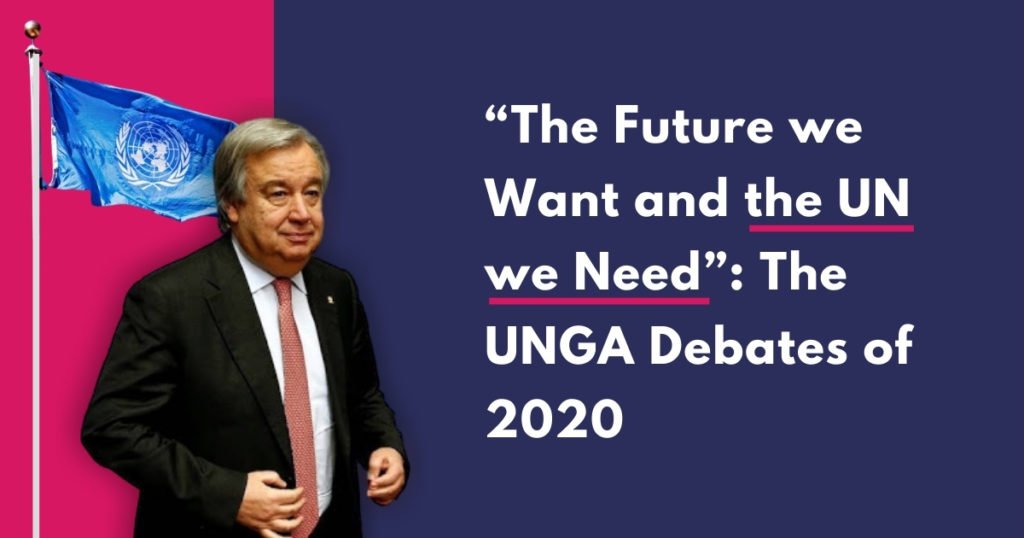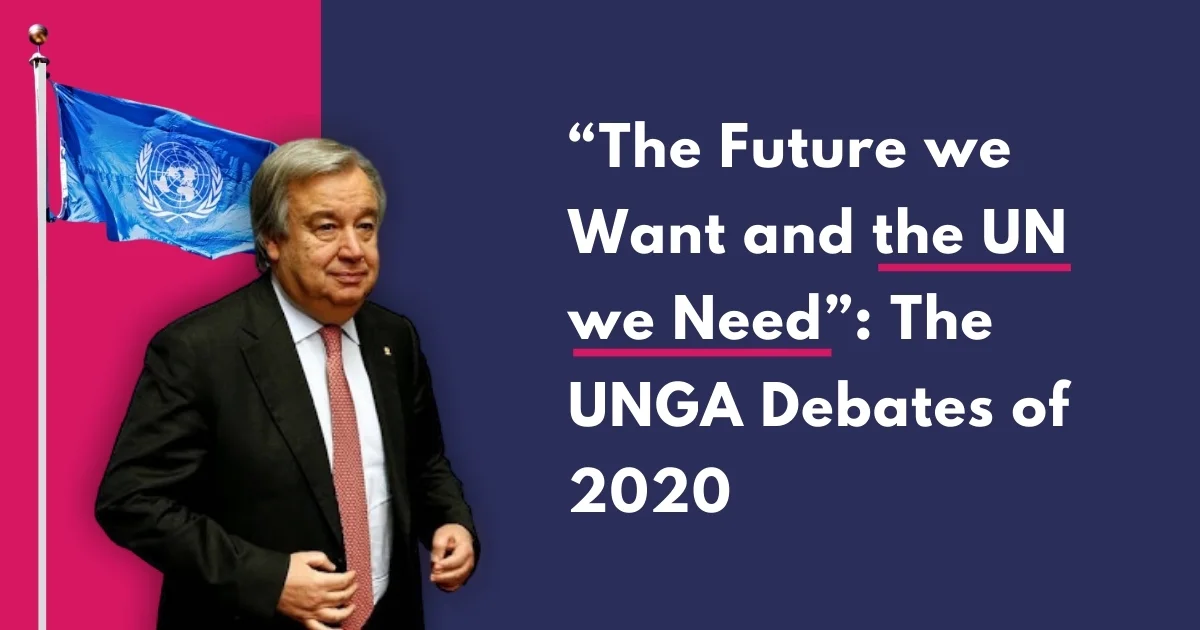 What are the United Nations General Assembly Debates?
Every year, in September, all 193 Member States of the United Nations who are represented in the General Assembly come together to discuss a wide array of international issues covered by the Charter of the United Nations, such as development, peace, security and international law.
UN-aligned will be watching the developments of this event closely
In the live blog from last year's United Nations General Assembly (UNGA), Adrian Liberto and I summarised some of the most important speeches that unfolded during this four-day event. We even awarded some of the speeches for their courage and relevance.
This year, this is not going to be any different. We are committed to go through every speech and deliver to you the most important updates in a variety of different subjects including: Trade, World Peace, Inequality, Global Warming and most importantly, UN Reforms.
Help us cover the events:
Believe it or not, you can learn alot from listening to speeches given at the UNGA. I was surprised to learn how little I knew about crucial problems around the globe that are so obscure that they often don't make it into mainstream media.
Moreover, as you can probably imagine, most people don't have the time or patience to sit through hours of boring speeches in order to try to keep updated with important news that directly correlates with their welfare and well-being.
This is why we would like to ask you to join our team in converting these speeches into a more accessible format. If we want the UN to change, we must first understand it.
We promise you that this opportunity will teach you a great deal about:
The outstanding work the UN staff does and how little it achieves.
The importance of committing to multilateralism.
Learning about the UN system and why it is time for it to change.
The significance of UN-aligned in today's world.
UN-aligned is not interested in your money, we need active members: people who roll up their sleeves and contribute to the work of the organisation to make the United Nations a platform that serves everyone. No matter what you can do, we want you. Write to us with your talents and we'll make it work.
Here are some suggested activities:
Proofreading
Design
Writing
Assisting with Publication
Video Editing
How can you receive the latest updates?
If you are subscribed to the UN-aligned newsletter you will automatically receive a daily overview of the debate. If you are not subscribed visit our website to do so.
You can also see a full list of the updates on our live blog which will start once the first speeches have been given.
The 2020 UNGA summit will start on the 21st of September 2020 and it's theme, "The Future We Want and the UN We Need", will give UN-aligned a chance to shine.
When grandmama fell off the boat… Very nearly taking note of migration
By Adrian Liberto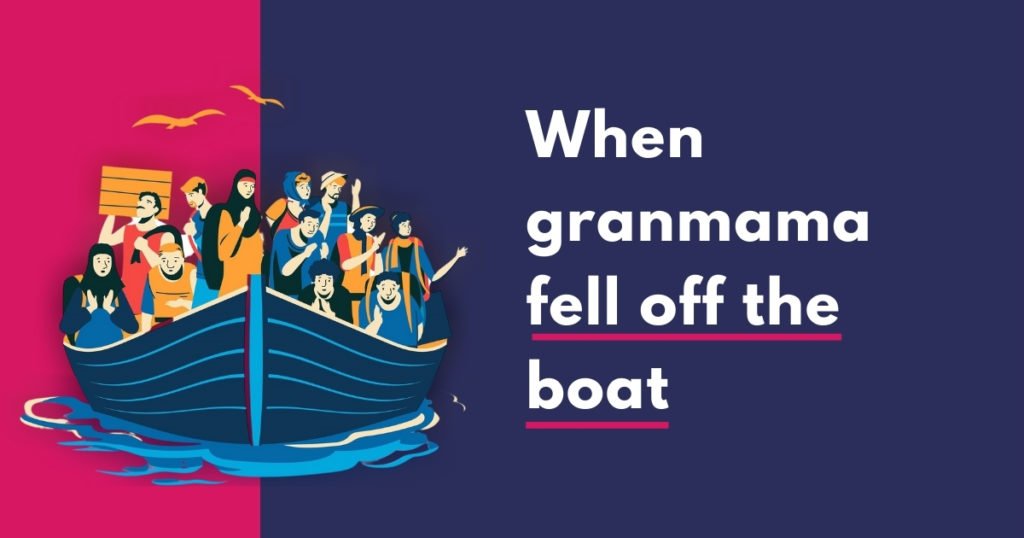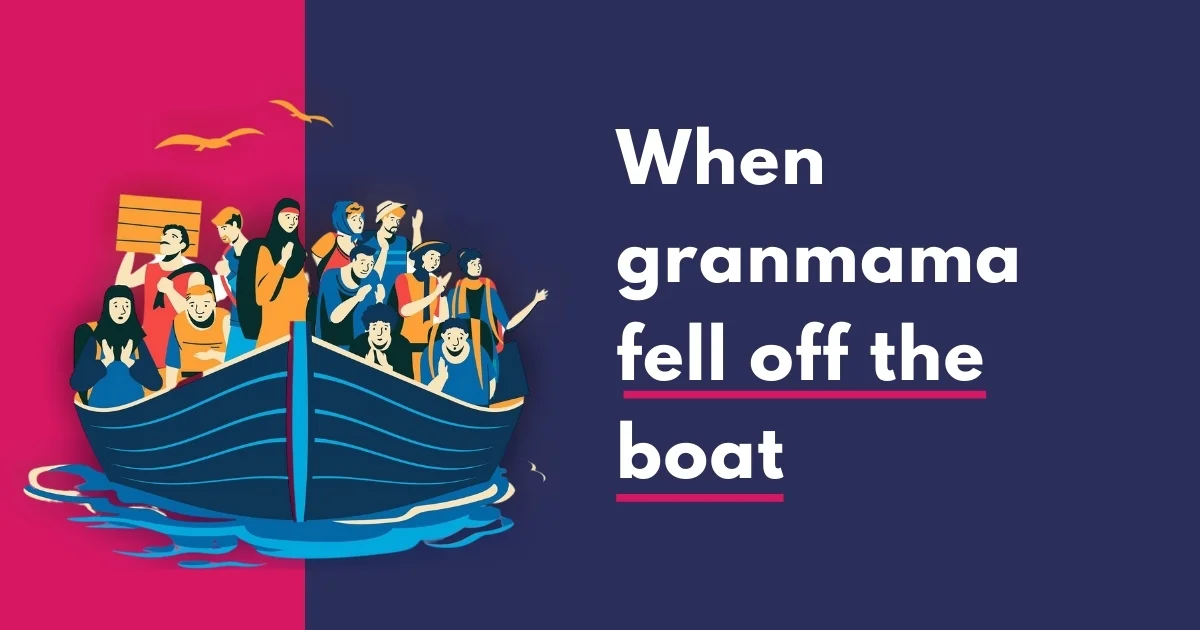 Picture this: you have five buttons in front of you. They are all linked to a raft full of migrants trying to get into your country. Many are fleeing war and famine, some may be simply looking for a better life, while a few may be nasty characters out for what they can get. Button 1: Destroy. Button 2: Ignore. Button 3: Repatriate. Button 4: Assist. Which would you press? Buttons one and two are more or less as deadly, while the consequences of button 3 are often not much better.

Choosing the dark side
And yet… those are the buttons that many governments are pressing, while at the same time arresting and demonising people who try to help. Carola Rackete, the captain of Sea-Watch 3, is a prime example. Having rescued 53 migrants on June 12 of last year, she was denied entry into the nearest safe port, which was on the Italian island of Lampedusa. Crew and passengers were left stranded at sea for over two weeks by Italian authorities, at the time under the direction of hypocritical Interior Minister Matteo Salvini. On June 29, as the situation was becoming critical, Captain Rackete forcefully docked her ship in the Italian port and was promptly arrested. The Mayor of Riace, Domenico Lucano, offers another interesting example. He was arrested in 2018 and indicted in April 2019 for "illegally" helping immigrants, despite having revitalised his town and made it a showcase of development and integration.
The saga goes on
A few weeks ago, on August 14, The New York Times reported that at least 1,072 migrants were dumped by Greece on the outer fringes of its territorial waters on overcrowded dinghies:
"The Greek government has secretly expelled more than 1,000 refugees from Europe's borders in recent months, sailing many of them to the edge of Greek territorial waters and then abandoning them in inflatable and sometimes overburdened life rafts."
Often, refugees are imprisoned for years with their families in the most inhumane conditions in "processing centres" or refugee camps. Occasionally, the only way they get out is by committing suicide.
Behind our civilised facades, many of us are still a rabid rabble, bearing pitchforks and torches, ready to obliterate anyone whose difference irks us.
Blessed, inexcusable ignorance
No, I did not forget the last button. Button 5: Indifference. Most of us do not even take our finger off it. It is the button that allows buttons 1 and 2 to operate undeterred and button 3 to botch up repatriations without due consideration of the potential consequences. It is the button that turns its back on the champions of button 4, leaving the struggle to assist and find humane solutions, unaided and unsupported. The reasons for this are many, ranging from a sense of fatalism and powerlessness to a blatant disregard for human life, wellbeing and dignity.
Whatever the reasons, however, the result is the same: we are withholding positive change. Why 'withholding'? Well, because we do have the power to assist those in need. Nothing is forcing us to be blinkered, whether it is to the plight of migrants or to the atrocities of the meat and dairy industries. Just as we continue to eat meat while claiming to love animals, glad that the slaughterhouses are well out of sight, we are secretly relieved that our governments are doing the dirty work for us in keeping "undesirables" out. Unlike those who have their fingers on button 2, who refuse to take action, those squeezing button 5 refuse to take note. It is the comfort of self-delusion.
Denial works, but only until the day of reckoning
Well, I have news for you, you silent majority with your fingers locked on button number 5. There is blood on your hands. The crimes of the slaughterhouse are your crimes; the curses of the drowning and downtrodden are yours to bear, with all the nasty karma that accompany them; and the cold and uncaring world that is born from your indifference is your world and the one you are leaving to your children.
"When Grandmama fell off the boat,
And couldn't swim (and wouldn't float),
Matilda just stood by and smiled.
I almost could have slapped the child."

Harry Graham
Wishing to stay above the ground: immigration and survival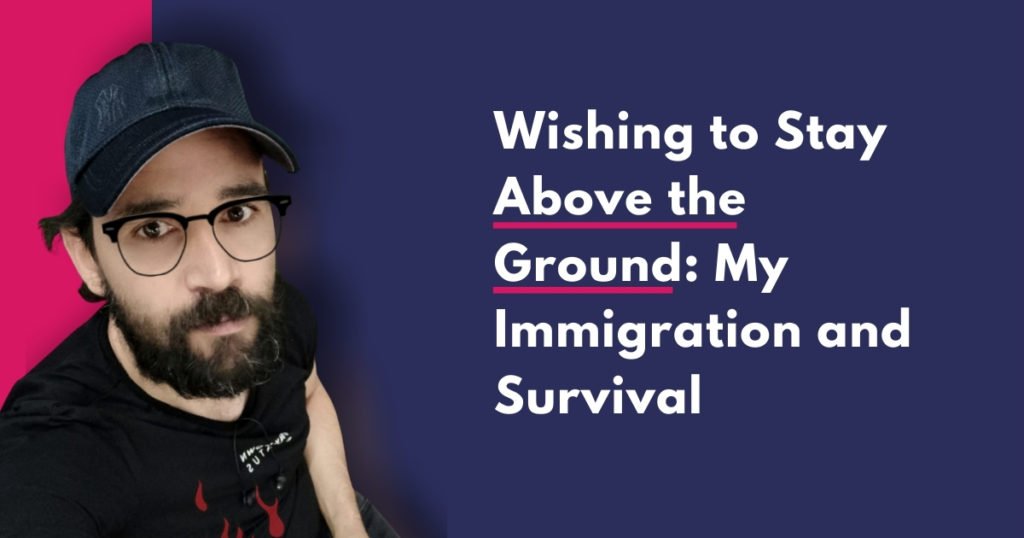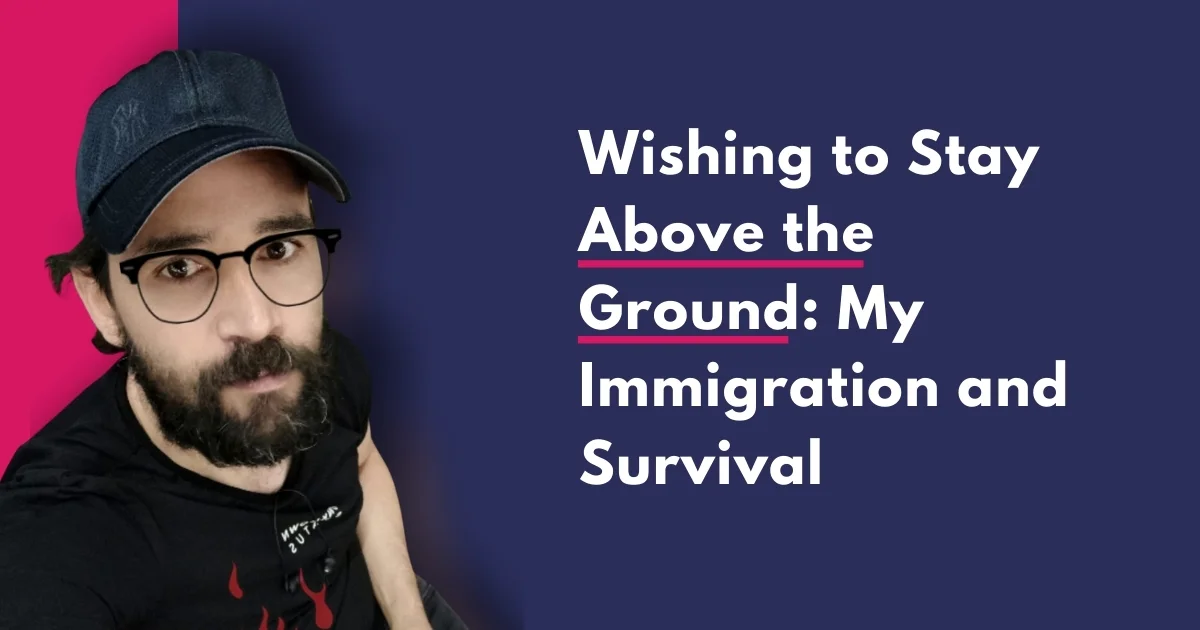 This article is by Abdelkander, an UN-aligned member from Algeria who is on the UN-aligned English Language Programme. He is currently living and working in Turkey.
Wishing to stay above the ground: immigration and survival
My name is Abdelkader, though I am also known as Faysal. I am from Algeria and I am 37-years-old. Like most young people, I want to have a decent life. Of course, I have dreams, but my main dream is simple: I just want an honest job. In my country, however, whether you studied or did not finish your studies, the matter will not be different, because in either case you will not get a job unless you have mediation, or you pay a bribe.
The right to survive
I am one of those people who believes that it is my right to be able to provide for my survival. If you cannot secure this in your own country, then surely it is not wrong to look elsewhere. Is it fair to trap youth within the borders of their country of birth and stop them from seeking to fulfil their potential and, most importantly, their actual survival? Do you think that this is fair? Some people take travel and employment for granted, but for many of us the situation is not that simple.
My anxieties suddenly led to a deterioration of my health. I went for a check-up and the analysis revealed that I had developed diabetes. As my conditions got worse, I was not in a position to pay for my treatment. The cost of the medication was prohibitive and I as a result my strength collapsed. All I needed was sufficient doses of insulin, but of course I could not afford that without a job.
At the mercy of changing laws
I did everything I could in order for the situation to improve, but nothing changed, and in the end, I decided to emigrate to another country. I picked Turkey as it was possible for me to obtain a two-year visa that permitted me to live and work there. My first year in Turkey was good. I had a stable job, no serious worries and I had the means to acquire my medication. Naturally, my health improved. However, laws change and often they do so without due consideration of the dire consequences that result from these changes. Here, you go to sleep and when you wake up, there will be a new law. When I went to renew my visa, which should have been a simple formality, I was told that the situation had changed and that I was no longer entitled to the extension.
Now my residency is irregular and I will be forced to leave this country imminently. Moreover, I am not alone. I know other youths from my country who are in a very similar position to mine. I really do not know what to do. Now I realized that it is not easy for one to live as a human in this world. I just wish I could understand why young people, who do their best, have to suffer so much; especially those who live in poor and oppressed countries.
The struggle continues
I have not stopped dreaming and I have not closed the window of hope. I am struggling to live, whatever it costs me. Maybe the coming days will be bad, but I have no choice other than to persevere. No one wants to leave his country unless life conditions compel him to do so. This is what happened to me.
Perhaps few will care about what I said, but it is just one example of the struggles real people have when trying to live in their own, or other countries. We try to feel that we are human beings like others. We try to feel the air and enjoy the water. We try to live above the ground and not under it.
There is a poem that says help someone and then ask him to help two others… Kindness is contagious and this attitude could help improve the conditions of so many young people in the world and make them feel that they belong.
Finally, listen to us with your hearts and look at us with your minds.
Immigrants and Language Acquisition
By Aryan Yekrangi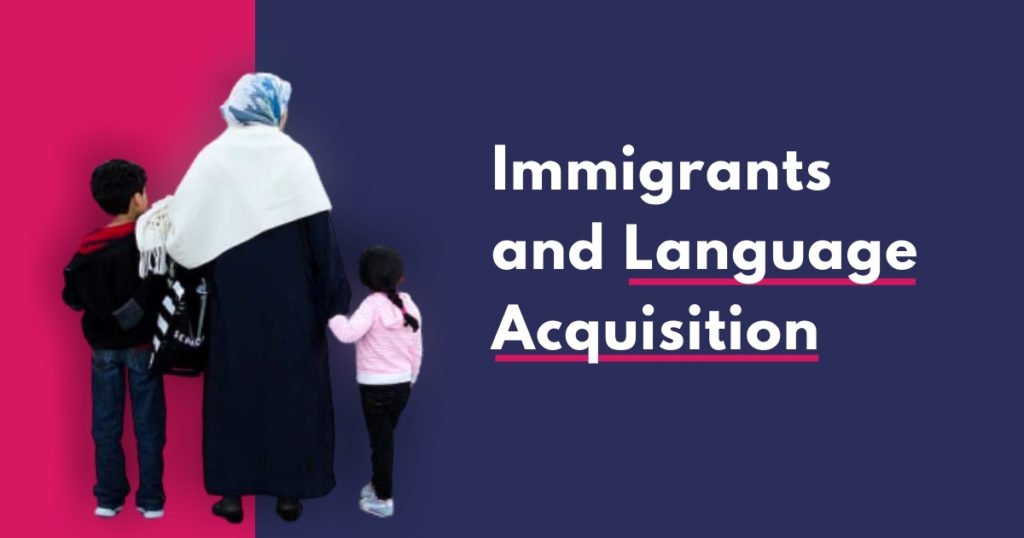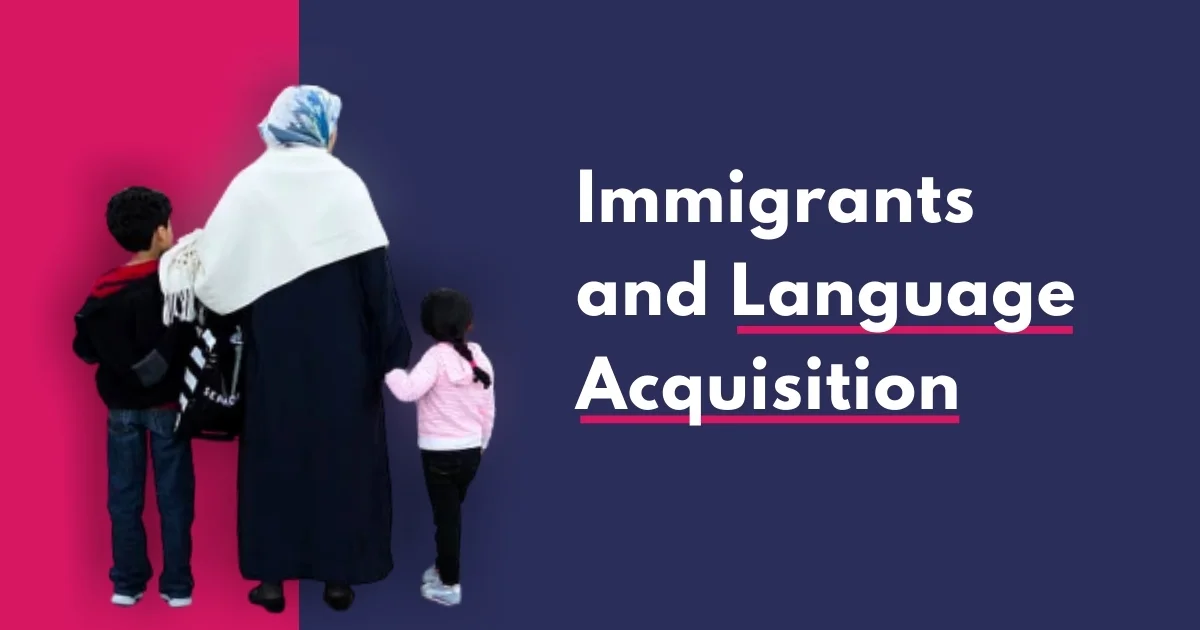 It is estimated that immigrants make up close to 15 percent of the US population. In other countries, such as Canada and Switzerland, this number can even rise to 20 percent. Furthermore, language proficiency is an essential factor in immigrant and refugee integration. It's also a crucial element in increasing job opportunities, as well as social and political participation. So why do some immigrants and refugees have a hard time integrating into society and what can be done about the current language education models?
Why is language education so important?
As the primary method of communication, language skills are a productive trait in themselves. This means that employers are willing to reward the higher productivity of workers who are language proficient. This wage effect on language skills has a direct effect on being remunerated for higher productivity and an indirect effect of having easier access to well paid, communication intensive jobs, thus preventing occupational segregation. Moreover, language skills are complementary to the education and experience acquired before migration and facilitate the transfer of these skills into the new job environment. Language skills also ease the acquisition of additional education and experience in the host country. The influence of language skills extends beyond the economic success of immigrants. In addition to helping immigrants integrate into the labor market, language skills also crucially affect such non-market outcomes as education, health, marriage, social integration, and political participation. Additionally, low language proficiency is often highlighted as a contributor to failed integration, and it can fuel anti-immigration attitudes.
Thus, it is particularly important to identify the driving influences and associated factors behind immigrant decisions to invest in acquiring host country language skills and understand why some immigrants learn the host country language and others do not.
Why is acquiring the local language so difficult
There are general factors such, as age, that can influence the level of language acquisition, adults having a harder time learning languages than youngsters, but there are also immigrant specific factors. A study conducted by IZA Institute of Labor Economics attributes these reasons to the following factors:
Linguistic distance between one's native language and the host country language (such as difference between Arabic and English)
Degree of exposure to the host country language (living in ethno-linguistic enclaves such as little Italy in New York limits this exposure)
Circular migration and short expected durations of stay (primarily affects immigrants)
Other factors such as motivation and cognitive ability
It has to be said that language acquisition stats for immigrants have improved drastically over the last decade and it appears that it will continue to do so. However refugees face many more challenges.
Language education for refugees
The University of Sussex conducted a three-year study on 280 refugees who moved to the UK before 2010. The study found that because the country uses a "one size fits all model", the classes are not suitable for everyone. The group of people most affected by this model are adults and children who have not encountered prior education and people who have not completed secondary education.
Refugees are given eight hours a week of free English lessons in the first year they arrive. This is cut to four hours a week in subsequent years for those claiming Jobseeker's Allowance when they enter mainstream provision. Many of these refugees have been studying English for 8 years and still don't feel comfortable using the language.
What can be done
The average rate of "know English" was 91.2 percent from 1980 to 2010 compared with 86 percent from 1900 to 1930, so it's undeniable that changes in the education model have been made. Many organizations, such as the Immigrant Learning Center in the US, offer free of charge classes to thousands of immigrants and refugees. All of these are great steps towards a better language education for refugees and immigrants, but there's more that can be done.
Offering private language lessons to people who have difficulty learning in a classroom environment is an excellent solution. It has long been proven that private classes are more efficient due to focused and adaptive teaching methods. Additionally, many Imigration and Refugee Centers accept volunteers for language teaching, and these positions can prove beneficial to both learners and foreign teachers.
It should be noted that the primary goal of language education for immigrants and refugees is making them feel comfortable utilizing the target language, as well as preparing them for the work environment and further education. All of us bear responsibility in making language education better and more accessible to a large portion of people who truly need our help.
Surviving against the odds: life in an overlooked Bangladeshi locality
By Golam Habib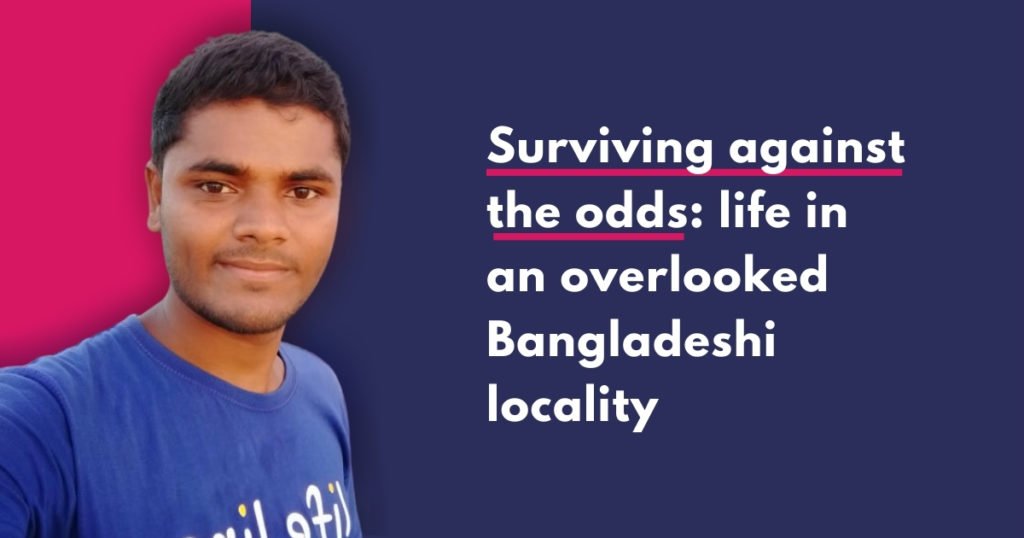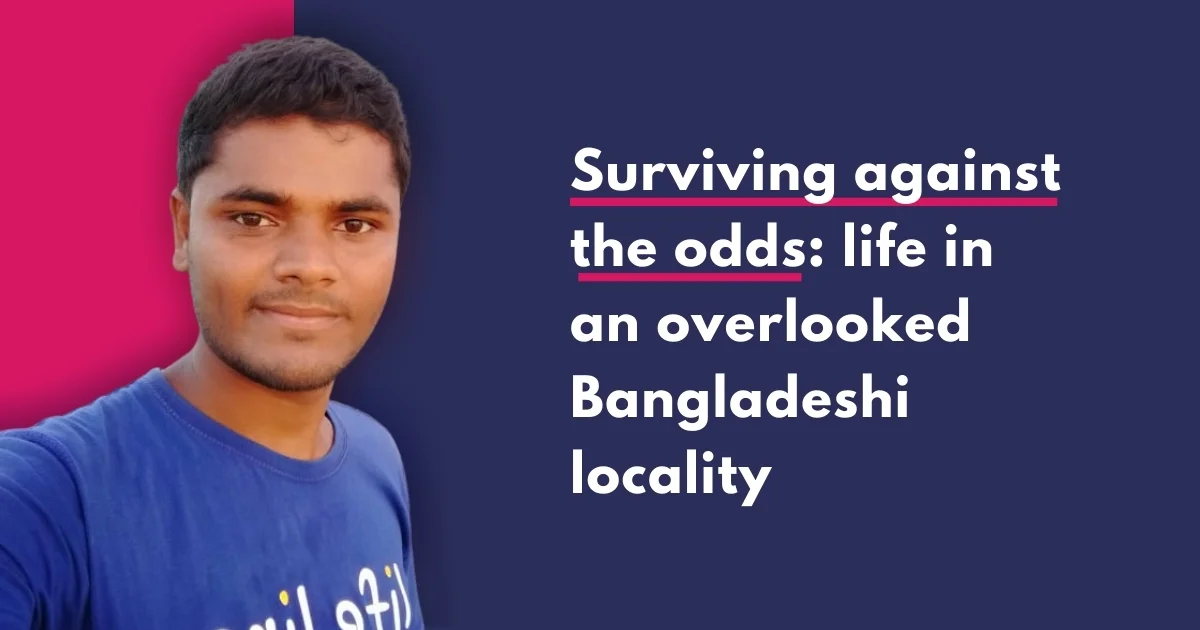 I live in a southernmost Upazila (administrative district) of Bangladesh called Gabura. Bangladesh is an underdeveloped country and my village is typical of the struggling communities of the delta region. Many people here do not have access to basic education and the village does not even have electricity. There are three distinct seasons in Bangladesh: a hot, humid summer from March to June; a cool rainy monsoon season from June to October; and a cool dry winter from October to March. Life in Gabura changes dramatically with each season.
In general, the summer temperature ranges from 30 to 40 degrees. "April is the cruellest month", with temperatures reaching their highest at around this time. The lack of electricity means that there is no way of escaping the summer heat and the only thing the people can do is pray for a friendly breeze. Often, it is too hot to work and even getting some sleep can prove difficult. However, what is even more serious is the fact that the intense heat is often accompanied by painful or life-threatening conditions, like heat rashes and heat strokes. What makes matters worse is a lack of hospitals and medical facilities.
The rainy season is no kinder. The heavy rain is relentless and the roads, which are usually made of mud, disintegrate and become hazardous. This means that some essential activities, like going to work or going to school can no longer take place. Furthermore, as the rivers start to swell, they often burst their banks, engulfing vast tracts of land. The brimming rivers are also responsible for permanent land erosion that deprives many people of their homes, their plots and even their livestock. People are often forced to spend the whole season in a cyclone shelter. The rainy season also brings with it its own set of health problems, such as dysentery and other waterborne diseases. For the inhabitants of Gabura, this season is like a curse that claims lives as well as livelihoods.
The winter season is the happiest time for the people of Gabura. They can go out and carry on with their daily business without constant threats. The temperature is also pleasant, ranging from 11 to 28 degrees. This is when the middle-class people of Gabura make the most of life, as they enjoy feasting on delicious food and socialising. However, the poorer people also make the best of their situation and enjoy themselves as much as they can.
The government in Bangladesh must urgently invest in the infrastructure of Gabura in order to ensure its survival. We need tube wells to provide clean drinking water, better medical facilities, at least two more secondary schools (there are only two at the moment), more cyclone shelters and durable roads. Most of all, we need electricity, as without this the chances of real progress are almost impossible.
Golam Habib joined UN-aligned a few months ago. He is on the UN-aligned English Language Programme and is a second-year sociology student at Jagannath University in Dhaka. Golam Habib is dedicated to improving the infrastructure of his hometown, Gabura.
North Korea: A convenient pawn
Anonymous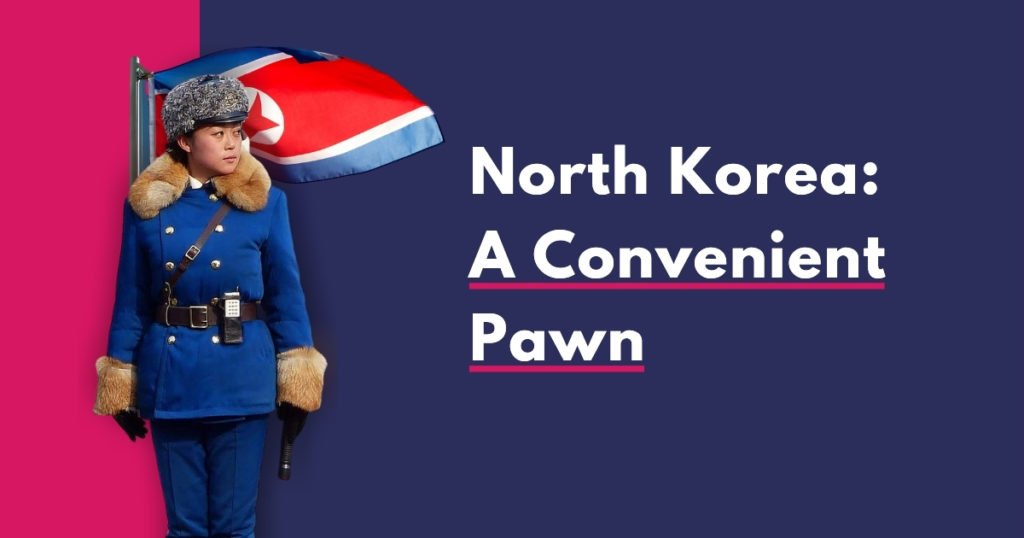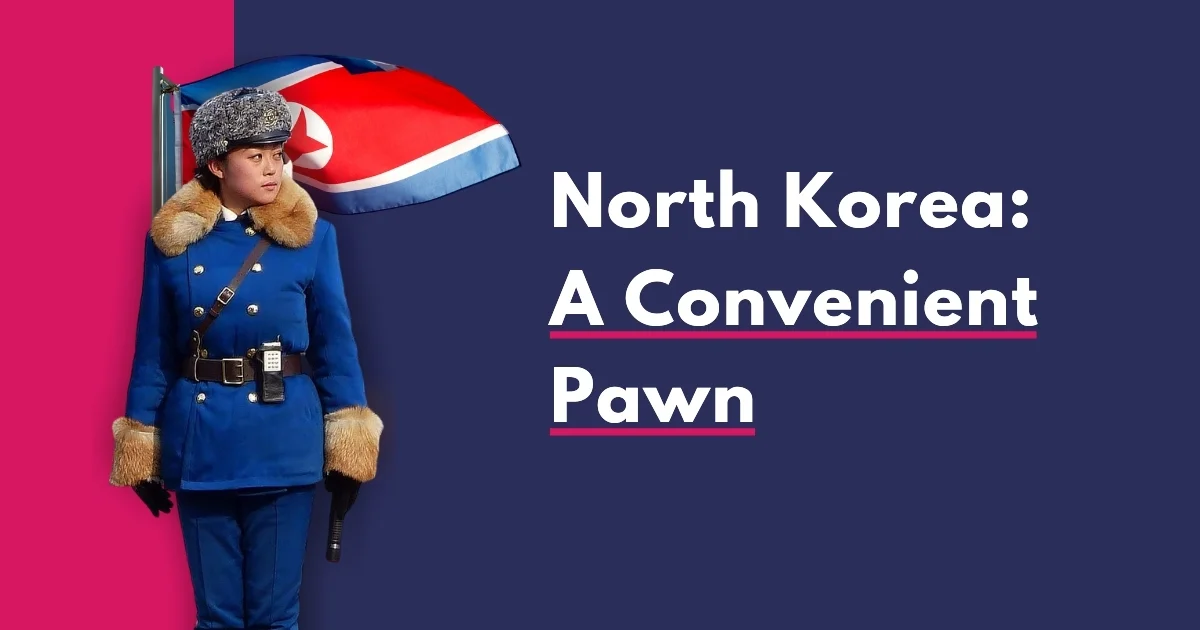 North Korea is usually in the headlines for reasons ranging from the terrifying to the bizarre. This month, their leader Kim Jong-Un is once again subject to rumours that he is dead. This is the second time since April that the speculation has emerged and been dismissed by North Korea.
Much time can be spent considering what would have to occur in order for the regime to collapse. Some speculate that the death of Kim Jong-Un could have a snowball effect on North Korea as we know it. However, so much time is spent trying to unpick the intricacies of North Korea's politics and what sustains it from the inside, that we hardly dare to look outwardly and consider who has an interest in maintaining the North Korean regime from the outside.
South Korea has a duty to accept and resettle North Koreans who have fled their country. There are procedures in place for resettlement including support groups, accommodation, financial allowances and work placements. Currently, around 1000 North Koreans escape each year, not all settling in South Korea, so the resources and financial implications for the South to resettle North Koreans is relatively small . If North Korea opened up tomorrow, it is difficult to say if the South could effectively sustain the 25.5 Million people who live there. The two economies would need to be merged. Currently the North's GDP is less than 1% of the South.
Also, the South would need to provide an education to North Koreans that is comparable with the rest of the developed world. Many North Koreans will vouch for the fact that there is still an 'us' and 'them' mentality between North and South Koreans after the refugee resettlement period, and therefore reunification may one day amplify unrest among citizens. If even a measure such as a formal peace treaty were to be signed between the North and the South, it would undermine the need for the US' 40,000 troops in Japan and 28,500 in South Korea on a US-allied Korean peninsula.
China's support for North Korea creates a communist ally buffer zone on its border, and if the regime fell, China would have American soldiers on its border. It is comfortable for China to have North Korea reliant on them. China strictly returns North Koreans escaping at the border back to the North, knowing that doing so leads to fatal consequences. The collapse of the regime would not only be destabilising for China with regards to national security, it would also open China up to hundreds of thousands of North Korean refugees, since many of those who try to escape, do so across a river to China, before trying to move through Asia undetected. As a response, China has been building a barbed wire fence for the last decade to try and prevent refugees from crossing.
The USA does not want to have its power in Asia contested by a reunification of the Koreas. If Korea unified, the USA would struggle to justify having US forces along the Korean peninsula. Moreover, it wants to continue selling weapons to Korea. Other countries may also be wary of reunification. Japan, for instance, could feel threatened by the economic and military power of a unified Korea, while Russia may be concerned that a unified Korea would strengthen the American position in the region.
Sexual Awakening
By Alex Liberto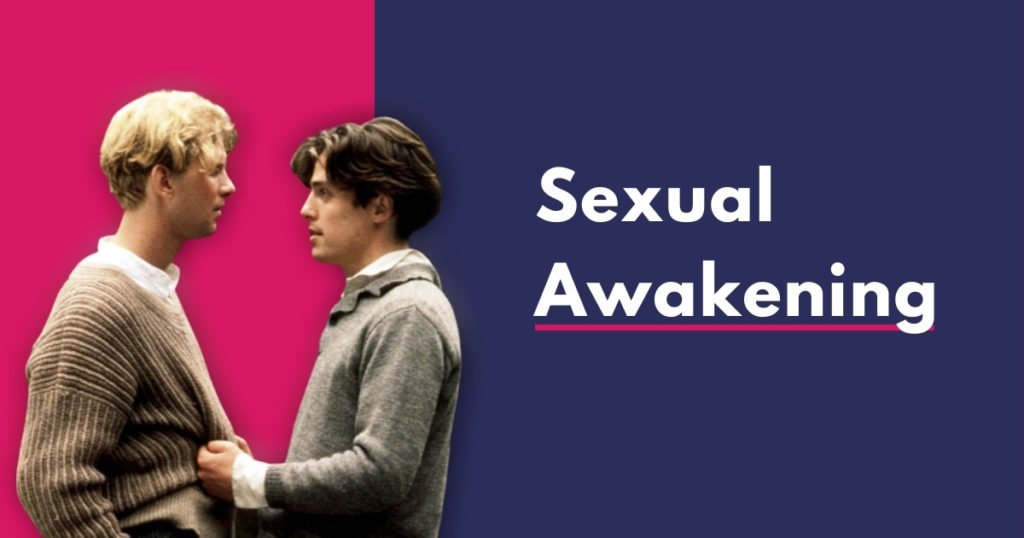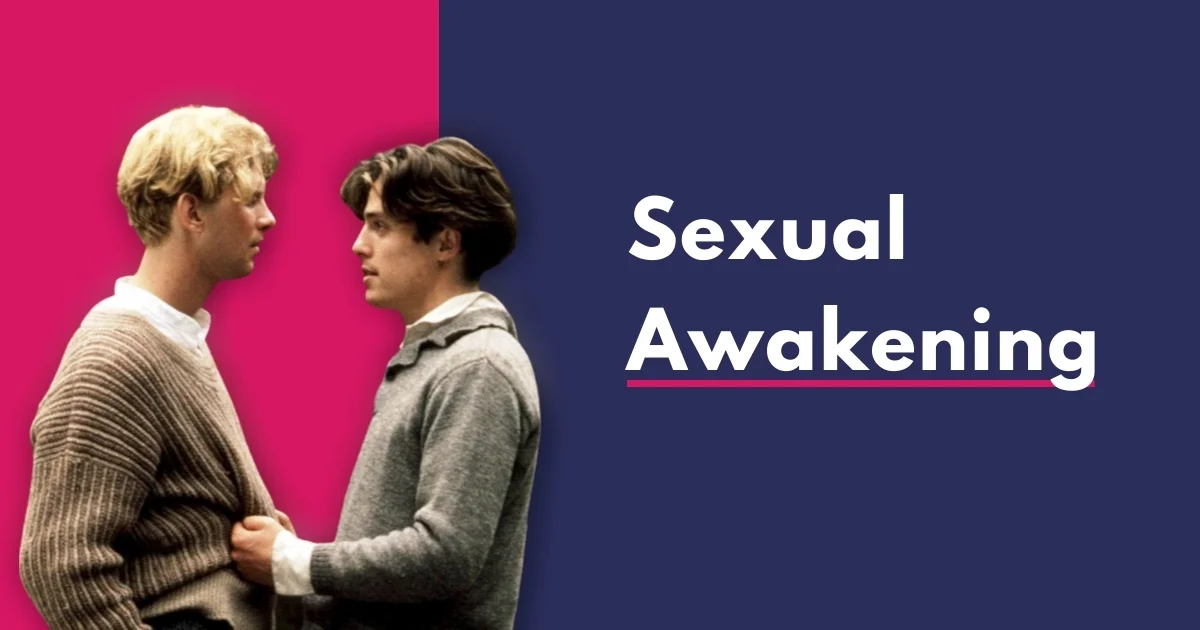 Today I'd like to start a short cycle on love with a work about the "love that dare not speak its name"; the love between two men. Maurice was written by E. M. Forster back in the Edwardian England of respectability and bigotry. Not that any other period in the last few centuries were any more progressive or open minded. As Forster put it, "England has always been disinclined to accept human nature."
Maurice , written in 1913/14, was published posthumously in 1971, due to its too stark revelation of "human nature". It is a Bildungsroman; a coming of age novel that follows the moral and psychological growth of the protagonist, Maurice. He does indeed grow and he develops from the naïve boy who believed himself to be sick because of his love for another man, to the enlightened adult who understood and accepted the reality of his beautiful human nature.
The story starts when Maurice Hall, studying at Cambridge, falls in love with his friend and fellow student Clive Durham. Their relationship is a romantic one, but they are both not daring enough to make it a sexual one. Maurice is eager to nurture his love for Clive, but the latter is too socially embroiled and dreads admitting to homosexuality. He eventually breaks Maurice's heart by deciding to make the socially acceptable choice, marry a woman.
Maurice is not only hurt, but he now believes that he is a broken man who needs fixing. He wants to be "cured" of his abnormality. He goes to London to consult a hypnotist. He lets Clive believe that he is actually going to do the right thing, find a wife and marry. His meeting with the hypnotist is a sad attempt to "cure" his homosexuality. However it is a revealing moment for Maurice:
"And what's to happen to me?" said Maurice, with a sudden drop in his voice. He spoke in despair, but Mr Lasker Jones had an answer to every question. "I'm afraid I can only advise you to live in some country that has adopted the Code Napoleon," he said.

–"I don't understand."
-"France or Italy, for instance. There homosexuality is no longer criminal."
-"You mean that a Frenchman could share with a friend and yet not go to prison?"
-"Share? Do you mean unite? If both are of age and avoid public indecency, certainly."
-"Will the law ever be that in England?"
-"I doubt it. England has always been disinclined to accept human nature."
Maurice understood. He was an Englishman himself, and only his troubles had kept him awake. He smiled sadly. "It comes to this then: there always have been people like me and always will be, and generally they have been persecuted."
"That is so, Mr Hall; or, as psychiatry prefers to put it, there has been, is, and always will be every conceivable type of person. And you must remember that your type was once put to death in England."
Maurice learns to accept his true nature and when he meets Alec Scudder, the gamekeeper at the Durham estate, he becomes both romantically and sexually involved with him. With Alec he feels the entirety of love, in its powerful emotional and physical completeness. He eventually decides to start a new life with his lover.
"Madness is not for everyone, but Maurice's proved the thunderbolt that dispels the clouds."
Maurice does not forget Clive and wishes he could make him see the limits of his socially geared choice. How can one choose to spend an entire life without an emotional and sexual bond. He reminds Clive of their own emotions:
I was yours once till death if you'd cared to keep me, but I'm someone else's now–I can't hang about whining for ever–and he's mine in a way that shocks you, but why don't you stop being shocked, and attend to your own happiness?
Maurice leaves Clive to his stagnant life of aridity and goes off towards a new dawn with Alec. This is a very happy ending that not only condones homosexuality, but legitimatises it, in a period of total hostility. Foster wrote:
A happy ending was imperative. I shouldn't have bothered to write otherwise. I was determined that in fiction anyway two men should fall in love and remain in it for the ever and ever that fiction allows, and in this sense Maurice and Alec still roam in the greenwood.
The happy conclusion of the relationship between Maurice and Alec contrasts bitterly with the dark clouds looming over Clive's emotional end. He seems to be tucking back into a shell of conformity and aridity.
He did not realise that this was the end, without twilight or compromise, that he should never cross Maurice's track again, nor speak to those who had seen him. He waited for a little in the alley, then returned to the house, to correct his proofs and to devise some method of concealing the truth from Anne.
The September Quiz